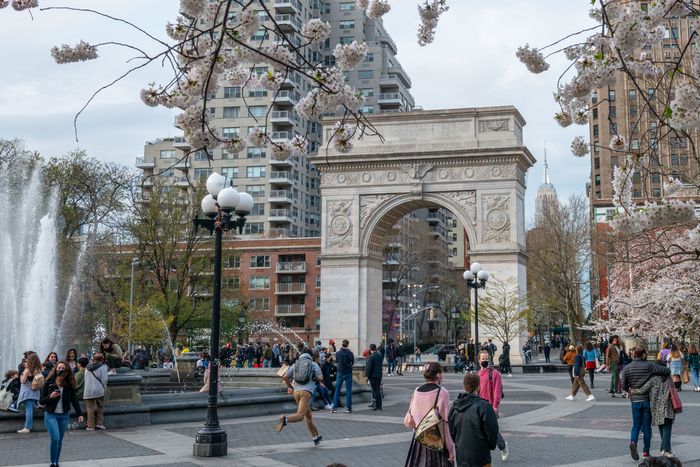 Photo: Alexi Rosenfeld/Getty Images
Early Wednesday evening, hundreds of people crammed into the basement of Our Lady of Pompeii Church on Carmine Street in the West Village to join a last-minute meeting called by the NYPD's Sixth Precinct. At one point, the line to get in stretched down Bleecker Street from Leroy Street to Seventh Avenue, and at least 100 people were locked out when the meeting finally got started. Some who were stuck outside said that they hadn't been allowed into the building by the police, though it appeared that this younger-skewing contingent was barred because there was simply no more room. It turned out that the hottest political event of the evening was not the final Democratic mayoral debate but this emergency meeting to discuss the situation in Washington Square Park.
Inside a multipurpose room with a disco ball hanging from the ceiling, neighborhood residents stood up one by one to declare that the park had devolved into a den of drug users, ravaged by partiers and skateboarders. Most of those in attendance were white and in their fifties and sixties. A 21-year resident of Greenwich Village who is an artist living on Washington Place recounted that, over the past year, "My family and our children have witnessed all sorts of things… from lewd acts to nudity to drugs to crack being smoked in the streets." George Capsis, publisher of the WestView News, stood up to say that residents had told him they had "never seen things as bad and as ominous as they are now." He also noted that attempts to close the northwest corner of the park to prevent drug use had only shifted addicts to nearby side streets.
The police precinct had convened the meeting as complaints about the state of Washington Square Park and the department's treatment of late-night parkgoers have come to a head. Authorities opened the meeting with assurances to angry residents that things would improve. "We're taking back that northwest corner for the public," said Bill Castro, Manhattan borough commissioner of the Department of Parks and Recreation. "This coming week, we're going to reopen two lanes in the northwest and south center-west to bring positive use into those lawn areas, and sort of flood the zone with good people … so that the drug people … get driven out."
Attempts by the police to impose a 10 p.m. curfew and the ensuing clashes on weekend evenings have become a regular flashpoint in the debate about who the public space is for. A June 5 curfew enforcement by the police resulted in almost 23 arrests and left eight officers, according to an NYPD statement, with "minor injuries." The curfew has since been moved back to midnight and, per some reports, is not always being enforced.
At the meeting, NYPD assistant chief Stephen Hughes told the crowd: "I would prefer an earlier closing. I'll go with what the consensus is." He asked for a show of hands to see whether people preferred a 10 o'clock or midnight curfew. Most raised their arms for the earlier cut-off.
One detractor — a longtime resident— countered with: "There's always been drug dealing, there's always been mentally imbalanced people." He added, "I find it interesting that right before an election, that suddenly there's all this press about how dangerous the park is— when a former cop is in the lead for mayor." He was interrupted by a chorus of boos.
Another commenter agreed that the park should be open until midnight, but suggested, "We can get rid of the skateboarders in a day." He added, "All we have to do is have the police confiscate the skateboards. It will not be that traumatic for the snowflakes." The room responded with applause.
The meeting ended after more than an hour, with no major decisions beyond the crowd's affirmation of the 10 p.m. curfew. The mood in the room was relatively muted; attendees trickled outside to find Carmine Street between Bleecker and Bedford barricaded. A small counterprotest continued as attendees slowly filed out.
After the meeting, one skateboarder who had made it inside stood on Bleecker Street and shouted into a microphone, "We need to take all of it back, all of it!" and nearby, some cheered.