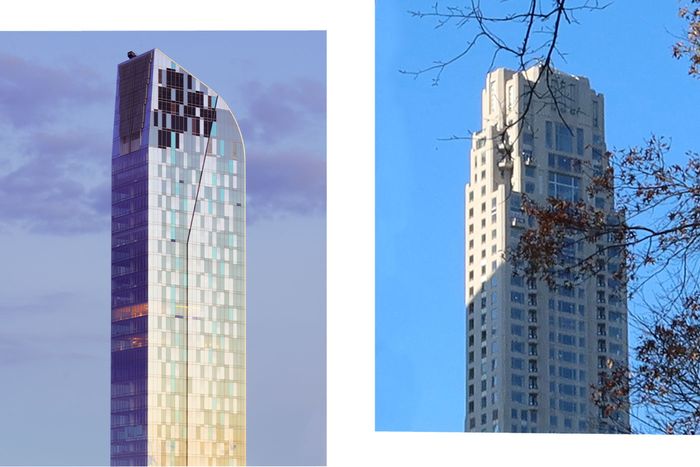 Billionaires prefer limestone (220 Central Park South, at right) over glass (One57, left).
Photo: Getty Images
The past few years were not very good ones for the ultra-high-end luxury market. Sales prices reached a frenzied peak around 2016, stalled out, and then started to slump. By the time the pandemic struck in March 2020, some owners seemed desperate to sell at any price: That year, four condos at Extell's One57 tower sold for at least 40 percent less than what their owners had paid, according to Douglas Elliman. This January, a 58th-floor apartment there sold for $16.75 million; the seller had paid $34 million in 2014 and took a 51 percent loss.
But what held true for the rest of the top-tier condo market during the darkening days of the super-luxe boom has never — at least not so far — been true for 220 Central Park South, Vornado's top-of-the-game limestone tower, designed in a prewar idiom at 21st-century height by the architect Robert A.M. Stern. Between October 2019 and October 2020, 220 Central Park South "kept the super-high-end market aloft," in the words of a CityRealty report released last year. Its condos constituted the top 22 sales in the city; overall, its 46 sales during that 12-month period accounted for a cumulative $1.52 billion. (It's worth noting, however, that many of those units had gone into contract years earlier, before the building was completed.)
Now, as the city's luxury market is once again surging thanks to a perfect storm of pent-up demand, very low interest rates, and the fact that the rich got much richer during the pandemic, 220 Central Park South is doing very nicely in the resale market. The building had its first resale in April, a $33 million sale that closed for 23 percent more than the $26.79 million the seller paid a little more than a year earlier. In June, a buyer later revealed to be Alibaba co-founder Joe Tsai paid $157.5 million for two units that together had sold for $102.3 million the previous year. Tsai's purchase was the third-most-expensive home ever sold in the U.S. (The most expensive was also at 220 Central Park South: Ken Griffin's purchase of floors 51 through 53 for $238 million in 2019.) A third deal closed on May 19, $1 million up from a year and a half earlier. Two others are in contract and expected to top their original purchase price.
So why is One57 flailing while 220 Central Park South is soaring? Both, after all, are super-tall towers, less than three blocks apart; both were designed by famous architects (One57's architect, Christian de Portzamparc, is arguably the more prestigious of the two, having won a Pritzker). Both cater to and are marketed to billionaires, and both set New York City residential-sale records. Does it all come down to the fact that One57 is at this point — as one broker put it to me — the luxury-real-estate equivalent of a used car?
"There are a few other buildings where prices have held up — Greenwich Lane, 150 Charles," said Donna Olshan, a Manhattan broker who tracks the luxury market. "But what's interesting about 220 Central Park South is that some sellers have actually made good money there. There will always be people at the top who will pay to be in the No. 1 building in New York." The building is widely considered to be the second coming of "limestone Jesus," a.k.a. 15 Central Park West, which emerged from the last recession with a flourish when Russian billionaire Dmitry Rybolovlev paid $88 million for Sandy Weill's apartment (roughly twice what Weill had paid). It was, at that time, the most expensive sale in the city. It too was the work of Robert A.M. Stern, but 220 Central Park South is newer and much taller and has a saltwater pool instead of a boring old chlorinated one. Several 15 Central Park West residents moved over after 220 Central Park South opened, including Daniel Och, of Och-Ziff Capital Management, and Sting.
Half a decade ago, when it was new, One57, which started the super-tall-building craze just south of the park, had seemed like it might be the one to supplant 15 Central Park West in the status game: It set a local record when one of its penthouses sold for $100.47 million in 2015. But it was pretty much all downhill from there. Faced with a glut of inventory when sales in this bracket cooled, Extell listed 38 lower-floor apartments as furnished rentals, presumably to keep them from looking desolate while waiting for the market to recover. Many investors also rented out their apartments, diminishing the building's aura of exclusivity. (There are currently six available at One57; 220 Central Park South has one.) One57 was even — gah! — left out of a book on New York's most exceptional apartment buildings. "The spotlight was on it and then it faded," Kirk Henckels, the then-director of Stribling Private Brokerage and the co-author of the book, told The Wall Street Journal in 2017. The building was not, he said, "architecturally popular." (The actual tower bears little resemblance to de Portzamparc's original cascading-waterfall design.) As of this spring, Extell still had five sponsor units left in the building. Even as the sales market has bounced back and then some, sellers at One57 are still losing money: the most recent resale, to Shark Tank star Robert Herjavec, was for $34.5 million. The seller had paid $47.37 million for the 6,200-square-foot apartment about six years earlier.
It's not the only tall new building where units are trading at a loss. Olshan pointed to a four-bedroom apartment at 520 Park Avenue (another A.M. Stern limestone skyscraper), now in contract, that was asking $20.5 million, about a half a million less than the seller paid in 2018. Jonathan Miller, the assessment guru at Miller Samuel, said that while the discounts at One57 were steeper than at other luxury buildings, most sellers who bought trophy properties at the height of the luxury boom weren't recouping what they paid. "Two Twenty is the outlier," he said. He adds that 220 Central Park South has one big advantage over One57: It's actually on Central Park. Steven Roth, the CEO of Vornado, also took special pains to make 220 a social hive, reportedly socially vetting his buyers, grilling them not just on their financial fitness but on their backgrounds and personalities, a move common among co-op boards but rare for a condo sponsor. "The marketing strategy was Steve's Rolodex," a developer told The Real Deal. "The bet was that he could curate a country club of like-minded people."
Some of the resale discrepancies between the two buildings simply come down to age. One57 launched sales almost a decade ago. Long before resales started at 220 Central Park South this spring, One57 had been overshadowed by newer, taller towers along Billionaires' Row, such as 432 Park Avenue, 111 West 57th, and Extell's own Central Park Tower, which started closings in February. Things fall out of favor, things fall apart, the wealthiest buyers move on. This spring, the New York Times revealed that 432 Park was creaky and leaky, with elevators that kept breaking down. (This even as one seller there is hoping to nearly double his money with a $170 million listing that Miller called "the first sign of aspirational pricing in this market.") Someday, inevitably, another building will outshine 220 Central Park South, but some buildings age better than others. "The cream holds up, and everything else doesn't," said Olshan. "It's the oldest story in real estate."