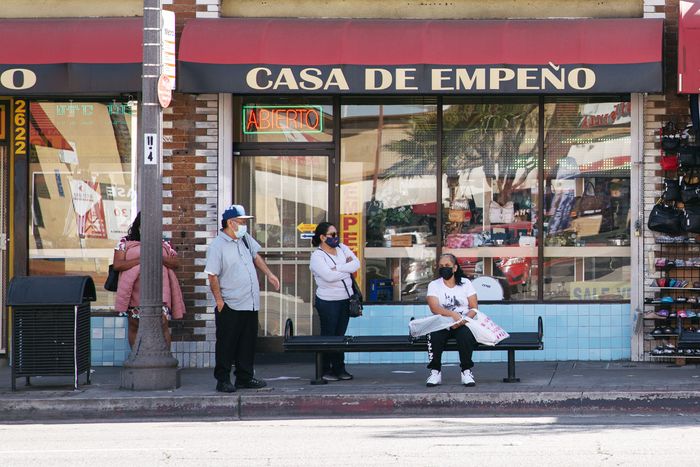 A new street-furniture contract would still only create shade at 40 percent of L.A.'s bus stops.
Photo: Jessica Pons/Bloomberg via Getty Images
Some people are drawn to California by the promise of stardom. For Francois Nion, it was self-cleaning automated public toilets. Thirty years ago, Nion moved from France to open the West Coast office of JCDecaux, the Paris-based "out-of-home advertising" company that plops everything from billboards to bike-share systems to, yes, public restrooms, on city sidewalks. Its most ubiquitous products are bus shelters, now modularized and monetized in approximately 80 countries. Yet Nion's new home turf was the toughest sell of all. In 2000, the city of Los Angeles signed a 20-year contract with JCDecaux to install 2,200 new bus shelters, covering about a quarter of its 8,000 bus stops. Two decades later, there are just 1,870 — "a little bit short," acknowledges Nion. A new city contract, on which JCDecaux is currently bidding, intends to both close that gap and swap out old shelter designs with upgraded models. But by Nion's estimate, the new contract would likely only bring the number of sheltered stops to 3,000 at most, leaving about 60 percent uncovered in a city that is, increasingly, dangerously hot for people who aren't inside air-conditioned vehicles. Officials claim they want to increase bus ridership and decrease greenhouse-gas emissions, all in the name of equity. "But if 60 percent of the stops don't have any amenities at all," says Nion, "how are you any closer to equity?"
Nion is so intimately familiar with the state of L.A.'s transit infrastructure that he can recall the installation dates of specific shelters; when I ask him about a particular neighborhood, he can describe the shade quality of certain blocks where buses run. In his surveys of the thousands of L.A. bus stops without shelters, he started to see that the shelterless stops shared other common characteristics. They were located on streets with narrow sidewalks, and they also lacked trees, causing passengers to queue up in the slim diagonals of shade created by utility poles. "We love the bus shelter; we invented it," he says. "But with sidewalks this narrow, you know they will never see a bus shelter. You start to realize, when you see people waiting at the pole, how do you make the problem the solution?"
What he came up with was a pivoting vertical shade about the height and width of a surfboard. Passengers can rotate it to shield themselves from the sun, standing in a shadow that shortens and lengthens with the time of day. Nion showed me a concept sketch last month — he nicknamed it the "sunshade blade" — and a prototype is currently touring the city as part of a road show of potential bus-shelter solutions. Although the blade is designed to support additional features like a solar panel, USB charging port, and a tiny retractable seat — he says the powder-coated metal doesn't get hot, even in direct sun — those extras really aren't essential for the blade to serve riders, who Nion says have given the concept positive feedback. "I think it's a solution," he says. "It's not the solution. The solution is bigger sidewalks. Mature trees that are 15 to 40 years old." But until the city decides to widen sidewalks and focus mature-tree-planting efforts along transit corridors — policies which are not currently being discussed in any comprehensive way — Nion envisions a little grove of shade blades that could be installed as a temporary measure at any stop for a fraction of the cost of a shelter. "It's really how you get more benefits to transit riders citywide very quickly," he says. "And then you can upgrade whenever you want."
It would be tidy to pin L.A.'s bus-shelter vacuum on JCDecaux — a global corporate entity profiting off a lackluster deployment of public services. But the city's apathy about funding infrastructure for bus riders is paired with an arduous set of approvals that makes installing a new shelter virtually impossible. L.A.'s complicated 16-step process requires engagement from no less than eight city departments, plus a sign-off from an elected official for every single one. In 2019, Investing in Place — a transit-advocacy group that tracks bus-shelter deployment — joined a coalition of nonprofits that attempted to get ten bus shelters installed in a blistering corner of the San Fernando Valley, using surveys with riders to select the locations. Two years later, only four have been installed. That points to a much more systemic problem in the right-of-way that needs to be addressed, says Aziz Fellague Ariouat, advocacy associate for Investing in Place. "Access to bus shelters in lower-income Black and Latinx communities is much more limited than wealthier white neighborhoods," he says. "Existing and new bus riders in lower-income Black and Latinx neighborhoods need proper investment in streetscape improvements around the bus stop as well as high-quality bus shelters."
Nion's blade is the latest manifestation stemming from L.A.'s continually broken promises on this subject. At a October 2019 press conference — after a widely shared story questioned the commitment of L.A.'s climate mayor to his bus riders — the city announced Cool Streets, an initiative to add shade structures to sidewalks and a white reflective paint known as cool pavement to roadways in low-income, high-ridership bus corridors. Part of the plan included "rushing" to install umbrellas at 750 unsheltered green steel benches around the city by December 2020 — benches which can reach temperatures of up to 130 degrees on sunny days and might as well leave grill marks on the undersides of your thighs. (These are installed through a different contractor and are a whole story unto themselves.) The umbrellas remain uninstalled, ostensibly deferred by pandemic-year budget cuts. But reflective paint continues to be deployed — another flashy, high-tech solution that does little to materially improve the experience of someone standing at a bus stop a few feet away. Forced to suffer through two more of the hottest summers in recorded history at shadeless stops, Los Angeles's bus riders, as always, are still stuck waiting.