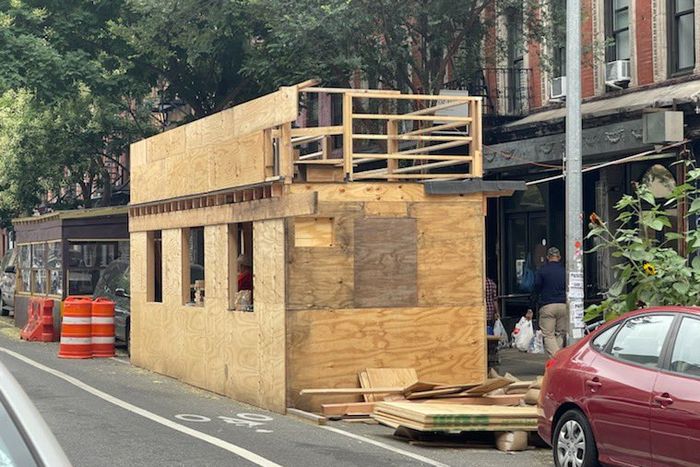 Since the first ad hoc outdoor-dining setups were built last summer, all kinds of streeteries have been seen across New York City: the temple-inspired dining shed, the fine-dining chalet, the eye-catching series of pink arches with a Spanish colonial aesthetic. This week in the East Village, something wholly new appeared: a plywood hut with an open, balcony-like second story surrounded with wooden railings. The structure belongs to the Izakaya NYC, a Japanese restaurant on East 4th between Avenue A and B, and it quickly accumulated both angry Tweets and 311 calls. With opposition to making outdoor dining permanent particularly high in the East Village, neighbors immediately expressed frustration over the super-tall shed: "Next thing they will be skyscrapers," one person tweeted.
But the first bi-level streetery will not even be completed. A Department of Transportation spokesperson tells Curbed that two-story outdoor dining structures are not allowed, and an inspector has already gone to Izakaya NYC to speak with owner Yudai Kanayama, who agreed to lop off the second story. An inspector will return next week to confirm that it's gone.
In a statement, Kanayama said he wanted to add extra outdoor space as COVID cases are rising once again, but reiterated that he was taking down the upper level. "I thought the only potential to create more seating was this," he said. The plan had been to lay fake turf upstairs and make the area more like a park or lawn than a restaurant with tables and chairs. "I was basically looking for the best we could do under the restrictions by being more creative and ambitious." But, as he joked on Instagram, the one-story streetery will now probably be the sturdiest in all of the city.