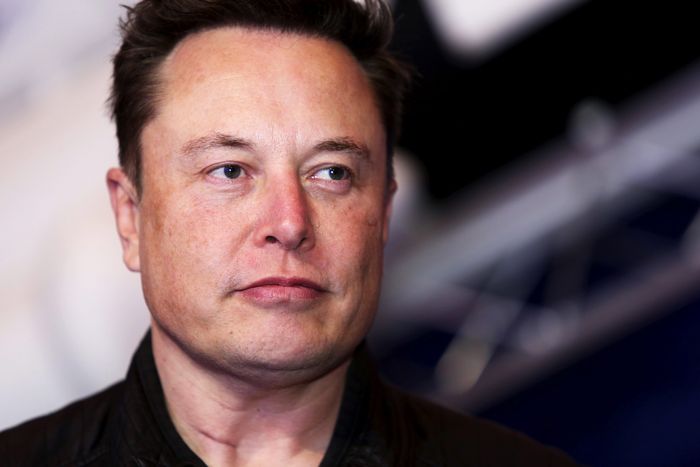 Photo: Liesa Johannssen-Koppitz/Bloomberg via Getty Images
Remember when Elon Musk left California in a huff, swearing to sell off all of his mansions and live property free? Well, it's been six months and, unlike with his other promises to, say, build an underground transit system or deliver fully autonomous Teslas or manufacture an electric bus, it seems he might have followed through with this particular pledge. Yes, Musk is now apparently living in a 375-square-foot prefab guest house in Texas.
The Real Deal reports that since Musk made the move to Boca Chica, the tiny Gulf Coast town where Space X has been gobbling up property, much to the frustration of locals, he has ensconced himself in a 20-foot-by-20-foot accessory dwelling unit (or ADU) made by the Las Vegas-based startup Boxabl. Although Musk tweeted last month that he was living in "literally a ~$50k house" on a property rented by Space X, it was Teslarati that first discovered the connection between the startup and Space X's rapid expansion. In fact, Boxabl co-founder Galiano Tiramani — who calls the company's ADUs "casitas," the preferred name by some in the industry — dropped a major hint back in November 2020 in a YouTube video: "The casita I'm sitting in right now we just installed in Boca Chica, Texas, for a top-secret customer." (There's also a poster of a Space X rocket launch on the door just behind him.) Boxabl's strategy to get the billionaire's attention seems to have worked, as the company has been courting Musk for over a year; an April 2020 video asks: "Should we make space-Boxabls for Elon Musk? Or solve the world's affordable housing crisis? Why not both?" Boxabl is currently looking for funding — it claims to have $1 billion in "reservations" from 20,000 customers so far, which is very similar to the way Tesla likes to frame its sales figures — so its timing really couldn't be better. Just name-dropping the company in a single Musk tweet could raise millions.
While there are certainly a lot of unanswered questions about Musk's specific living situation — where does Grimes sleep? Is the baby there? — it's not hard to envision a formal brand partnership with Boxabl, seeing as there's so much overlap here with Musk's own endeavors. Boxabl's casitas arrive, expectedly, in a box, one that can be towed to the site, perhaps by a large electric truck, and assembled in one hour, its innards unfolding with Transformers-like precision to reveal finished walls, countertops, and even appliances. It's ideal for temporary housing on a site like SpaceX's Starbase. It's slightly less useful in a dense city where land is at a premium; the company says the units can be stacked, but images show them only two stories high (which is kind of like Musk's dwindling interest in shared transportation solutions that would reduce greenhouse gases faster than just electrifying cars). Boxabl also claims to be "the only building system compatible with automobile-style factory mass production," which could make for clean integration with Musk's manufacturing hubs (some of which are also located in Nevada). And if social media is any measure, Boxabl's stans are every bit as fanatic and evangelistic as Tesla's, prognosticating that this home-in-a-box will signify the complete "disruption" of the construction industry.
But major disruptions of the construction industry have foundered in recent months. Katerra, the SoftBank-funded mass-timber start-up founded by Tesla's former interim CEO, recently imploded after raising over $2 billion, in part because it was trying to sell prefabricated buildings like — wait for it — cars. Now 3-D–printing companies are manifesting themselves as a solution for the housing crisis in the same way. They actually all refer to themselves as "the Tesla of housing." Modular housing done right, particularly in a way that can allow for maximum density on a site, is certainly one important part of the affordable-housing future in the U.S., but to be effective from a sustainability perspective, it needs to vertically scale. If Boxabl can accessorize with some of Musk's other products — slap some SolarCity photovoltaic panels on top and strap some Powerwall batteries onto the exterior — to create a low-cost, solar-powered, plug-and-play dwellable unit that would ship from the factory in the time frame that's guaranteed and somehow stack into a full-size apartment building, it could really be a game changer. Kind of like if Tesla had made that electric bus.