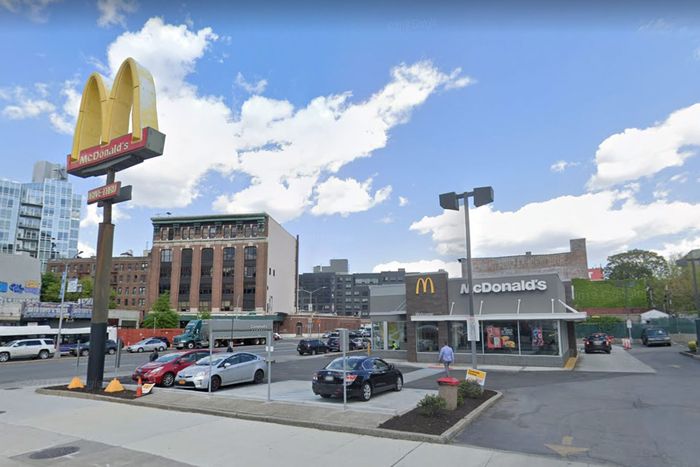 So much for density. Brooklyn borough president Eric Adams, the man who is all but guaranteed to be our next mayor, has voted against a proposed 18-story tower on the corner of Atlantic and Vanderbilt Avenues in Prospect Heights, citing (among a few other things) the project's density. Which wouldn't be all that surprising — borough presidents often side with community boards, and this one is opposed to the project — were not density one of the main poles of his mayoral housing plan, which promises to "up-zone wealthier areas where we can build far more affordable units."
"Borough President Adams generally supports the applicant's proposal to increase density along wide commercial streets in the M-Crown district, which would facilitate a new mixed-use building at 840 Atlantic Avenue," Adams's office wrote in a letter outlining the decision. "However, he acknowledges that the project represents a large jump in density from what is permitted by the underlying district."
The controversial mixed-use 18-story tower, which would have 316 apartments, 95 of them affordable, is being built by Vanderbilt Atlantic Holdings LLC at the site of a popular drive-through McDonald's. Community Board 8 and a group called the North Prospect Heights Association oppose the proposed tower's height and density. "There is no reason to add density to a neighborhood like Prospect Heights that is absolutely swimming in density," Elaine Weinstein, founder of the North Prospect Heights Association, said during a meeting on the project in March.
But as Curbed has pointed out, Prospect Heights is home to only 83.6 people per acre, compared to 108.1 in neighboring Crown Heights and 94.4 in a nearby section of Bed-Stuy. And it's hard to think of a better place to add density in the neighborhood: The site is at the intersection of two wide and busy thoroughfares, one of them lined with low-rise auto shops and car washes, and it's across the street from the Atlantic rail yards and kitty-corner from the 17-story 550 Vanderbilt Avenue, part of the Pacific Park (formerly the Atlantic Yards) project. It's also a short walk from multiple train lines and the LIRR at Barclays Center. Setting aside the social functions of a McDonald's, which are intricate and considerable in American communities, is a one-story structure with a drive-through the best deployment of a corner like this?
Of course, as community-board chair Ethel Tyus said previously, "Just because you can build higher and denser because you have these two wide streets converging, doesn't mean you should." But if you're New York's mayor and your housing platform calls for more density, maybe you should? Adams hasn't said he merely wants to upzone in wealthy areas; he also wants to add density by adding "basement apartments, SROs, and other small units."
Adams's vote on this building is purely advisory (as is the community board's), and there's a pending rezoning of the area called M-Crown, which he and Councilmember Laurie Cumbo promised to uphold in 2018. M-Crown would allow only a 14-story building on the McDonald's site. Adams also quibbled with other aspects of the plan, like the affordability mix. But Prospect Heights is literally a perfect place to practice what he preaches and upzone an unlovely corner in an affluent area: Prospect Heights had a median household income of $118,623 in 2019, compared to $72,108 in New York as a whole.
"I think it shows Adams has something of a mixed record on development. Certain people are eager to portray him as a pro-development candidate, but people said that about Bloomberg and he downzoned half the city," said Will Thomas, executive director Open New York, an independent pro-housing organization. "There's a lot of status quo bias in the system because community boards get the first say, and they're by nature supposed to represent the community so it's hard to go against them. But Adams's platform is very pro-housing, and he's been elected on this. Hopefully, it will give him the confidence to move on it."
There's one thing we can be sure of, at least: Adams, a vegan who wrote a book on healthy eating and has a much-publicized fridge full of fresh fruits and vegetables, isn't opposing the project out of any affection for burgers and shakes.