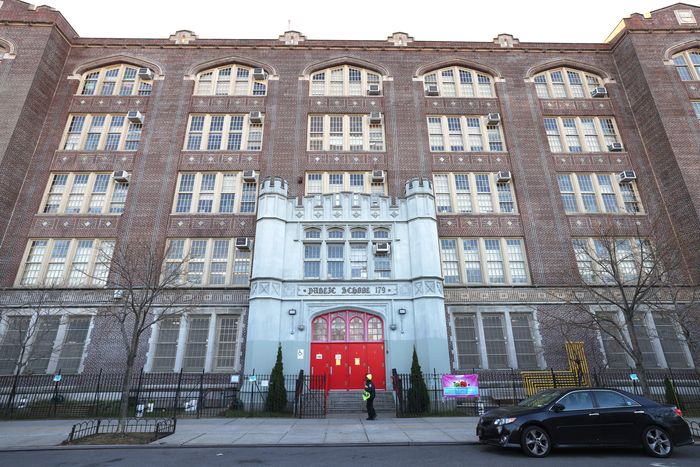 Photo: Michael M. Santiago/Getty Images
Until this summer, Hamilton School, a public elementary school in the West Philadelphia neighborhood of Cobbs Creek, was surrounded by asphalt. Now some of the blacktop has been ripped up to make room for three raised plant beds that will grow vegetables and medicinal herbs like chamomile and mint. Gardeners are also planting fruit trees around the school's perimeter. The hope is that, in a couple years, the neighborhood will be able to pick fresh pears and apples from the trees whenever they want. This may sound like a small change, but Cobbs Creek's health outcomes rank near the worst in the city, and residents have a median income of $30,500. "This costs, at most, $120,000, but it's providing so much," says Akira Drake Rodriguez, a professor at the University of Pennsylvania whose graduate students are working on the project, which will also be an outdoor classroom. "It started as a green stormwater project, but the school kept layering stuff on."
Harrity School, a public charter elementary school just a ten-minute walk south of Hamilton, could also benefit from some greening and garden space, but the administration there is stretched too thin to seek out grants or local organizations to collaborate on such projects. "Harrity has to wait for their fairy godmother to give them the same amount [of money]," Rodriguez says. "We can't scale this project. It works, but we can't scale it." The improvements at Hamilton did in fact require a lot of outreach and organization: The Philadelphia Food Trust, the Orchard Project, the Environmental Protection Agency, and Penn have all provided funding or labor to realize the school's gardens.
The uneven and patchwork way that schools find the resources to green their schools could end with a new federal policy. On July 15, Jamaal Bowman, representative of New York's 16th congressional district, introduced the Green New Deal for Public Schools Act, a bill that would provide $1.4 trillion for climate-resiliency and decarbonization initiatives in K-12 public schools. Like previous Green New Deal bills, such as the public-housing act introduced in 2019, Bowman's initiative calls for a mixture of workforce development and capital improvements with an emphasis on directing investment toward frontline communities, which experience the biggest consequences of climate change and environmental injustice due to poverty, racism, and historical exclusion. Conceptually, the bill redefines public schools — which were never adequately funded by the federal government — as the lifeline of a community.
"Our goal is to see schools as critical infrastructure in the neighborhood," says Rodriguez, who also co-authored a report analyzing the potential impact of Bowman's bill. "It means investing in schools the same way as you'd invest in roads and utilities: It's something that is not always going to run a profit, it's something that is informed by local values and uses."
So what might the Green New Deal for Public Schools look like? It could be used to fund that garden at Harrity or pay for lead, asbestos, and mold remediation at any one of the dozens of Philadelphia schools that have toxic environments and have suffered from years of disinvestment. It could be used to add solar panels and LED lighting to help a school cut down on carbon emissions, or equip another with energy storage in the event of a blackout. It could be used to turn schools into disaster relief centers during extreme weather events like heat waves, storms, and floods, like Mississippi's Saint Martin's Parish School, which was destroyed by Hurricane Katrina and re-built to emergency-shelter standards using FEMA money. The bill also allows for schools to distribute food, energy, or other basic needs on an ongoing basis. Local districts are able to prioritize their needs, as the bill doesn't prescribe a single formula for each school.
Some schools already serve as de facto community centers and disaster relief hubs, but the Green New Deal for Schools envisions schools as central to community resilience, which is about fixing some of the chronic issues that make communities vulnerable in the first place. It shortens the time that a community needs to bounce back after a disaster and addresses the reality that everyday conditions are already at a crisis level. "It's helpful to centralize, but when we are thinking of a community hub, it's more like a hub and spokes," Rodriguez explains. "The school is a center, but it's pushing resources out into a neighborhood and bringing them in." To that end, the bill funds community needs beyond schooling, including programming and staff to facilitate connections to parks, libraries, health-care centers, childcare, and job resource centers. The bill would also fund 1.3 million construction, maintenance, and education resource jobs annually.
And that money is critical. Less than 10 percent of a school's budget comes from the federal government. Nearly half comes from local property taxes, which reflect the legacy of segregation and redlining, and the rest comes from state funds. Chronic disinvestment in public goods has stripped all but the wealthiest schools of resources. The richest 10 percent of school districts in America spend three times as much as the poorest 10 percent of districts, while schools that have higher concentrations of poor and minority students receive less funding than other schools in the same district. The bill specifies that school districts in the lowest income areas will receive funding first.
Ultimately, the goal is that everyone living in a neighborhood will benefit from the Green New Deal for Public Schools funding, not just students and teachers.
"The Green New Deal is thinking holistically about how a school could serve the neighborhood instead of the district budget, the state budget, or property values," Rodriguez says. "The power and potential is finally creating a public school that everyone cares about, and I can't say that we've ever successfully done that before."