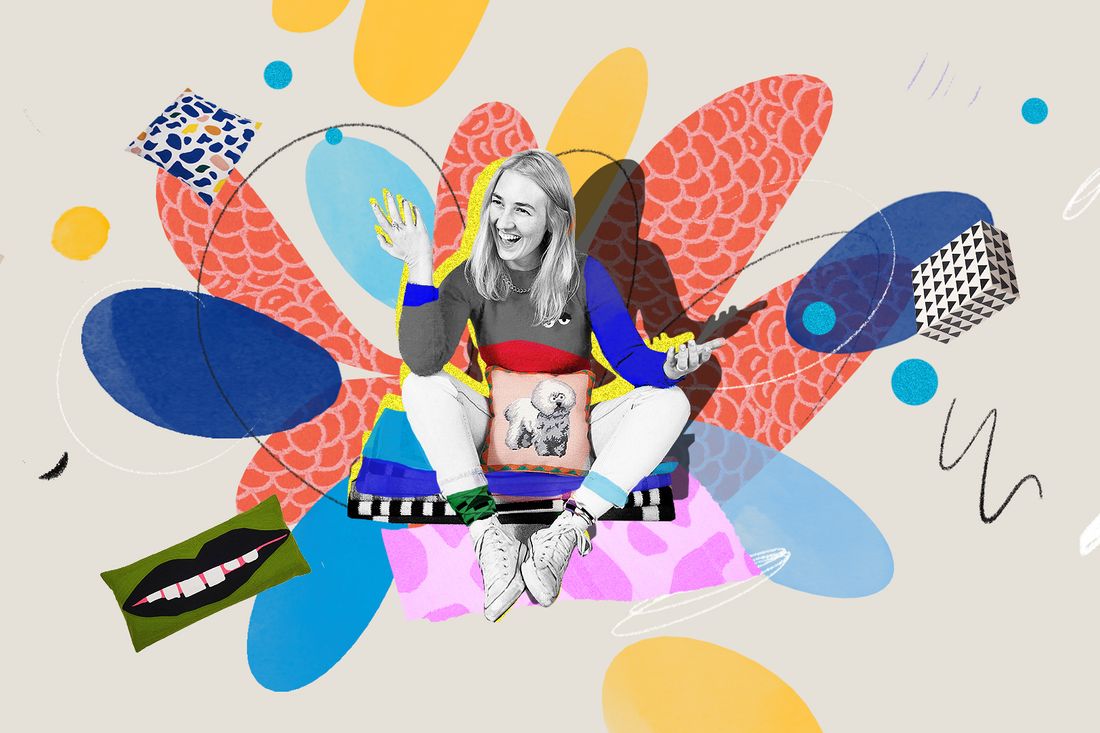 Illustration: Selman Hoşgör Photo: Courtesy of Talent
Small business owners know how to roll with the punches — that's how the most successful ones have survived and even thrived throughout the past year and a half. For the home goods retailers that have helped their customers turn their kitchens and living rooms into spaces where they actually want to spend all their time, that's meant adapting to all the ways people now want to shop — and live.
We talked with the founders of three NYC shops about the importance of building community, finding new channels, and choosing a payment service provider as adaptable as their business.
A Retail Solution for Everyone
A visit to the Brooklyn furniture store Lichen feels almost like hanging out in a friend's living room — if that friend happened to have incredible taste in vintage sofas and a collection of design books to peruse. The welcoming atmosphere is purposeful: founders Jared Blake and Ed Be want to take the intimidation factor out of shopping for furniture, which is why they serve $3 coffee alongside $300 coffee tables, play hip-hop music, and invite local artists and small businesses to sell their pieces in the store alongside their curated selection.
Making furniture shopping accessible to all is important to the business. Typically, buying furniture favors those who pay in cash, Blake says. But as Lichen's community has grown, customers have expressed the desire for more choices – from products to price points and payment types. The business offers PayPal to allow customers to pay with flexibility. "Having multiple ways to buy something goes a long way," says Blake. "We want to be accommodating to a diverse spectrum of people."
They've also expanded their inventory to meet their changing clientele. Within the last year, Lichen has expanded from a small storefront in East Williamsburg to a larger space nearby, and has added a range of pieces designed in-house that are made with their customers' needs (and budgets) in mind. Undulating bamboo room dividers ($299), for instance, make for elegant walls in a loft, while bare-bones birch dining tables ($649) don't overpower small spaces.
Beyond individual clients, the duo has been approached by business owners looking to furnish whole studios or offices. Their new wholesale accounts are now able to fulfill orders for 20 or 30 pieces at a time. As Be and Blake find ways to scale their business and vision, their buying process is changing, too, demanding larger payments upfront than a one-off vintage or small-batch purchase.
For these buys, they say, they'll often draw from their PayPal business account balance. "A lot of our transactions with retailers or other places that we source from, we pay strictly with PayPal," says Blake. For digital purchases especially, it's their payment method of choice. With all of the company's shipping and payment information already plugged in, it simplifies what, with two locations and an e-commerce business, has become an increasingly complicated logistics process. "The two locations have their own identities, so they don't get the same product," he says. The original store stocks smaller items and can usually receive shipments directly, while the new location carries bulky pieces like furniture that often have to go through customs and be received through a warehouse. "Because we're still a small team — there's about seven of us — we have to think more strategically about where inventory goes."
Even as the business expands, though, Be and Blake see their role as more akin to teachers than salesmen. "We don't try to sell anything really. We're just here to try to educate on why something costs what it does," Blake says. "I think that's the majority of it: 'Here it is. It's really rare. It's really well-made. It's probably the best price you're going to find for it. If you have any questions, let us know.' And we'll walk away and that's it."
Creating Double-Duty Spaces
Signing a second retail lease in 2020 may seem like a risky move, but for Aelfie Oudghiri, the time was right for a leap of faith. The US presidential election had just been called and vaccine announcements were dominating the news, but the rug designer had found a bargain on a Melrose Avenue storefront in West Hollywood.
"I was feeling very optimistic. I felt like anything might be possible and this was an amazing deal," says Oudghiri.
To manage the risk that a second lease brought on, she set up her physical stores to function as more than just retail spaces. The original Aelfie in Brooklyn does double duty as a storefront and a warehouse for online orders. And much like the Brooklyn location, the Los Angeles store acts mostly as a collaborative showroom: clients will come in to see textile colors in person, and architects and designers will meet with Oudghiri about custom carpets and other special projects.
"I think if we had traditional retail spaces that weren't so multi-functional, I would be very stressed out right now," she says, alluding to the ongoing challenges facing brick-and-mortar businesses.
Like many other home goods retailers in the past year, Oudghiri leaned into sales channels for sales outside of her stores. Fortunately, Aelfie has had an e-commerce presence since the brand was founded in 2012, and Oudghiri was able to ramp up that channel as homebound customers snapped up order after order of rainbow shag rugs, embroidered throw pillows, and colorful bedding.
Thinking back to the brand's early days online, she recalls seeing a spike in sales almost immediately after adding PayPal as a checkout option. "If you're buying a $2,000 rug, you want to know that it's going to arrive," she says. With PayPal, both the customer and seller get added protection. This was especially important when the company was less well-known, she adds, because even though "I know we'll send you your rug, people might not necessarily know us."
She can relate to this sense of wariness, given how often she finds herself ordering supplies for the business "from all kinds of corners of the internet" — whether it's a table and chairs for the new store or a giant pizza box for a photoshoot. "I'm often on websites where I'm like, 'Is this going to show up?' So it's also nice for me to have the PayPal button." It's a sense of trust that comes with the PayPal button, whether she's using it as a seller or customer.
Oudghiri knows that a sense of security for customers is invaluable, which is why she's built up the store's social media channels as a kind of customer service outlet. Aelfie's customers have a direct line of communication through social media, so Oudghiri can answer concerns before they commit to a major purchase. In return, she polls followers on questions such as what color to paint the exterior of the LA store (mint green) and whether to produce a new collection of blankets in poppy or earthy tones (earthy, to her surprise).
It's almost like chatting with customers who come into the store, she says, but "on a larger scale, and on a more honest scale too. People on social media will really tell you what they think about things."
A Pivot to Ecommerce, and a Return to In-Person Retail
Brick-and-mortar has always been at the heart of Lauren Williams' idea for Lolo, the Brooklyn shop she opened in 2019. A jewel box of handmade objects and one-of-a-kind treasures, the store was set to move to a bigger location in March 2020 before the world got in the way of those plans.
Instead, Williams packed up her pillar candles and bud vases and moved them to her apartment and a nearby storage unit, where she could access them for online orders. While the store was open, Lolo's website only carried a small selection of inventory; with so many one-of-a-kind or limited-run items, it didn't make sense to individually photograph and write descriptions for each product when they might sell off the shelf the next day. When e-commerce became Williams's only channel, though, she spent days hauling merchandise to her apartment to take photos and list everything online.
It didn't take long before some now-familiar spending patterns emerged: almost no one was buying handbags, but ceramic vessels and throw blankets were flying off the digital shelves. (Earrings, too, thanks to Zoom calls.) To get a better understanding of demand, Williams also added a button to the site to allow customers to request a notification when a sold-out item came back in stock, and reordered inventory as the requests came in.
"I was able to order from these makers that were worried about stores canceling orders because they were closed," says Williams. "It was really a very pleasant surprise."
The majority of Lolo's vendors are independent creators with fledgling wholesale businesses, and Williams pays most of their invoices through PayPal.
"It's just an easy way to send money to them for their work," she says. "They're small businesses, they don't necessarily have a website that they can put your card into."
She also recognizes that many of the new customers she's attracted online may not have the same sense of trust as those who first met her face-to-face in the store, so PayPal has been a valuable tool for customer acquisition.
"I think during COVID, a lot of people were more consciously buying from smaller businesses, which I am very, very thankful for," Williams says. "And they're becoming a little more conscious, too, of the cost. These are things that people make with their hands, and they want to be compensated appropriately for them."
It's important, then, that consumers who want to invest in indie brands can shop online with confidence. Even with the store closed, Williams has made sure to keep up the community feel online.
"I try to keep everything very personal and friendly, and I think that's helped my business a lot," she says. When she makes it clear that it's a human, not a robot, answering emails and handing off pickup orders, customers treat the business more like a friend they're excited to support.
As the city reopens and Lolo's landlord finishes construction on the new space, Williams is preparing for a triumphant return to in-person retail this fall. She's adding on to her shelved collection of vintage pieces that don't translate as well online, because they sell better in person, she says. She's also planning to pick back up her artist features in store, where she'll highlight an artist or a particular medium (ceramics, textiles, paintings) to guide her merchandising. And while she expects e-commerce will continue to be an important part of her business even after the reopening, she hopes to balance her time better by keeping some items as in-store exclusives and listing only the items she expects to sell best on the website.
Aside from giving customers a chance to see, touch, and try on all the pieces she carries, she's looking forward to hosting events such as maker workshops, wellness pop-ups, comedy nights, and more. After all, there are some things you just can't do online.
"So many of the things that Lolo carries are happy and joyous," she says. "People smile when they see them. They want to hug a lot of things."
This advertising content was produced in collaboration between Vox Creative and our sponsor, without involvement from Vox Media editorial staff.