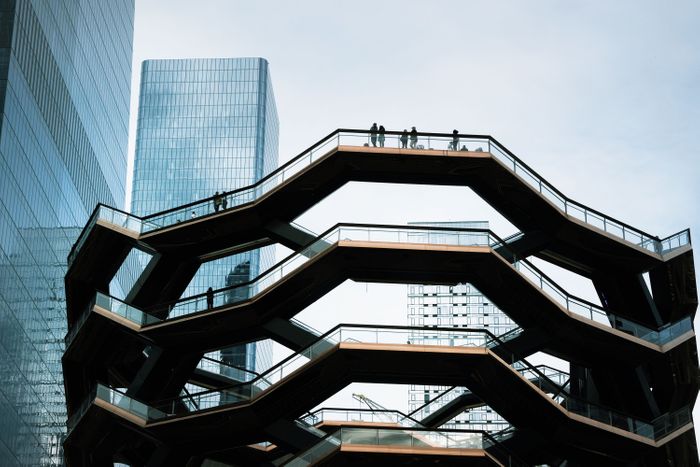 Photo: Spencer Platt/Getty Images
Just after noon on Thursday, a 14-year-old boy took his own life by jumping off the 150-foot-high Vessel at Hudson Yards. It's the fourth suicide there since Thomas Heatherwick's crosshatched array of stairways first opened in 2019 — and the first since its owners, the Related Companies, closed it for four months for a suicide-prevention overhaul following another death in January.
After that suicide, in which a 21-year-old man jumped over one of the railings, the Related Companies (which owns and manages Hudson Yards) announced several measures: It posted signs with the National Suicide Prevention Hotline number at the entrance and along the walkways, added similar messaging to the tickets, and banned people from entering alone. The company also started charging $10 to enter the sculpture, tripled staff and security, added screening to "detect risky behaviors," a spokesperson said. But Related did not raise the height of the railings around the structure.
Critics flagged the railings, which are only chest-high, as a suicide risk as soon as the design was unveiled in 2016, and the local community board has been pushing for them to be raised since the first death in February 2020. Doing so could particularly help deter younger people, who tend to make the decision to take their own lives impulsively. But when the Vessel reopened in May, Related told the New York Times that it had no plans to rework the barriers. Today Stephen Ross, the billionaire behind Hudson Yards, told the Daily Beast that he may close the Vessel altogether, saying, "We thought we did everything that would really prevent this."
If you or anyone you know is considering suicide or self-harm, or is anxious, depressed, upset, or needs to talk, contact the following people who want to help:
Crisis Text Line: Text CRISIS to 741741 for free, confidential crisis counseling.
The National Suicide Prevention Lifeline: 1-800-273-8255
The Trevor Project: 1-866-488-7386