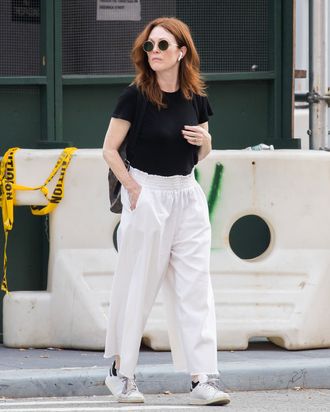 Photo: Tal Rubin/GC Images
The nice thing about selling New York City real estate? If you can't get the price you want now, just wait a few years and you probably will. You may even get more. Like actress Julianne Moore, who, according to city records, just sold her West Village townhouse for $15 million.
In 2009, Moore tried listing the townhouse on West 11th Street for $11.995 million but didn't find any buyers. A few years later, the house was back on the market, asking a little more: $12.5 million. Again, no takers, and she bided her time. Certainly, it doesn't seem to have been a great hardship; the house — which was featured in Architectural Digest in 2017, perhaps in a bid to attract potential buyers — looked like a very comfortable place to wait for the right one. And that person has now shown up, paying $15 million in what appears to be an off-market transaction: The home sold to a corporation known as 335 11th Street LLC, which has a mortgage linked to an address in Rhinebeck that appears to belong to affordable-housing developer and part-time Rhinebecker Michael Clark.
Moore bought the place for $3.5 million in 2003, several Oscar nominations ago, and put a lot of work into turning the apartments in its five Greek Revival stories back into a single-family configuration. She and her longtime partner, Bart Freundlich, married in the garden before starting demolition. After several years, they did a smaller second renovation, moving the kitchen from the garden to the parlor level: "I cannot recommend more strongly putting your kitchen somewhere with lots of natural light," she told AD. The house was, in the words of that magazine, "delightfully, unapologetically normal." That is, if your normal involves La Cornue ranges, 49-foot-deep gardens, and an office level where you display your family photos and Academy Award.
Moore also recently sold her Montauk "cottage" for $2.85 million, having moved out after finding a drunken stranger passed out on her couch one morning. She and her family reportedly moved to a gated ten-acre East End property to avoid another such incident. As for where she might have moved in New York, property records don't reveal a thing.