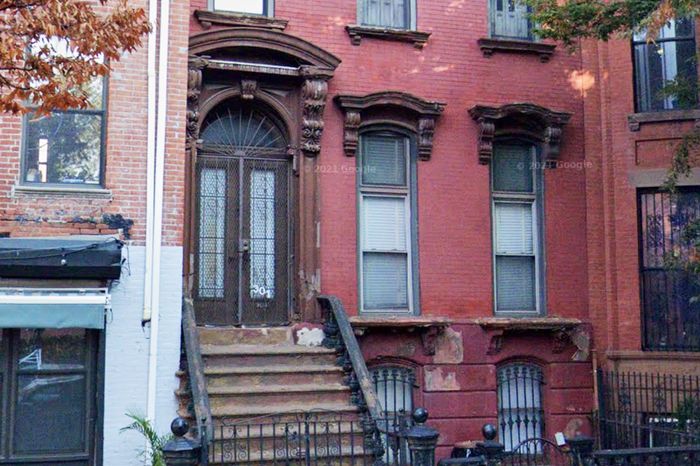 301 Greene Avenue.
Photo: Google Maps
As housing prices in Brooklyn have shot up over the past few decades, it's become rare to see townhouse listing photos that are anything less than shelter-mag worthy. Occasionally, there might be some photos of a partially gutted house: rooms stripped down to the studs, wires dangling from the ceiling, maybe a few broken floorboards that only add to the romantic charm. Looking at them, it's easy to imagine yourself — or perhaps more accurately, your contractor — in the role of renovating savior: refinishing the floors, stripping paint off the stair rails, putting up new drywall. What you don't often see are listings like the one for 301 Greene Avenue, a brick townhouse by the Clinton Hill–Bed-Stuy border that made the rounds on Twitter the other day. (All of the interior photos were taken down after Curbed reached out to the listing agent.) "I appreciated this listing's frankness about how much of a literal crime scene this house is," a recent twitter post joked, with a photo of a claw-foot tub in one of the bathrooms that was covered in brown streaks. "I absolutely should not have clicked on this as I was eating my breakfast," someone replied.
The house is, undeniably, in bad shape: there are water-damaged ceilings, peeling paint, crumbling plaster. (The listing admits as much: "The home does need work and will not clear conventional financing.") But a lot of houses in Brooklyn are in need of major work. What was unusual about this listing wasn't its condition, or even the asking price — $1.899 million, which is pretty much the going rate for unrenovated houses in the neighborhood these days — but the fact that the listing photos showed a lifestyle that was not exactly aspirational. In addition to the obvious fact that the home's occupant, presumably the owner, was living in a place with peeling linoleum and holes in the ceiling, photos show rooms full of stuff: VHS tapes, an old Teletubby doll, tilting clothing racks, trophies, overflowing boxes, plastic bags. Flypaper strips hang from the ceilings of several rooms and a tub of Lysol wipes is foregrounded in another shot. "Are there … squatters living there"? someone asked on Twitter.
With brownstone prices what they are, it can be easy to forget that not everyone who owns or lives in a brownstone is rich, even if the buyers are. Gary Roger, the listing agent at 21 Century Achievers, did not want to comment but seemed surprised, when I called, that anyone would be shocked by candid house photos. This is, after all, what a lot of Brooklyn brownstones look like inside. It's not all blown out rear walls and statement light fixtures. City records show that the seller has owned the house since 1991. While it's unclear if she's the occupant, the listing says that it's a legal two-family being used as a one-family, so it seems likely.
Ten or 15 years ago, it wasn't uncommon to see dilapidated brownstones with lower-income tenants and owners. But these days, traces of such occupants are usually thoroughly scrubbed out before a listing goes on the market. Personal belongings are removed, grimy surfaces are slathered in white paint, and the home is staged, either physically or digitally.
As almost any broker will tell you, it's always good practice to remove clutter and overly personal objects before listing a property — buyers find it easier to imagine themselves living there that way. Even if properties aren't staged, they're almost always primed and primped. For properties that go on the market looking like 301 Greene does, there are usually just a few grainy photos: one or two exterior shots and maybe a photo of the foyer or a close-up of a mantel. Those properties often sell to investors who, unlike end-use buyers, are not so sentimental. But in this market, the listing photos don't really matter. StreetEasy shows less than 20 houses in Clinton Hill and Bed-Stuy for under $2 million, none located in an area as gentrified as this one. Clementine Bakery is next door, and a broker told me that a renovated townhouse around the corner got multiple offers above the $2.5 million asking price this spring. The simple truth is that 301 Greene will probably fetch its asking price no matter what it looks like.