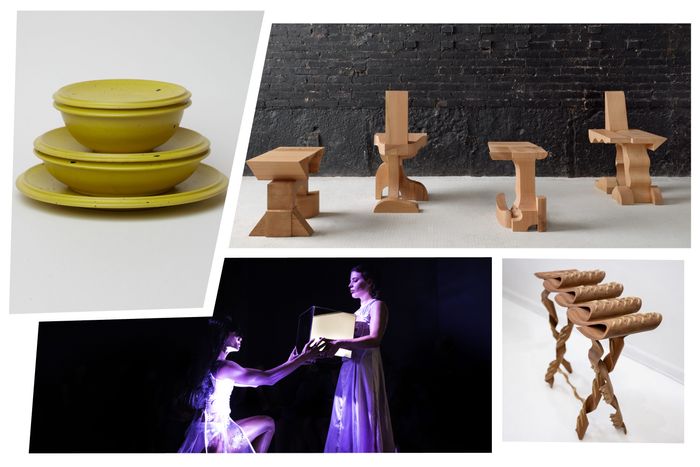 Photo: Courtesy BKLYN ClayBecca Guzzo/Courtesy of the Bronx Museum of the Arts, Dan Bradica, Tiffany Ng
Every couple of weeks, I'll round up and share the objects, designers, news, and events I'm excited about.
The British designer Max Lamb can make a chair using just about anything — brass tubes, tufted carpet, Styrofoam, and even sand at the beach. His body of work over the past two decades is an obsessive exploration of materials and fabrication. His latest endeavor uses Western red cedar to form a series of chairs, stools, and benches that are now on view at Salon 94's new Upper East Side gallery, located in a landmarked Beaux-Arts mansion. Starting with solid slabs of wood measuring six feet by six feet or six feet by eight feet, Lamb deliberately cut the material so that he could use every single piece in the designs, which are held together by mortise and tenon joinery. "What is taken away cannot be too big or the grain is weakened, but each cut yields a positive and the benefit of the cut is potential for the block of wood to become something else with a larger surface area with more function," Lamb has said about fabricating the series. The combinations of geometric and wavy shapes yield pieces that look almost like Italian futurist sculptures. Through August 24.
During the pandemic, BKLYN CLAY, a clay studio in Prospect Heights, quietly opened a retail storefront and began producing an in-house line of ceramics that includes cups, plates, and bowls. Lead technician Sarah Allwine and co-studio manager Gustav Hamilton designed the BKLYN CLAY Made collection of the stoneware plates and bowls. They're beautifully glazed pieces and come in hues ranging from eggshell to deep blue, saddle brown, and a vibrant speckled chartreuse. Cleverly, the plates double as lids for the bowls to make storing leftovers a little easier.
Wardell Milan, a visual artist based in Harlem, has a new solo exhibition at the Bronx Museum of the Arts that explores the racial violence underpinning American society. The most evocative elements of Amerika. God Bless You If It's Good to You are performances that Milan choreographed with Zachary Tye Richardson, which take place in a site-specific structure named The Chapel of Five Indices. Commissioned from the sculptor and designer Billy Ray Morgan, the Chapel — an intimate room painted all black and filled with abstract metal sculpture — resulted from Milan's thinking about the sanctuaries for marginalized communities that have become targets of violence, like the Pulse Nightclub in Orlando and the ​​Emanuel African Methodist Episcopal Church in Charleston. "Within this chapel, these irrepressible bodies cannot be flattened but must be reckoned with," Milan writes. The performances — The Black Male Body, The Female Body, The Trans Body, The Migrant Body, and The Quarantine Body — explore themes of identity, love, and mourning, and are entirely transcendent experiences. Through October 24.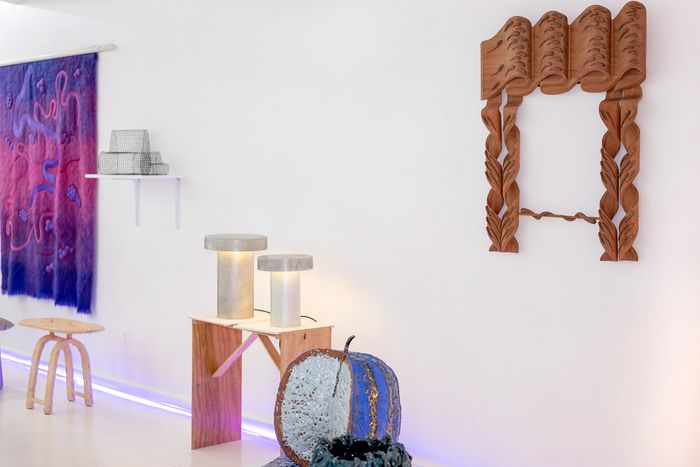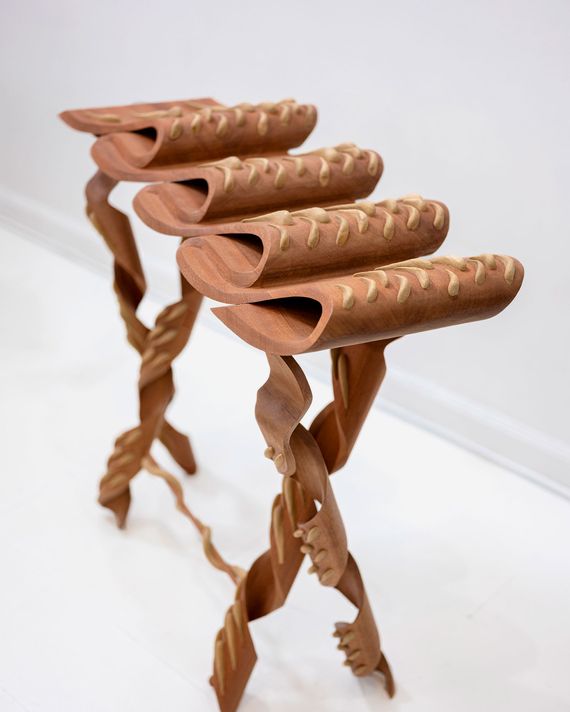 It's a shame that 'Home Around You,' a design exhibition featuring work by some of the city's most exciting emerging studios, was only open for two days at IRL Gallery in Greenpoint. Curated by David Eardley, founder of the creative studio and online design archive Pink Essay, the group show included prismatic tapestries by Liam Lee, a ceramic lamp that looked like an enormous mushroom by Ellen Pong, and pillowy stools by Studio Guapo and Work At Hand. A piece I kept thinking about long after I left the show was Shaina Tabak's beautiful, intricately carved-wood Folding Table made from sapele and poplar. The rippled surface adorned with thorny bumps meant that the table couldn't really be used as a table, but it folded flat and could be hung on a wall for space saving. It occupies this space between the functional and the aesthetic — a conceptual area Tabak likes to explore in her work.
It's no secret that architects are obsessed with building stairways to nowhere. But when I recently visited Daughter, a new community café in Crown Heights, I was really charmed by the mini brownstone stoops — done up in textured brown plaster to look like the real thing — which line the minimalist space designed by Christopher Al-Jumah. "We wanted to create this environment where people could sit and hang out and engage with one another, and the stoop provides a communal feel for the space," Al-Jumah says. None of the apartments I've lived in have ever had stoops, so sitting on the ones at Daughter felt extra-special.