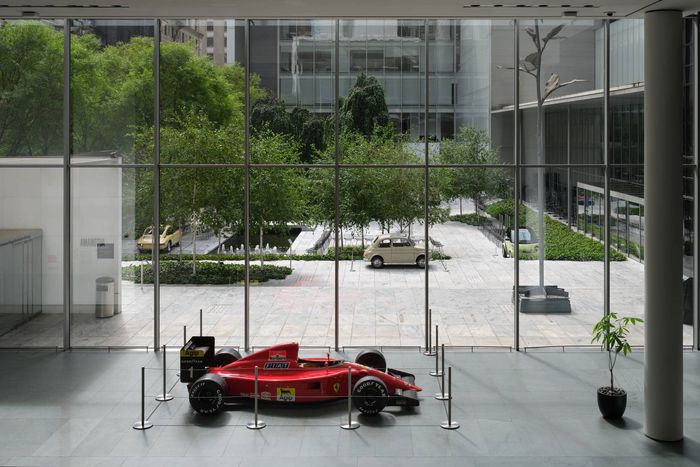 Cool car, bro.
Photo: Denis Doorly/The Museum of Modern Art, New York
In the early 1970s, the Museum of Modern Art acquired its first automobile, a lithe 1948 Cisitalia 202 with a sexy scarlet paint job. Around the same time, the novelist J.G. Ballard appeared in a short film based on his novel Crash, sliding his fingers over the haunches of late-model cars. In his creepy, provocative style, Ballard argued that the machine had slipped its way into the human psyche, infiltrating libido, defining identity, and rewriting our sense of the future. "It is the vital job of the writer," he intoned, "to try to analyze and understand the real significance of this huge metallized dream." That duty drew him to the end point of the modern reverie: the fatal crash, which fuses the animate and the inanimate, compressing bone, skin, and steel. He studied the collision tests in which sacrificial cars carrying dummies slammed into each other with appalling force: "In the passenger seats, the plastic models described graceful arcs into the buckling roofs and windshields. Here and there, a passing fender severed a torso."
I enjoy driving, even when it verges on the extreme. I have steered a frail subcompact through a hurricane, forded mountain streams in a 4x4, planed over black ice, scraped through medieval streets, and watched a deer leap through my windshield on an interstate. A prickle of terror greets me every time I get behind the wheel, yet like billions of fellow humans, I know that the car that threatens my life has also enriched it. Driving teaches the mind to complete what the eyes can't see — to assume that the road continues beyond the next blind curve, to trust that the driver behind those brightening headlights is rational, awake, and not suicidal. Cars also encourage us to ignore much that is obvious: the troubling odds, the invisible clouds of poison, the diminishing returns of building ever more cars and wider roads.
The curators of MoMA's "Automania" (Juliet Kinchin, Paul Galloway, and Andrew Gardner) give a grudging nod to these paradoxes. They lay out their vintage treasures: a tiny, tinny Fiat Cinquecento, a Porsche 911, Giacomo Balla's Futurist painting Speeding Automobile, assembly-line films, and so on. The ostensible ambitions on display are sweeping: to garland a small collection of vehicles with drawings, art, posters, and films illustrating the hold that the internal combustion engine has exercised on modernity's collective soul. A brisk selection of autos-as-art and art about autos comes accompanied by a few lines of gloomy prose: "While the technological innovation and mass production of cars has brought about undreamt-of standards of living, cars also lead to gridlocked immobility and, ultimately, the extinction of civilization." It's always difficult to grasp why, once we know what cars have wrought, we continue to use and love them. It's even harder to understand how curators could touch lightly on apocalypse and at the same time come up with an exhibition so narrow, so dated, and so misjudged.
Drifting through "Automania," I found myself wishing for an experience far beyond what the museum had actually mustered. Afterward, I compiled a mental list of images and exemplars that the curators had left out. Ballard's 17-minute film. A Tesla, or any hint of an electric future. Something — anything — about the debates and disappointments over self-driving vehicles. Even as museumgoers amble around the sculpture garden cooing over cute little carlets, the rest of the world trundles around in clumsy behemoths. You would never know how tightly bound certain brands and models are with various subcultures — that Islamist guerrillas prefer to career through the desert in Toyota pickups or that the Ford F-150 has become the chariot of the American right. For sheer museum-worthy grotesquerie, MoMA might have rounded up a double-decker Hummer H2 Galaxy limo, which occupies city streets like a cruise ship in the Venice lagoon.
The oversights add up. Surely, the architecture and design galleries would have been the place to showcase some of the more glamorous achievements of car-based infrastructure, like Norman Foster's Viaduc de Millau, which slings a French autoroute across the Tarn gorge like a taut white thread; Zaha Hadid's graceful Danjiang Bridge in Taiwan; or Herzog & de Meuron's 1111 Lincoln Road garage in Miami, a utilitarian storage box for idle vehicles that masquerades as a party space and urban showpiece. Bupkes.
Is it a cheap shot to dwell on the holes when every object that makes it into a museum stands in for a dozen more left out behind the velvet ropes? Perhaps, but this is an ought-to-be blockbuster made up of lacunae. This moment, and MoMA's own history, calls for a broad, deep, agenda-setting landmark that would have done what cars allow us all to do: range into new terrain. I wanted a room dedicated to L.A.'s lowriders, a sample of music remixed for car stereos with thunderous woofers, maybe even the NFT of Mister Cartoon's digital hood art, virtually painted on a virtual 1964 Chevy Impala. The elusive promise of full automation once intimated that keeping eyes on the road would be an obsolete activity; the museum might have commissioned an artist or two to treat the windshield as canvas or movie screen.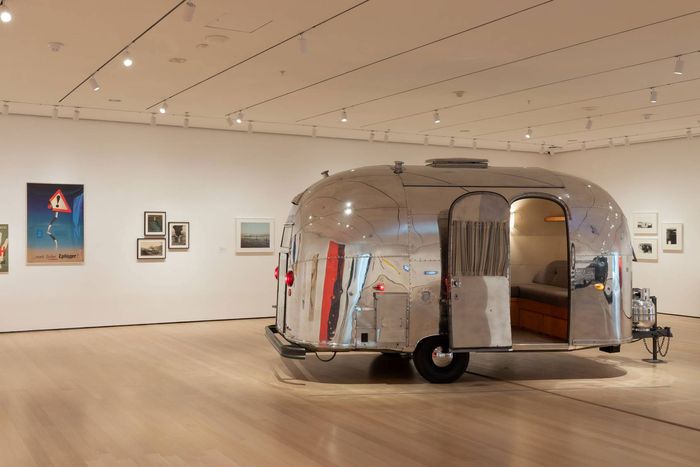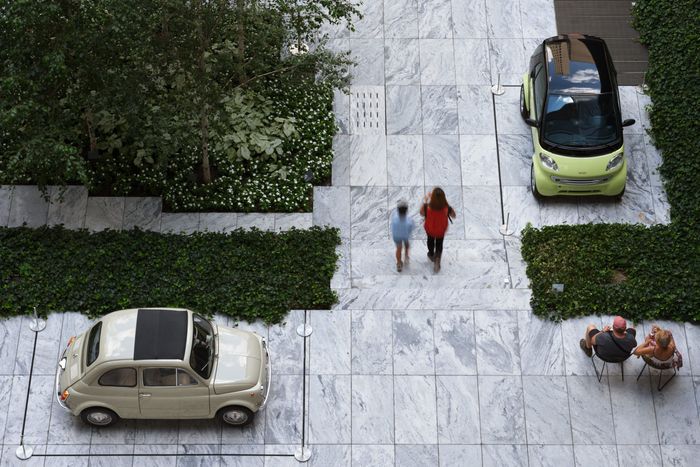 Even if MoMA stuck to work with a museum pedigree, it could have followed the lead of artists who examined the motorized world with unsentimental clarity. We do get Andy Warhol's Orange Car Crash series, in which a horrifying news photo has been stripped of its ghastliness by repetition and stylization. But it might have been bracingly paired up if the museum had borrowed Carlos Almaraz's 1984 painting Crash in Phthalo Green, which transforms an elevated highway into an altar for a fantastical blood sacrifice. What traffic reporters would describe with the anodyne term accident, Almaraz depicts as an explosion of steel, flames, and blood.
"Automania" is simultaneously nostalgic and futuristic, gazing back on 20th-century fantasies of what the 21st century might look like. It doesn't entirely overlook the absurdities of waste and hubris that emerged along the way: A photograph of Ant Farm's 1974 installation Cadillac Ranch, with its ten tailfinned Caddies embedded nose-down in the Texas plain, makes an appearance in the catalogue, though not on the walls. But throughout, MoMA obscures the clarity with which so many artists saw darkness behind the headlights. To illustrate that point, the curators might have included Allan D'Arcangelo's painting US Highway 1, in which the open road has been distilled to a field of black, pricked by a white center stripe, a reflective marker, and a Sunoco sign. I can envision a whole grouping of such somber works, including Mark Steinmetz's 1997 black-and-white Athens, Georgia. An old sedan sits in a field, shrouded in kudzu like an abandoned shack. The car may be nearly obliterated, but up above, a train thunders over a viaduct, shooting diagonally toward the picture plane and into the future like an apparition from an early-20th-century poster for rail travel. Mournfulness mixes with vigor.
MoMA has always been oriented toward Europe; the first object we see at the entrance to the third-floor galleries is a road sign pointing toward Central London. But it takes an extra dose of provincialism to mount a show about car culture and nearly forget about the existence of Los Angeles. Yes, visitors can bend over a display case to examine a segment of Edward Ruscha's micro foldout series Every Building on the Sunset Strip, but there's little sense here of Southern California's vast automotive cityscape, with all its glare, allure, and bleakness. That rubric might easily have filled a room or two, organized around Chris Burden's Metropolis II, a room-size sculptural vision of urban insanity in which a six-lane freeway and ribboning ramps climb, dip, and loop through clusters of towers. Where are the deep treasures of L.A. photography, like the untitled 1997 photo by Catherine Opie that gives a generic intersection along Fairfax Avenue, striated by lampposts, electric poles, and telephone wires, the monumentality of a Renaissance landscape? In the 1990s, Opie cast herself as a portraitist of the freeways, which she shot early in the morning and from below, producing tiny images of immense structures in rich, grainy tones. They are California's pyramids, indestructible monuments that will long outlast their usefulness and someday provoke the mixture of awe and condescension with which each generation looks on the past.
Ignoring L.A. means that the show glosses over the way the car and its spatial needs — wide lanes, ramps, shoulders, and parking lots — have scarred the American landscape and at the same time laced it with a concrete circulatory system. Even the widest lenses and highest perches had trouble embracing the scale of change. Delmar Watson went aloft in the late 1940s to document the construction of the four-level freeway interchange that today's Angelenos know as the Stack. You can read about the neighborhood razed and the thousands displaced in its construction — or you can look down through Watson's lens and see concrete sabers cutting through a dense city, leaving irreparable tears. A few years later, the photographer William Garnett flew himself up above a stretch of flatlands in Southern California and spent several years chronicling the transformation of lima-bean fields into the gridlike suburb of Lakewood. The series illustrates the persistence of agricultural geometry in the planning of residential communities. Houses were the new cash crop, fed by asphalt furrows.
The pictures of these massive terraforming forces, with their remorseless machinery and government billions, are also panoramas of injustice. One of the show's most glaring omissions is any discussion of the relationship between roads and race. The damage inflicted by urban expressways (and the special dangers faced by Black drivers) has never been a secret. In an interview in the spring, transportation secretary Pete Buttigieg said "there is racism physically built into some of our highways," an incontrovertibly factual statement that Robert Caro detailed in his quasi-scriptural book about Robert Moses, The Power Broker. Yet barely a whiff of that history penetrates "Automania," which reads as if the automobile and its discontents were an almost exclusively white affair.
It's one thing for an exhibition to incorporate the limitations of its time and its curators' specific interests. But I've rarely seen such a yawning misalignment between stated goals and execution or between a subject's seriousness and its breezy presentation. MoMA has plenty of experience wrestling with urgent global challenges in ways that fit in a museum. In the past, it's been able to break down a huge job — in this case, that would be repairing a century's worth of car-based damage — divide it into discrete tasks, and assign them to teams of architects, artists, designers, and consultants. This time, though, an institution of global ambitions and vast clout proposed to examine the intricate turf of car culture — and blew an opportunity that won't come again for many years.