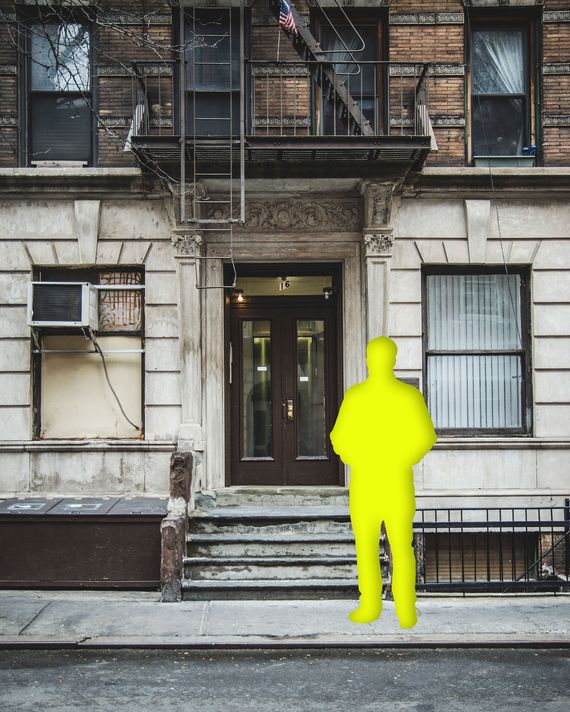 Photo-Illustration: Curbed; Photo: Education Images/Universal Image/GettyImages
For the formerly incarcerated, finding an apartment in New York City is a Sisyphean task. They might ace the interview with an agent and have the cash for the security deposit and first month's rent, but once their background check comes back with a criminal conviction, it all comes crashing down. Getting rejected again and again means staying in the shelter system or wherever else they've managed to secure housing. Worse, they're caught in a cycle of homelessness and poverty that makes them more likely to commit a crime and return to jail. It's a problem that exists across the country, and some cities, including San Francisco and Seattle, have now made it illegal to reject would-be tenants solely because of their criminal histories. Across the Hudson, New Jersey passed the strongest legislation on this to date in June. Now, New York could approve its own version with a new City Council bill, the Fair Chance for Housing Act, that would prohibit housing discrimination based on one's criminal record.
"A conviction has an end date, shouldn't the punishment?" wrote 80 tenants' rights and criminal-justice reform groups in a recent letter to Council Speaker Corey Johnson that calls on the council to pass the bill. Among the signees are three formerly incarcerated New Yorkers who told Curbed about their years-long searches for a place to call home.
Devone Nash, 51, is a mental-health advocate and a recent graduate of Medgar Evers College with a B.A. in psychology
January 7, 2016 — that's when I was released from federal prison in California after I served six years and eight months for racketeering and robbery of a jewelry store. I was on the run from 2001 to 2007 before I went to prison. I had a fugitive warrant, so even after I'd done my time, the warrant was still online. Whenever someone Googled my name, they'd see a fugitive. So it was immediately, I don't want that person here.
When I first left prison, I came back to Brooklyn — I grew up in Crown Heights — and I was living in a house in Canarsie. My mother was living there first, and then she retired and moved to Florida and I was still living in the house. I was giving the rent to my mother and she was giving it to the landlord. My mother did tell him I was staying there. One day, I'm in the shower and as I come out, my towel wrapped around my waist, a man is standing smack-dab in the middle of the living room. I froze. I didn't know if he broke in. The apartment door is wide open, but I know I didn't leave it open. He says he owns the place. I said, "Well, I live here." We got into an argument and then he left. A couple days later, I got a housing court notice. He did a background check on me and found out that I had just come home from prison. He knew everything. And he said point-blank, he did not want me in his house, period. So he went to court and legally evicted me and my nephew.
I was fighting this from 2016 all the way to August 2017. All that time, I was trying to find an apartment or a room for us while I was working and going to school. So I was putting in application after application with real-estate agencies and brokers, and they were charging me for background checks. I spent about $1,500 just on applications and background checks, just to be told no. When I finally did find a room, the guy was charging me $125 a week per person. It was at a three-quarter house in Bedford–Stuyvesant, and everywhere you could possibly look, there was a bunk bed. That's why we had to pay so much. We had the only private room. We didn't want to have to sleep in a room with 30 other men. Still, it was so small. There were mice. It was just dirty. I went from a house to a room, even though I paid my debt to society.
We lasted there for about two months. After that I went to stay with a friend for like two months, and then we went to the family shelter in Long Island City. That's where we've been since January 2018. Now it's the same story every time with the brokers — everything would be going great, then they do the background check and I would be told, "You don't make enough money for this place," or, "We can't find anything for that price." I understand where they're coming from. But I've been out of trouble and goal-oriented. I knew I had to prove myself because I have this scarlet letter of a violent history. So I went to college. I got three part-time jobs. And I graduated with my bachelor's in psychology from Medgar Evers. With the money I save, I might as well buy a house, because I'm not going to be able to get an apartment. So now my second option is to become a qualified first-time buyer and get grants for a down payment for a place to call home.
Five Mualimm-ak, 47, is the director of the Incarcerated Nation Corporation


It was extremely difficult for me when I first came home from prison in 2010. I was returning directly from solitary, so it's a different type of pathway. When you're leaving a system where there's no support and you end up getting dropped off at Times Square–42nd Street, where there's a million theaters and tourists and Spiderman is fighting the Statue of Liberty — I had a mental-health breakdown. Then I got remanded and came back out in 2012, and I got sent straight to the Bowery Residents' Committee. So I lived in one of their one-stop-shop stations. They bill the city for you staying there and they have hot showers, free meals, you have a little cubby with a key. You had to leave during the day, but then at night you can come in. It changed into You can stay during the day and we'll have inclusive programs, but it wasn't enough. I had mental-health issues; I have schizophrenia and bipolar disorder.
Still, the fact that I lived there on 25th Street and Seventh Avenue allowed me to disguise that I was homeless in the world of activism. I'm going back and forth around the country speaking and I'm on TV, and people think I'm okay, but I disguised it. I have to promote this illusion that I'm okay, when housing laws prevent me from being okay. Even as a successful person in the nonprofit world, I still can't get a response that's unbiased from realtors and property owners. On a personal level, it's way past, "You don't have the credit," it's way past, "Do you have the salary?" You just can't even get through the application process to introduce yourself. One of the big things I hear is, "Oh, you're a felon? Well, we don't want that type of community here." And you end up in a situation like subleasing, or like me living in a studio in supportive housing.
I remained in BRC for three years. It becomes this challenge that once you're a felon, we're stuck for a long time before we get into permanent housing. And still today, I live in supportive housing. A lot of people don't know that I do. It's a studio apartment; it's just a room and a bathroom in a 12-story building on Cortlandt Avenue. The model is that people have mental-health issues, they have felonies, they can stay there for a year or they can leave once they kind of get stable. There are rules. I can't be gone for more than three days straight. And then they turned it into permanent housing to accept vouchers as rent, but they never changed the rules of engagement for living here. And so it became this sort of very hostile environment for everybody. They didn't provide with no assistance on moving out, and I've been stuck in this place ever since then.
There's been hundreds of rejections. I'm not even stable ten years after being released. I am never going to get a place. That's why I pulled a bunch of people together and we're trying to buy a building. Me and my uncle and my brother and a couple of other people are looking to buy a building that would be supportive housing and a whole coffee company too — the Black Panther Café. People will come home, live there, and work in the café. It's a reentry network. We don't need to do the background checks — we know you just came home. We give you a job that lets you pay the rent and you become our tenant. And then at the same time, I can eventually use the income to find housing.
Hilton Webb, 65, recently graduated with a master's degree from Lehman College and is studying to become a licensed social worker
When I got out, which was August 16, 2017, I didn't have a home, so I was sent to the men's shelter on 30th Street. It felt like going back to prison. And I realized this was not going to be a place for me to get my life on the right track. A guy told me he had a hookup in Far Rockaway, so I said, it's gotta be better than the shelter. And it was. But I immediately knew I couldn't stay there. There were too many other guys. It was just a moneymaking operation. During the time I was there, I walked around the neighborhood and talked to anyone I could to find an apartment. I talked to a guy who seemed to be amiable. He liked me, and said he thought I was a nice older guy. So I said, "I guess I should tell you I was formerly incarcerated." He said, "Well, I don't know if I want to have you in my building." And that was the tenor of most people I ran into.
For three months, pretty much Monday through Friday, I was looking for a place to stay. I'd speak to an average of two to three people a day. My friend was willing to cover the security deposit and the first month's rent for me, so I had that edge of not having to worry about where the money was going to come from. The money was never the problem. The problem was always my background. People would ask, "Where did you live last?" I had to tell them. And very rarely would I mention the length of time because I feel that would definitely scare people. If I tell them the last 28 years I spent in prison, they'll say, "I don't know what he did, but he must have done it, because that's a long time."
Finally, I got into a building at the Fortune Society. They have a building on 140th and Riverside. It's subsidized, supportive housing. They have meals. There's programs you have to do. But it's safe. I have my own room, I guess you could call it a studio. Nevertheless, I know I can't stay here forever. Ideally, I'd probably like a studio or a one-bedroom apartment in the neighborhood of anywhere from $1,500–$1,800 a month. So I've been looking in the neighborhood, but everywhere I go, it's the same story. I remember one day I went to one apartment building and they had the housing office open and they were taking applications. The broker was real nice. They asked if I have references from other places and I said no, I was in prison, I'm just restarting my life. The broker said, "I don't think this is going to work out because we have strict rules; we're going to do background checks and you won't be able to pass."
At times I thought I was better off being inside. But that's bullshit. There were times where I thought, Okay, what I need to do is something so I can make enough money quickly to just buy my own place. I used to be a chemist. I could become a chemist for some drug dealer and cook his drugs for a couple of months and make tens of thousands of dollars and just buy a building and I wouldn't have to worry about a background check. Did those things run through my mind? Sure. Were they real possibilities? No. Because I'm not breaking any laws; I'm done. Whether or not I did the crime, I did the time already. I was sentenced to 20 to life. I did 27 years, nine months, and three days. I just assumed that, since I'm fairly glib and clean and articulate, that I'd be able to win people over and I could find a place to live and find a job and take care of myself. I just want to be left alone to live my life. And I'm not being allowed to do that.