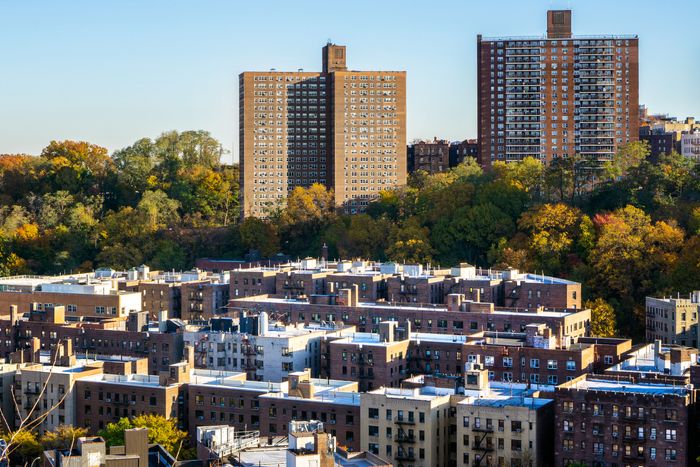 Photo: Renata Tyburczy/Getty Images
When the City Council approved plans to redevelop a 59-block stretch of Inwood in 2018, dozens of residents watching the vote in City Hall sprang up from their seats, shouting "Shame!" and "We will not surrender!" As is often the case with major development plans, the months leading up to the vote were dominated by concerns that rezoning would disproportionately displace longtime residents in the mostly Latinx neighborhood. Community groups called for a study of its impacts based on race, ethnicity, and income. But since this wasn't required, the city didn't do it, and the rezoning passed without it.
For future rezonings, that may no longer be the case: The council has approved the Racial Impact Study Bill, which would make such an analysis mandatory for many development projects that require a rezoning. (Mayor de Blasio supports the bill, and it will soon become law.)
Here's what we know about the bill.
What exactly are racial-impact studies?
If a developer proposes a multitowered complex that requires a rezoning in a working-class area with mostly Black and brown residents and asserts that the project won't push out longterm neighbors, there usually isn't a whole lot of data to prove them right or wrong. But having that information at the beginning of the review would save a lot of time and rhetorical hand-wringing.
The bill will require whoever is spearheading a project, whether it's a developer or the city, to use a new online data tool to produce a report based on an area's demographic conditions (race, ethnicity, income levels), housing security, and affordability, among other socioeconomic factors, and create what the bill refers to as a "displacement risk index." If a report were to come back showing high displacement risks, the local council member (who typically has a make-or-break vote on a project) could leverage that information to exact concessions or changes from the developer, or vote against it outright. But the reports are not just about slamming down rezoning bids. A project with a low displacement-risk index might garner more community support — and even more funding. The reports must also state how a project reduces racial segregation, as mandated by the federal Affirmatively Furthering Fair Housing rule (which was recently restored by the Biden administration).
Who pushed for this legislation?
Public Advocate Jumaane Williams and Bronx city councilmember Rafael Salamanca, who runs the council's powerful land-use committee, spearheaded the bill. Twenty-four other lawmakers sponsored the legislation, including comptroller candidate Brad Lander, Antonio Reynoso (who is currently leading in the Brooklyn borough president race), and Vanessa Gibson, the likely next borough president of the Bronx.
Critics of city-led development plans — among them groups like Churches United for Fair Housing and the Association for Housing & Neighborhood Development — have long called for racial impacts to be considered in assessing city-led neighborhood rezonings, like the ones that are currently proposed for Gowanus and Soho.
Where's the evidence that we need this? 
Housing advocates point to two Michael Bloomberg–era rezonings. After the 2005 waterfront rezoning of Greenpoint and Williamsburg, a report by Churches United for Fair Housing found that between 2000 and 2015, the neighborhoods saw a decrease of nearly 15,000 Latinx residents while the overall population grew by 20,000 people. (The city's planning department, which conducted its own study, claims the rezoned area actually saw a reverse in the decline of its Hispanic population that began in 1990.) Similarly, a 2003 Park Slope rezoning contributed to a decrease of roughly 5,000 Black and Latinx residents between 2000 and 2013; the total population grew by some 6,000 people over that same time, most of them white.
Will this apply to all rezonings from now on?  
No. Racial-equity reports will be required for large-scale proposals, including citywide zoning changes that affect five or more community districts, a new historic district of at least four city blocks, and rezonings that allow projects of 50,000 square feet (just over the size of a football field). A report will also be required if a developer seeks to boost a property's existing residential space by at least 50,000 square feet or increase existing non-residential space by a minimum of 200,000 square feet. For instance, the Gowanus neighborhood rezoning proposal would have required a report under the bill. Something relatively small, like a request to change a property's zoning district, which dictates what can be built on a given lot, wouldn't require a report. If an applicant wants to decrease its residential space on at least four contiguous city blocks, that too would require an equity report, as would changes to how land in manufacturing districts can be used.
How does the real-estate industry feel about the new law? 
During a January public hearing on an earlier version of the bill, the Real Estate Board of New York's vice-president of policy and planning complained that there was no standardized system for creating a racial-equity report. They feared this would open the door to lawsuits that could delay or entirely scrap projects. This led Williams and Salamanca to add in the data tool so developers could draw from a central pool of vetted information to craft their reports. The Board now fully backs the bill.
This bill is three years in the making. What took so long? 
After it was introduced in May 2019, the bill was in limbo until the land-use committee held a public hearing on it this January. It went through a couple of changes as lawmakers hashed out their approach. Earlier versions would have required a report for every rezoning. The bill is now narrower in scope and only requires racial-equity reports for larger proposals.
Are there any other cities that require a similar analysis?
In 2008, Seattle implemented a system called the Racial Equity Toolkit for evaluating a variety of municipal decisions, including how much city money is allocated to development projects. When a budget request is made for a development, the city conducts a demographic data analysis and community outreach to determine the effect of the project on the surrounding community. In 2014, a low-income housing complex proposed for a gentrifying, racially diverse area received $7.9 million in additional city funding after the analysis found that the project would reduce displacement and increase racial equity in the area. Madison, Wisconsin, and Minneapolis now require similar research, too.
When will this go into effect? 
It'll apply to rezonings beginning June 1, 2022. In the meantime, the city's housing and planning departments have to create a new online data tool that will generate these reports, with a draft available for public use by April 1 and a public hearing on it within 60 days of its release.