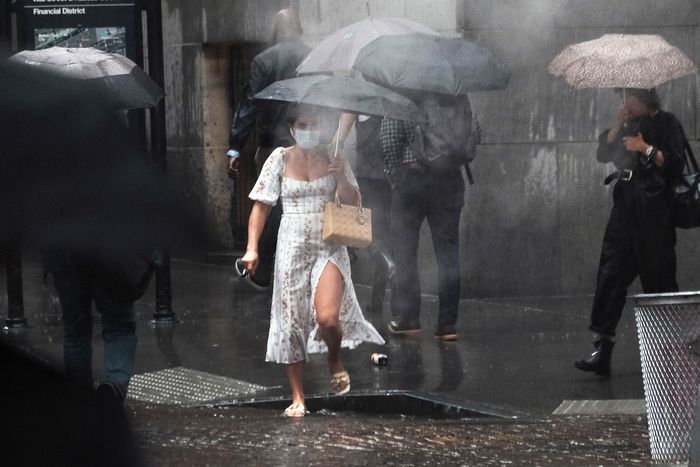 Photo: Spencer Platt/Getty Images
On Thursday afternoon, heavy rains and flash flooding transformed New York City into a Waterworld hellscape. Sheets of rain pounded the pavement, and with nowhere to go, the water poured into the city's transit networks, bringing NYC to a sodden slowdown. Subway riders trudged through waist-deep opaque water, motorists were stranded in expressways turned rivers, and the streets generally looked more like waterways — complete with Jet Skis. The deluge is the latest preview of what climate change has in store for New York, with sea levels rising and powerful storms increasing in frequency, and the outlook is bad.
The flooding was near biblical on Dyckman Street in Inwood.
There was impromptu Jet Skiing in the Bronx.
Good Samaritans across the city dislodged trash that was clogging sewer grates.
Straphangers had to basically swim to the train at the 157th Street station.
At 34th Street–Penn Station, the storied subway geyser made an appearance.
Waterfalls, waterfalls everywhere.
Water bubbled up like a cauldron on the platform of the 96th Street station.
The roads didn't fare better, with the NYPD staging rescues for drivers trapped in their cars.
Lanes of the FDR were similarly inundated.
And Harlem River Drive became the Harlem River Drive River.