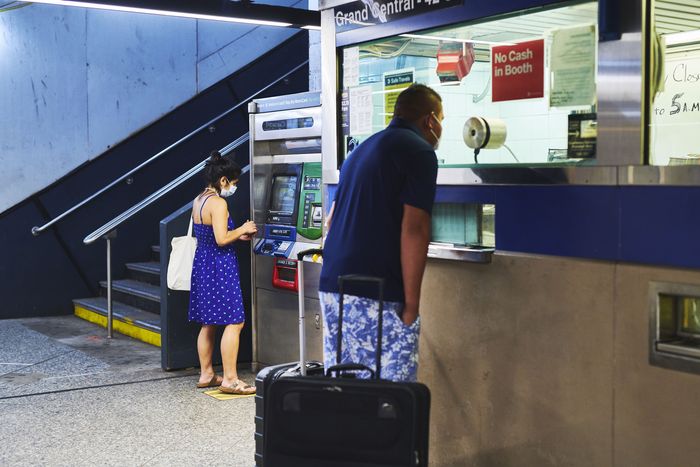 Photo: Gabby Jones/Bloomberg via Getty Images
Although the subway system is back to running 24 hours a day, you still can't walk up to a station booth and hand an agent a few bucks to purchase a MetroCard. That basic transaction was suspended in March 2020, when the MTA put a pause on person-to-person cash payments. And last week, an MTA official said the agency has no plans to resume cash handling at booths — a comment the MTA quickly walked back after cries of war against low-income riders. (Eleven to 14 percent of transit customers pay cash, in most cases because they do not have bank accounts.) Another representative of the agency stressed a day later that "no decision has been made" on the issue, but the notion ignited so much outrage that elected officials are now working to make cash sales at booths permanent.
It was perhaps a slight overreaction, because the MTA still accepts plenty of non-electronic payments. (When you include the change from the buses, it adds up to about $1.5 billion a year.) Riders can still pay with cash at the 1,688 ticket vending machines across the system. Nearly 1,500 stores sell MetroCards, and the transportation authority operates sales vans and buses in areas that lack subway stations. As the new contactless OMNY fare system replaces the MetroCard over the next two years, its new vending machines will likewise accept cash. The opposition seems to be a mix of concern for people who have trouble dealing with the machines — whether because they're older and tech-challenged, developmentally disabled, or otherwise just unable to make the things work — together with a little nostalgia for the days of the charmingly surly token clerk, plus a suspicion that this is intended to purge some station-booth jobs. Besides, we've all found ourselves at stations when the machines are busted. What do you do then? Maybe you'll jump the turnstile, and that could lead to a hefty fine.
Representative Nydia Velázquez, whose district covers northwest Brooklyn and a little bit of Manhattan, is trying to solve this from Washington, turning it into a national rule. This week, she introduced a bill that would block all transit systems, nationwide, from taking that step. Called the Preserving Cash for Transit Access Act of 2021, the bill would require transportation agencies to accept cash for fares at booths in order to receive federal funds. Velázquez called permanently rejecting cash at booths "out of touch," when over 350,000 city households have no bank account and MetroCard vending machines are chronically out of service. The bill would reverberate across the country too, requiring the transportation agencies in cities like Chicago, San Francisco, and Washington, D.C., to continue accepting cash in person.
Since the arrival of the MetroCard in 1993, the station-booth workforce has been whittled down with layoffs and job cuts through attrition. Most of the city's 472 subway stations have just one booth with an attendant; in the pre-MetroCard era there was a clerk within view of nearly every turnstile. If passed, Velazquez's bill would likely require the MTA to restaff dozens of subway booths and wind up boosting transit workers' overall presence across the system.