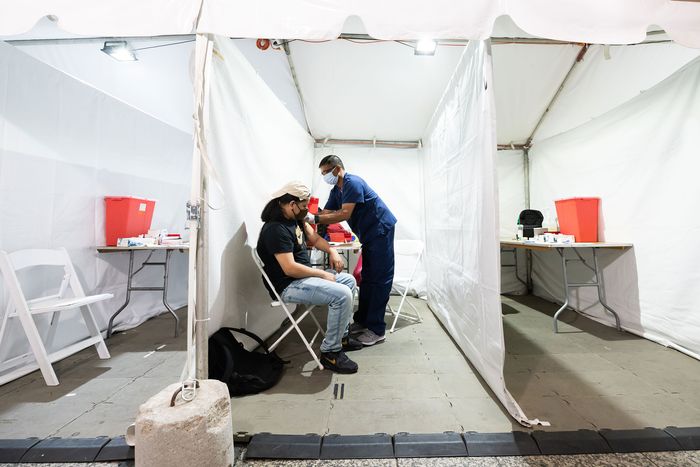 A person gets vaccinated against COVID-19 inside Penn Station on May 26, 2021 in New York City.
Photo: Noam Galai/Getty Images
After offering free donuts and vaccination clinics underneath the American Museum of Natural History's blue whale, New York City just announced a more direct method to lure vaccine-hesitant residents to get their shots: Money. Mayor Bill de Blasio announced yesterday that the city will give $100 to anyone who gets their first shot at a city-run site starting this Friday, July 30. "The guarantee that right then and there you're going to be rewarded, I think that's going to make a big difference to people," de Blasio said in a press conference. The announcement comes as the Delta variant has pushed cases up by 127 percent in the last two weeks, all while the vaccination rate remains at 54.4 percent.
It's not a bad idea, and has proven successful elsewhere. In June, New Mexico offered $100 in cash to people who got fully vaccinated over a period of four days. The number of Johnson & Johnson shots administered during that time quadrupled to over 2,000 per day statewide (since the single-shot option was the quickest way of getting the money). In Columbus, Ohio, there was a 289 percent increase in vaccinations during the first week of the city's recently launched $100 Vax Cash program. States like Maine and Ohio have also launched vaccine lotteries, which offer a few lucky winners millions of dollars, but it's unclear if those were effective at all. In North Carolina, the vaccine lottery failed to increase vaccination rates.
For New York's cash-for-vaxx program, only residents and people who work in the city qualify. The $100 will be paid with a prepaid debit card that will either be issued in digital form on the spot or sent in the mail. There are also a handful of other perks the city has been offering that you can opt for instead, including NYC Football Club tickets, a ten-ride pass for the ferry, or a two-week Citi Bike membership.
But now, many of the 4.9 million New Yorkers who've already received at least one dose are wondering where their hundred bucks is. "What I'm hearing is de Blasio owes me $100," writer Gita Jackson said on Twitter. Another person tweeted, "So as an early vaxxer, am I getting my check in the mail or should I pick it up at my nearest CVS?" But there won't be any retroactive payments. "You did the right thing and the reward is you were kept safe," de Blasio said on Wednesday. "And you're alive because of it."