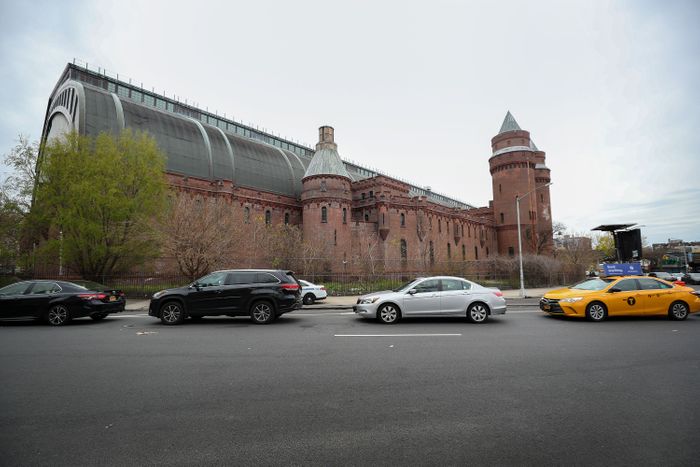 The Kingsbridge Armory in the Bronx.
Photo: Tayfun Coskun/Anadolu Agency via Getty Images
The Bronx has long been known as el condado de la salsa — the salsa borough. It's where this vibrant music genre, bolstered by the influx of Puerto Ricans and adapted from (among other genres) Cuban jazz of the 1940s, took root and grew up in the '60s and '70s. But there's little physical manifestation of its history in the borough, and a group of music producers that has the backing of salsa legend Tito Puente's family aims to change that with a new plan to bring the International Salsa Museum to the Bronx within the next five years. "A lot of our salsa legends are fading away: We lost Johnny Pacheco, we lost Celia Cruz, we lost Tito Puente," said project co-founder Willy Rodríguez, a producer. "It's up to our generation to keep the music alive. We really want to push this culture forward, we don't want this genre to fade away." The museum's backers are angling for 50,000 square feet at the Kingsbridge Armory for its home, as part of a long-in-the-works redevelopment of the site.
The armory project has been in the works ever since 2013, when then-Mayor Michael Bloomberg announced plans to transform the massive, century-old building (which has sat vacant since 1996) into a 750,000-square-foot ice-skating center. The plan was quickly approved by the city in 2013, but it's been held up by a tangle of lawsuits and other issues, and construction is only likely to begin at the end of the year. Under the plan, 50,000 square feet of the ice complex will be set aside for community space (which will be leased out for $1 per year for 99 years), and the museum group wants to occupy it. Kevin Parker, the developer behind the ice center, says he doesn't recall any other organization expressing interest in it in recent years. But it will ultimately be the Community Advisory Council of Bronx Community Board 7 that decides who gets the space.
If they do get the site, the museum's founders want to include a theater, an exhibit space, a recording studio, and a restaurant, while providing educational programming to Bronx residents, including dance and music-business classes. But if the armory doesn't pan out, Rodríguez says the museum founders are eyeing other locations in the Bronx, including the Harlem River waterfront around 138th Street, the area around Yankee Stadium, and Fordham Road. A number of developers have expressed support for the museum, according to Rodríguez. "We're moving with urgency, the community needs it," he said. "It should have happened a long time ago."