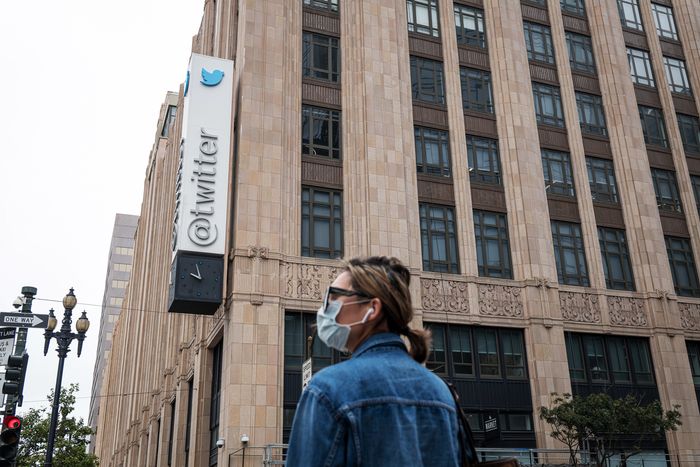 As COVID cases rise again, Twitter is closing its New York office, which opened July 12, indefinitely.
Photo: David Paul Morris/Bloomberg via Getty Images
On March 2, 2020, Twitter made the announcement. "Beginning today," a blog post read, "we are strongly encouraging all employees globally to work from home if they're able." Nearly two weeks before COVID-19 brought the American economy to a crawl, Twitter was the first major U.S. corporation to encourage its workers to stay home. This week, Twitter announced that it was doing it again: rolling back its reopening plans as the Delta variant takes off, closing its newly reopened San Francisco and New York offices indefinitely, just two weeks after they reopened. It has company, too. Apple and Google have moved their September reopenings to October, and Lyft has pushed its opening date all the way to February. It's an eerily similar pattern to spring 2020, when tech companies led the call for employees to work remotely, long before such orders were issued by the city or state.
Is Twitter once again the blue canary in the coal mine? With nearly 5,000 employees, many of whom already work remotely, Twitter might simply be a highly visible company that's unusually nimble about making quick, low-stakes changes to workplace culture. As a May 2020 update to the company's work-from-home policies notes, Twitter was "uniquely positioned to respond quickly and allow folks to work from home given our emphasis on decentralization and supporting a distributed workforce capable of working from anywhere." Or perhaps tech companies, being rooted in California culture, are more likely to reflect the state's relatively cautious public-health guidance. San Francisco was one of the first U.S. cities to issue a shelter-in-place order, and this week, California was once again recommending masks indoors for everyone, ahead of the CDC's announcement. But it's also possible that tech companies, which rely on data for their own financial survival, are just better at pinpointing the trends that might put their own employees at risk. They simply might see something coming that government doesn't.
The tech world's Great Reopening Rollback also shares some striking parallels with the uneven workplace-safety messaging once again emitting from New York's city and state governments. Remember that it was on March 11, 2020, a full week after Twitter sent its employees home, when Mayor Bill de Blasio was still downplaying the pandemic to New Yorkers with the message, "If you're not sick, you should be going about your life," and sending everyone out to restaurants. Only on March 20 did Governor Andrew Cuomo order nonessential businesses to close statewide. In 2021, it's almost as if history is repeating itself. Just a few months into the city's vaccine rollout, de Blasio declared city employees would be back in the office by May, setting a far more aggressive timetable than most organizations. Yesterday, Cuomo all but demanded that we all return to work by Labor Day. "Everyone has to be back to the office," he said at a press conference. "I understand the trepidation, but the numbers are down, we know how to do it safely. We need private-sector companies to say to their employees, 'I need you back in the office.'" Whether or not Twitter was once again prescient is something we'll know soon, by the worst possible indicator: whether a lot of people start to get sick again.