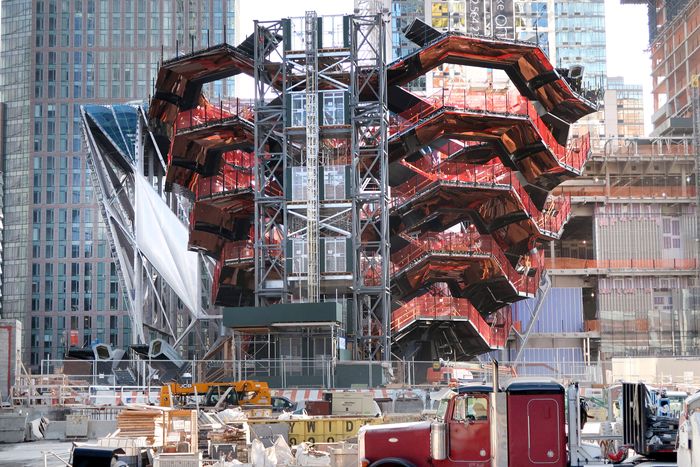 Take it down the way it went up.
Photo: Gary Hershorn/Getty Images
What's a multibillionaire to do if his gift to the city becomes a suicide launch pad? Yesterday, a 14-year-old boy became the fourth person in two years to throw himself off the Vessel, the Hudson Yards sculpture that the man who ordered it, Stephen Ross, once compared to the Trevi Fountain and the Eiffel Tower. Ross had a point, though not the one he was trying to make: Hundreds of people have ended their lives by jumping from Paris's great folly; at one point, before barriers were installed, the rate was nearly one a month. The Vessel's not in that league yet.
Designed by the gifted fantasist Thomas Heatherwick, the steel folly has had a rough time adapting to reality. The basket of stairs was meant to be open for everyone to clamber over and around, although in fact not everyone is capable of clambering. Anyone with a disability (or even just iffy knees) must skip the essential physical experience, take an elevator to a landing, look around, and ride back down. Admission was originally free, but after the third suicide, the Related Companies, which built and controls Hudson Yards, imposed a $10 entrance fee and a buddy rule. That only made the horror worse, because the boy who jumped yesterday did so in front of his family. The structure's only purpose was to offer a climb and a view. The problem is that the adjacent shopping mall (no stairs or entry fee required) offers a similar view, and the observation deck 1,000 feet above puts them both to shame. (The vessel's westward panorama will also eventually disappear once another set of towers goes up over the western portion of the rail yards.)
Monuments accumulate associations, both triumphal and tragic. The Vessel's civic failings have helped make its attraction as a suicide spot one of the salient facts about it. Maybe over time that reputation can be overcome; for now, despite its Instagrammability, it's famous largely as a place of death. So, what now? As a public artwork on land controlled by a private company, it's one of the most undemocratic civic monuments in New York: Ross has sole power to determine its fate. He now faces a range of options, none of them good. He could do nothing and accept the predictable future toll. That would make the Vessel uninsurable and dramatically increase the company's exposure to massive lawsuits. He could do the conventional thing and add higher barriers, which Heatherwick Studios reportedly designed and were never installed. Those should dissuade people from killing themselves on Related property, though they may not actually prevent any deaths. He might also make the temporary shutdown permanent, leaving the Vessel as a big dumb bibelot that can only be beheld from a safe distance.
But the most definitive solution, the one that would solve its contradictions as a civic gesture and remove at least one temptation for the self-destructive, would be for Ross to cut his losses and scrap the whole thing. The shiny stairway modules might be separated and recycled as pedestrian bridges, viewing platforms, fire lookouts. When an icon fails, iconoclasm is the only reasonable response.