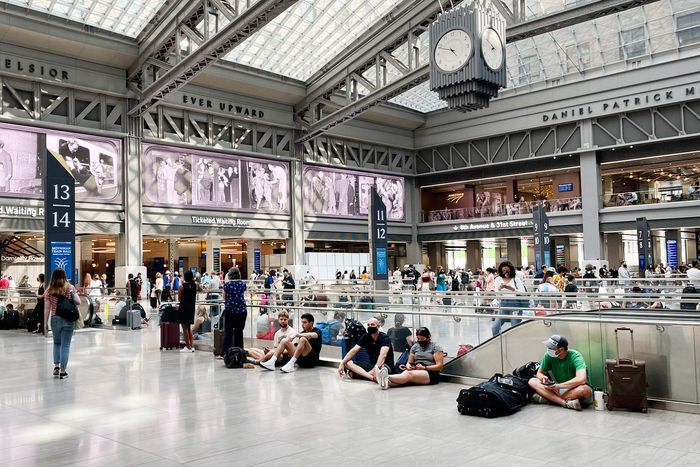 Last weekend, the scene in Moynihan Train Hall was full of tired bodies. Bodies sitting on briefcases and rolling suitcases. Bodies sprawled out on the white terrazzo hallway floors. Bodies propped up against the stainless-steel track signage. Benches, it seems, weren't part of the $1.6 billion Penn Station expansion. Inga Saffron, the Philadelphia Inquirer architecture critic, tweeted about this scene around 5 p.m. on Sunday, as a crush of travelers waiting for their Amtrak trains crouched and huddled just about anywhere they found space. This shouldn't come as a surprise, considering that lots of people have pointed out this problem since the train hall opened in January. But Saffron's tweet triggered a fresh wave of scorn. "The lack of public seating is absolutely ridiculous - a hostile and acutely neoliberal space," Ellis Tucci commented on Saffron's thread. "Willing to inconvenience any number to prevent a single unhomed person from getting a moment of rest!" another person replied.
Did the public shaming work? Perhaps. Some relief was already coming, the Empire State Development Corporation, the entity responsible for Moynihan's overhaul, promises. "Additional seating was already planned to be included in the final phases of construction as retail and other areas are completed," Will Burns, a spokesperson, told Patch, after Saffron's image went viral. But more benches aren't coming to the main hall: seating (not benches) will be in the food court and retail areas. ESD's vision for Moynihan is like Grand Central Terminal, which doesn't currently have any seating in the main concourse level. (Vanderbilt Hall, which is adjacent to the Grand Central concourse, was once the main waiting area. It was outfitted with rows and rows of benches before its conversion to a special events venue in 1992.)
"As additional areas of the Train Hall are opened under Phase 2 of construction, Moynihan's well thought out design will provide ample seating options, intuitive wayfinding, enhanced accessibility, and safe, unimpeded passenger circulation on par with other world-class, high-traffic train halls," Burns tells Curbed. In other words, keep it moving unless you want to shell out for food.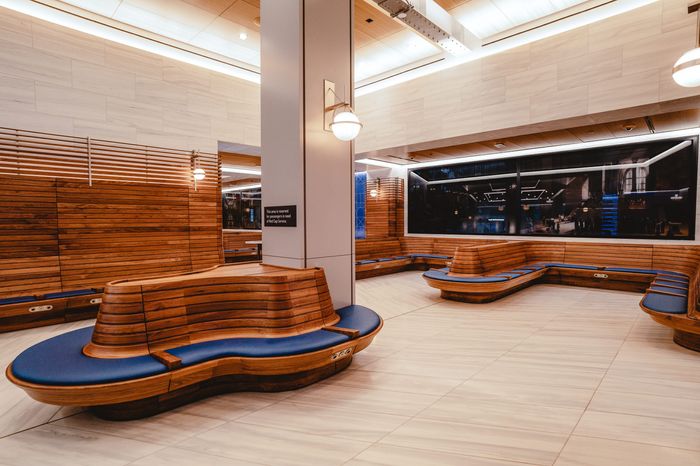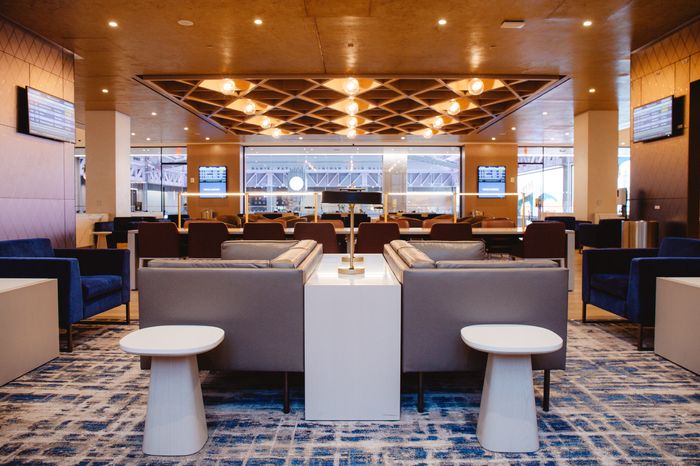 ESD's response — that the dearth of benches is just temporary — reads a lot like the MTA's explanation about why it removed benches from the 23rd Street F/M station earlier this year. Though it's not exactly the same situation. After deleting an outrage-inducing tweet that said it was "to prevent the homeless from sleeping on them," the MTA returned the benches and said they were only temporarily removed for a deep cleaning. In every rendering of the train station, every digitally animated fly through, the main hall is seat-free and viewed as a circulation space. To be clear, there is some seating at Moynihan Train Hall that was deemed important enough to have ready at opening: in a petite ticketed waiting area and in the Metropolitan Lounge, which is outfitted with armchairs, sofas, and a private restroom, all for first-class passengers only.
This post has been updated with statements from Empire State Development Corporation.