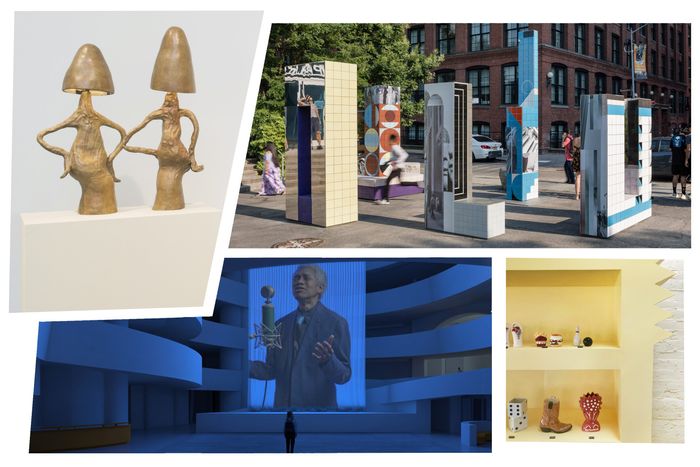 Photo: Clockwise from Top Left: Courtesy of Friedman Benda; Nicholas Knight; Diana Budds; Lucie Rebeyrol
Every couple of weeks, I'll round up and share the objects, designers, news, and events I'm excited about.
For her first solo show, Carmen D'Apollonio, a self-taught ceramic artist based in Los Angeles, has sculpted over a dozen lamps in clay and bronze. They're playful, abstract pieces that look like seated figures, someone standing with their arms akimbo, or perhaps even a drooping flower. D'Apollonio works improvisationally and is inspired by neolithic sculpture. "Each lamp becomes its own character and seems like a little human," she said about her work. Her bronze I'd Do Anything for Love lamp, which looks like a face serving a sinister smile, is a particularly good one. At Friedman Benda through August 13.
In a museum that's primarily an art object, the architecture will almost always get in the way of whatever is being exhibited, which is the case with the Guggenheim. This didn't happen with Wu Tsang's Anthem, a film made in collaboration with the singer, composer, and transgender activist Beverly Glenn-Copeland. It turned the spiraling rotunda into a massive sound sculpture and made the architecture subservient to the film. Daylight is blocked out, the lights are dimmed, and a film of Glenn-Copeland singing is projected onto a six-story-tall curtain hanging from the museum's ceiling. The audio is spatialized — kind of like surround sound — so that the musical composition reveals itself as you walk up and down the ramp. It feels as if there's a whole orchestra and choir tucked somewhere in the rotunda, and you can't exactly predict where the sound will come from next. A few visitors were startled when a speaker behind them suddenly started playing drum beats. Standing at the very top, and on the fourth floor while looking directly at the curtain, were the best vantage points for me. See it before it closes on September 6.
Wine O'Clock: A New Housewares Shop in Bushwick
I was looking for living room furniture when I heard about Wine O'Clock, a new vintage and housewares shop that was started by the folks behind the bar Mood Ring, which is just a ten-minute walk away. The merchandise is a mix of small vintage goods (like collectible Gundam drinking glasses), ceramics by contemporary designers (like Joseph Algieri's twisty cigarettes), and furniture (like plinths from Skilset). I took home a slick 1980s-style vintage glass coffee table for $175, and used every ounce of willpower not to buy the salt-and-pepper shaker sets shaped like a burger and fries and a bowling ball and pin.
When I saw Rehearsal, a new outdoor exhibition commissioned by the Public Art Fund, I immediately thought about those mysterious metallic monoliths that popped up around the world late last year. It would have been so much cooler if they were adorned like Claudia Wieser's sculptures, which are covered in hand-painted tiles, mirror-like stainless steel, and black-and-white images. Even better: You can actually visit these installations, which are scattered in a group of five under the Manhattan Bridge. Through April 2022.
Alessandro Zambelli's Daily Glow Lamps for Seletti
Seeing a tube of toothpaste and a tin of fish turned into Frozen Moments-esque LED lights made me chortle. Seletti, an Italian company known for its irreverent design objects like a lamp done up as a cross-eyed Grecian sculpture blowing bubblegum and a sofa that's shaped like a hot dog, lived up to its reputation with this series. The resin lamps are a rumination on everyday objects — like a paper bag, a milk carton, and a soap pump — and is a continuation of designer Alessandro Zambelli's obsession with quotidian items.