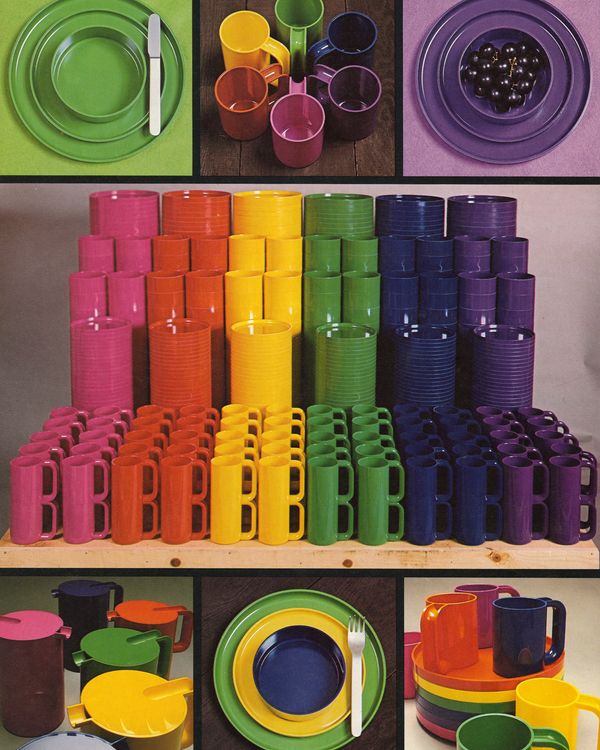 Heller's rainbow tableware created a dazzling display in 1970s department stores.
Photo: Massimo and Lella Vignelli papers, Vignelli Center for Design Studies, Rochester Institute of Technology, Rochester, NY
"Puzzle nuts, design buffs, modular maniacs, and color kooks all will say, 'Right on!'" The announcement for a new tableware line that would make Alan Heller's name synonymous with great mass design was as appropriately enthusiastic as the product itself: a 25-piece set of glossy plates, bowls, and mugs in exuberant primary hues. Heller, the plastics manufacturer who died earlier this month at age 81, was not the first to promise high-quality modern furniture to everyday families, but he was one of the few to truly deliver, in collaboration with legendary designers. It started with those signature plates found in American kitchens everywhere — including my childhood one — that would eventually be produced in an astonishing array of candy-shell colors.
In 1964, the Italian-born New Yorker Massimo Vignelli designed a tableware set made from melamine, the molded thermoset plastic that had risen in popularity after its use in military-issued mess kits during World War II proved it to be virtually indestructible. Vignelli's pieces embodied both precision and playfulness, and they did indeed tolerate total abuse, but they also excelled at a task most housewares companies hadn't nailed: stackability. Even the mugs could be assembled, like Lego bricks, into tall tubes. Modularity was a goal in many of the era's designs — the Bellini chair, another Heller classic, also stacks into a neat profile — but in this tableware in particular it brought a newfound efficiency to the kitchen: clean lines in the cupboard and the ultimate portability for picnics. Vignelli's design was first manufactured by an Italian plastics company that went out of business, but one set was acquired by the Museum of Modern Art, which loaned it to the Museum of Contemporary Craft for a 1966 exhibition. Heller saw the dishes there and traveled to Italy to rescue the molds, which were, remarkably, still in storage in Milan. It was the first of many Heller hits — including multiple collaborations with Vignelli, who died in 2014, and his wife and partner Lella Vignelli, who died in 2016 — which arguably put both of their companies on the map. Heller went on to produce dozens of popular pieces that were both affordable and durable, from that stackable chair by Mario Bellini to a blobular couch by Frank Gehry to a toilet brush by Philippe Starck.
Although the Italian version — which was named Max, as was Heller's reproduction, but is more commonly called Hellerware — was only available in an avocado green and mustardy yellow, the palette introduced to American tables was more kaleidoscopic, represented by rainbow branding on the box. (The type was set in Helvetica, matching Vignelli's treatment for the New York City subway.) And while I've heard of people buying a monochromatic set, or maybe two complementary shades, the real move is to go full-spectrum, as my mom did in the late 1970s. This created nightly dinnertime-curation conflicts in my family, as the kids, self-appointed tablescape designers, would determine who got which color. We always fought over the pink, a highly covetable fuchsia that I'd have to sit on until just before mealtime to ensure it didn't get swapped out with green (yet another testament to Hellerware's durability).
Many years later, long after Heller had discontinued the line, I was interviewing Vignelli and told him this story, lamenting that I hadn't spirited the plates away from my parents before they were dispatched to Goodwill. (Design Within Reach recently reissued a limited series, but only in white.) He chuckled, his eyebrows knitting with amusement as he told me they were still somewhat easy to find. "Now you can buy your own set," he said, "and you can always have pink!" He was right, of course; they remain staples of vintage shops and thrift stores, and I found mine on eBay. (The original 25-piece set sold for $45, and with an adjustment for inflation, that's about what they cost today.) Some colors are rarer than others, and any pastel shades you come across — dusty rose, pale turquoise — are the only evidence of Heller's rare misstep in bowing to trends. "They were a flop, and no one wanted them. He said later they were absolutely terrible," says Jennifer Whitlock, archivist at the Vignelli Center for Design Studies at Rochester Institute of Technology. "But he always wanted to be on the cutting edge, and you can see that, particularly in the materials."
When my second helping of Hellerware plates arrived at my house, I remember setting them down in the kitchen one by one as I unraveled their bubble wrap. I noticed how they stand up off the surface ever so slightly — they almost appear to hover, another truly superior detail I never fully appreciated as a child. As I stacked them up into a cylinder — three decades later, the exceedingly pleasant snap as each rim slides into place is just as satisfying — I recalled the sturdy thwack of melamine on the countertop that signified it's time to eat. The plates have since been commandeered by my kids as their own when it's their turn to set the table. Fortunately, one likes red and the other prefers purple.