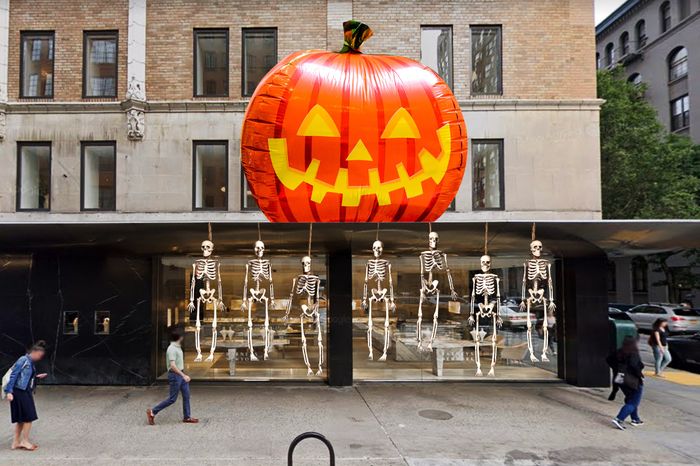 The Grim Reaper will be arriving shortly.
Photo-Illustration: Curbed; Photos: Google; Getty Images
You want some October gloom a little early? How's this: The original Barneys store on Seventh Avenue, once the most sophisticated department store on earth, after sitting forlorn and empty for nearly two years, is being filled with a new tenant, if only for the season. And that occupant is, of all retailers, Spirit Halloween, the seasonal pop-up where you can buy a sexy nurse costume, blue nylon wigs, and a large assortment of foam pumpkins. Icon of the '80s out; polyester simulacrum of the '80s in.
Much like an opportunistic infection (but more useful, if you happen to need plastic vampire fangs), the "No. 1 Halloween costume store" takes over vacant retail spaces for a few weeks every autumn, selling flimsy costumes, decorations, and party supplies for a few months. By Christmas, they're gone. In years past, Spirit Halloween pop-ups have taken over storefronts once occupied by beloved New York institutions like Ricky's. Their annual appearance is not just a sign that Halloween is right around the corner but a reminder of beloved businesses lost.
Even before the pandemic, department stores were struggling. The past year and a half has, unsurprisingly, accelerated the shift to online shopping. After Barneys's bankruptcy in 2019, its new owner planned to open pop-ups in Saks Fifth Avenue stores, pairing up with an old rival. But Saks itself isn't doing so well: Yesterday, the department store announced that it would be partnering with WeWork to open co-working spaces in its stores, creating a new venture, awkwardly named SaksWorks, to make use of its excess brick-and-mortar space. Though department stores don't make ideal offices — no daylight, bad layouts for rows of desks — the companies said they planned to add plants and artwork to make the spaces more inviting. Some of the SaksWorks locations will also open in former Lord & Taylor stores, which are owned by Saks's parent company; Lord & Taylor went bankrupt and became an online-only business last year. Not so long ago, chain pharmacies and bank branches were considered the unkillables of New York City retail, but even those have been disappearing of late. All those vacancies in turn have meant that temporary leases are a real bargain, and Spirit Halloween opened more than 1,400 storefronts nationwide during the first pandemic Halloween season in 2020, more than the previous year. The way things are going, the entire retail landscape is becoming a Frankenstein's monster, stitched together from co-working and six-week pop-ups. At least you know where to get the flattop mask.