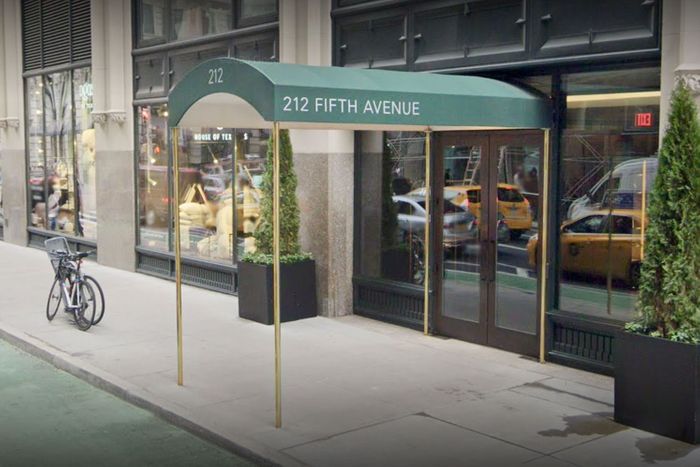 It's a nice enough building … we guess?
Photo: Google Maps
Of all the stretches of Fifth Avenue that you could choose to live on, the section that runs along Madison Square Park is not, you might say, particularly prime. It's close to Eataly, sure, and the original Shake Shack. It's convenient for getting around town, and if you happen to be really into multiplication, it's just steps from both the Museum of Sex and the Museum of Math. But it lacks the gracious prewar co-ops with Washington Square views of lower Fifth and the gracious prewar coops with Central Park views of upper Fifth. The local retail landscape is light on charming boutiques and replete with mattress shops, sample-sale storefronts, and whatever is left of the rug-merchants district. So why does Jeff Bezos, who literally has more money than anyone else in the world, keep buying condos there?
Bezos, who may or may not be an astronaut, just purchased his fifth apartment at 212 Fifth Avenue, the New York Post reports, bringing his total spending in the former office tower to $119 million and a fairly palatial 24,551 square feet. Texas billionaire Ed Bass is a neighbor, and Charles and Seryl Kushner bought a few units in the building as an investment for their young grandkids. Commanding the top floors of a gothic tower with a penthouse terrace "nestled behind the crenelated parapet" also feels appropriate for a man like Bezos, whose tastes run to intergalactic domination and prewar architecture. "It's a little far north on the park, but the finish work is nice, the ceiling height is very high, and the front rooms overlooking the park are really pretty," says Donna Olshan, a Manhattan broker who tracks the luxury market. "That said, there are more compelling buildings out there." Mostly in other neighborhoods, where there aren't quite so many office workers and the local retailers are more charming than PetSmart.
To a developer, of course, mediocre retail on a park in the heart of Manhattan looks like opportunity (and less-expensive land), and during the last market cycle, seven or eight years ago, the blocks around Madison Square Park went through a luxury boom. There was 10 Madison Square West, an old toy factory that Steven Witkoff converted with penthouses listed for upward of $30 million. There were new glass condos like Continuum's Madison Square Park Tower and Related's One Madison, which attracted the likes of Rupert Murdoch and Tom Brady and Gisele Bündchen. There was a boutique, four-unit condo conversion at 21 East 26th Street where Jennifer Lopez, Chelsea Clinton, and Jeff Gordon all bought. By the time Bezos came along in 2019 and snapped up 212 Fifth's penthouse and the two units beneath it for $81 million, the area had been well established as celebrity turf.
But since then, many of those celebrities have sold and moved to more traditional rich-person neighborhoods: Brady and Bündchen bought a place in Tribeca, Murdoch listed his penthouse and moved to the West Village (although he kept a three-bedroom crash pad at One Madison), and Jennifer Lopez relocated to 432 Park. It may have dawned on them only gradually that the area was actually filled with fast-casual restaurants and office workers.
Bezos, by contrast, is digging in, buying unit after unit. It's the same approach he and his ex-wife took at their previous place in 25 Central Park West, where they assembled four apartments (which they appear to still own). But maybe he's just being economical, the way he was when Amazon was using cheap flush doors as slab desks:  212 is much cheaper than the nominally "better"  places elsewhere on Fifth Avenue, averaging $3,700 per square foot. (The white-glove apartments in 834 Fifth, at 64th Street, average $6,200.) "I think he's just going to keep buying more and more. What can you say about somebody like Bezos?" said Olshan. "How do you even have a place that's big enough for someone who wants to go into space?"