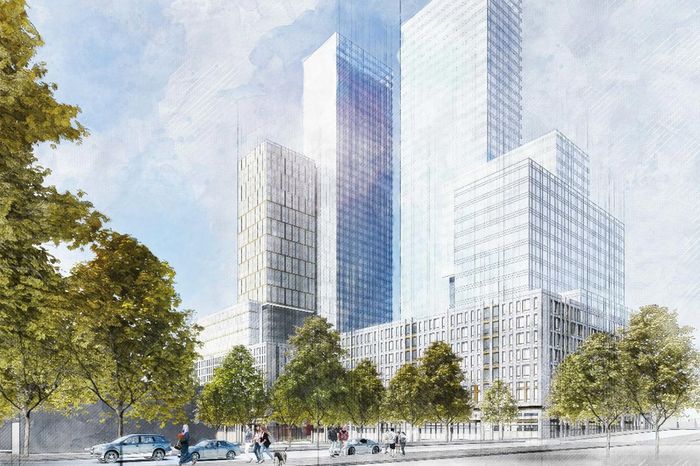 Downvoted.
Illustration: Hill West Architects
Eric Adams, the Brooklyn borough president who is almost sure to become New York's next mayor, has voted against the controversial project at 960 Franklin Avenue in Crown Heights: two 34-story towers that would offer 50 percent affordable housing but also throw the Brooklyn Botanic Garden's greenhouses into shadow. The vote, while purely advisory and not unexpected, is another ominous sign for the proposed development and came a little over a month after Adams's office held a remote public hearing in which only two out of 105 people spoke in support of the project. (Both were union representatives; the project would be union-built and -staffed, which is unusual for a project with such a high percentage of affordability.)
Adams offered his disapproval of the project without conditions or modifications, writing that while he supported "the development of underutilized land for productive uses that address the city's need for additional affordable housing," the zoning requested by the developer would have "no precedent in Brooklyn." He suggested, in so many words, that the project didn't offer enough community benefit to justify throwing the BBG into gloom. And even if it did meet that standard, the zoning variance would only be appropriate "if such density could be achieved without compromising the BBG." It's not the first time that Adams, contrary to the pro-density platform he campaigned on, has voted against a project that would add a lot of housing units to its neighborhood.
Late last month, the City Planning Commission held a public hearing on the project, which also drew a large number of opponents. The developer wanted to present an alternative proposal for two 17-story towers that would be 75 percent market rate and 25 percent affordable, but the Commission allowed comments only on the 34-story proposal. "Why is the Department of City Planning making this an all-or-nothing proposition?" said Ian Bruce Eichner of the Continuum Company, which is developing the project with Lincoln Equities.
City Planning takes the borough president and community board's votes, which are both advisory, into account when considering a land-use application. The commission has until September 24 to approve or disapprove Continuum's proposal.