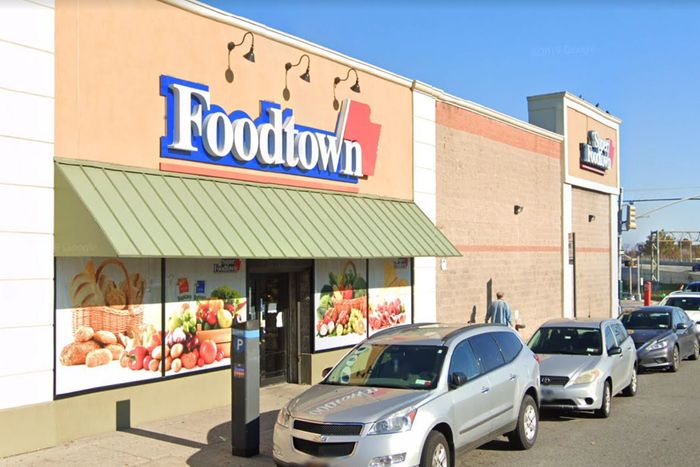 The Foodtown grocery store on Bruckner Boulevard will be revamped under the developers' proposal.
Photo: Google Maps
The waterfront neighborhood of Throgs Neck in the Bronx is known for its bungalows, including some former three-season beach houses that look out over the Long Island Sound. Much like Breezy Point in Queens, many of the homes are owned by firefighters and police officers. Between the yacht club and the Trump-branded golf course on the East River waterfront, it's like a conservative slice of Suffolk County tucked into a corner of the Bronx. But to hear a certain group of residents tell it, the suburban feel of the neighborhood is threatened by a proposal to redevelop the block-long Foodtown building on Bruckner Boulevard into four new residential and mixed-use buildings. As Throgs Neck has gone from being predominantly Italian and Irish to a much more diverse, majority-Hispanic neighborhood over the past two decades, some white longtime residents, now in the minority, are not only fighting the project but also using it as a way to criticize the changes that have already taken place.
The mixed-use project is backed by a group of locals, including the owner of the Foodtown grocery, and would include 339 units across four buildings with around 100 designated as affordable. The two tallest buildings will reach up to … eight stories high. According to James Cervino, who is part of the developer group and owns one of the buildings on Bruckner Boulevard, those affordable units will be geared toward "school teachers, fire department, nurses — people that need to get an apartment on a school teacher salary or a professor salary." The project would include a revamped version of the Foodtown, a sports and recreation center, and an office for the coastal protection nonprofit Cervino runs. "You can't get a better mom-and-pop type of development than this," he said.
But the modest scale and local bona fides haven't stopped locals like George Havranek from talking as though a supertall was coming to Throgs Neck. He launched an online petition that begins, "LOSE YOUR ZONING-LOSE YOUR COMMUNITY … FOOD TOWN becomes a TOWERING EYESORE," which has racked up over 4,000 signatures in a month. "I've lived here my entire life and I've already seen horrific changes to the area," one person who signed wrote. "WE DO NOT NEED MORE LOW INCOME!"
One signee, 78-year-old Anthony Passaro, who says he's lived in the area for 12 years, told Curbed, "The area's still good; no violence, nobody gets in trouble. And I would think it'd be a shame to put up one of these big buildings and you don't know what kind of people they're going to put in there." These are the common complaints of NIMBY groups against higher-density buildings, but in a private Facebook group called Friends of Community Board 10, the opposition is saying the quiet part even more loudly. In a series of posts that Curbed reviewed, several neighbors referred to the people of color who have moved to Throgs Neck over the past decades in extremely derogatory language. "Don't we have enough animals that moved in? Let's just make room for more and really make this neighborhood into a war zone," one person said in a since-deleted post.
Throgs Neck and Schuylerville, the neighborhood right across Bruckner from Foodtown, have maintained their single-family-home character thanks in large part to a 2004 rezoning that allows only for one- and two-family homes and commercial buildings. In the years since, new housing production in Throgs Neck has plummeted, and it now has one of the lowest levels in the city.  "I know that we need more housing in my area," said Kevin Daloia, a longtime resident of Schuylerville. "There is no large amount of housing — or any housing — for new people or people that are looking for assistance with housing." But Marjorie Velázquez, the area's Democratic City Council candidate who is set to be elected in the general election in November, says that there is not enough infrastructure, from transportation to utilities to school resources, to support the new residents, and promised to vote against the project.
On August 4, dozens of residents filled the wide sidewalk outside the Foodtown for a rally against the project. The mostly white makeup of the crowd was a stark contrast from the actual demographics of the neighborhood. Sammy Ravelo, a Dominican American candidate for Bronx Borough President and a former cop who owns a home around the neighborhood, told those gathered, "I worked in the 46th Precinct. Every time a building went up, crime went up with it." Some other Latinx residents have spoken against the project online, too. But the NIMBY organizers know they have an optics problem: A video shot at the protest catches an attendee saying, "Next time you gotta get more minority-owner speeches — if you looked at it, it's all white people."