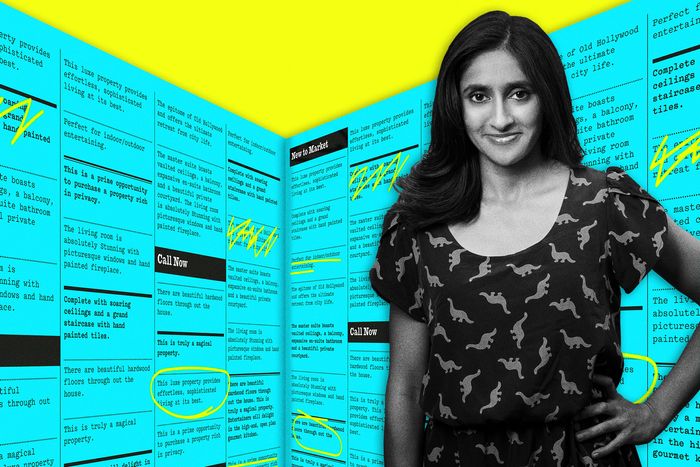 Photo-Illustration: Curbed; Photo: Robyn von Swank
Zillow for me is generally a form of procrastination. And a sort of less-destructive form of social media. A way to see what's on the up and up in the bigger world without feeling like my self-esteem will be irreparably damaged.
As you'll see from my picks, I'm such a sucker for a water element or anything near water, so I will sometimes filter the listings by "waterfront." But otherwise,  Zillow doesn't let you get very specific. On Airbnb you can look up treehouses and yurts.  I would love if Zillow let me do that.
I have certain cities that I fantasize about moving to — like Portland or somewhere in Northern California, maybe Big Sur. My browsing process is pretty point A to B: Look up cool towns, put that town into Zillow, look for a house I like with water.
The Ones She's Saved
I was shocked that this house was under $1 million because it feels so big to me and, you know, the views. On the last photo of the listing, there's just a waterfall that casually appears in the corner and I was just like, That's your main photo right there, why would you bury that? The inside I wasn't as excited by, but if I woke up every day in this house, I would just feel like (a) I live in Hawaii; (b) I can hear a waterfall right now, so I'm not upset.
The house itself does look kind of like a business center the more I look at it, but I love all the natural light and all the floor-to-ceiling glass. Honestly, I don't know if I personally could live in a house with this level of exhibitionism for the long term, but I do feel like it would be a good place for someone to get back in touch with how they made all their hedge-fund money or whatever.
I am immediately onboard with an architect's house, because they're gonna know what they're doing. This place feels especially outside the box. There is a pond as soon as you walk in, so I was like, Okay, I'm sold. It's listed as a one-bed, two-bath, which seems crazy because it's almost $8 million, but then you realize that that's just the main house and there are two other structures. One of them just looks like a window-filled gazebo and it's fully situated on the cliff and there's a lofted bed and you would wake up and just look out at the ocean. It's incredible. I periodically come back to this listing and think, I can't believe someone could live this life.
The views here really did it for me. But I also just love southwestern architecture. This one has artist's lofts. It makes you think, Oh, I could just live on my property away from it all and just do my art in my little loft. I don't think comedians necessarily need artist's lofts, but for some reason in my fantasy they do. I love all the colors. I always feel like houses don't take enough risks with colors. And these colors in particular work because the outside is so richly hued that the inside feels like it sort of matches its environment.