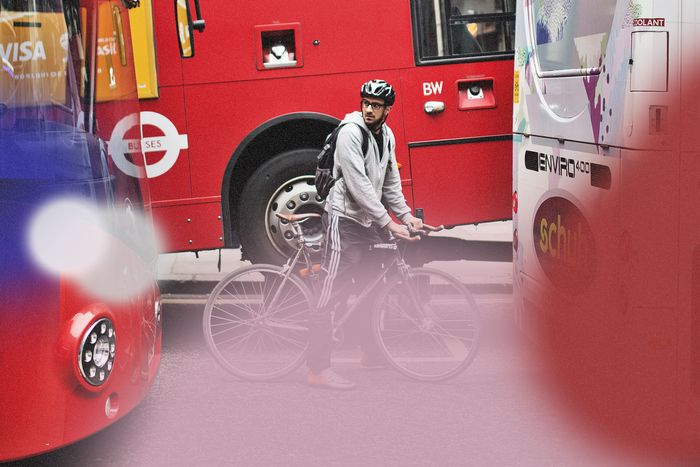 What can New York's plan take from the success of other cities like London?
Photo-Illustration: Curbed. Photo: Andrea Baldo/LightRocket via Getty Images
When Governor Kathy Hochul was sworn in Tuesday just after midnight, water was still pooled in the subway stations from the MTA's second catastrophic flooding in as many months. It was emblematic in so many ways of the transportation crisis she was inheriting. Hochul (via either acting head Janno Lieber or whomever else she names to run the MTA) will have to not only futureproof the agency against the next inevitable superstorm but also do so with ridership way down (and perhaps staying that way for a while, as return-to-the-office plans once again grow uncertain). Implementing congestion pricing — the plan, approved in 2019, to charge drivers to access Manhattan's central business district — would solve both problems in one go by feeding $1 billion a year into the MTA. With the departure of Andrew Cuomo, who publicly endorsed the plan but supported it tepidly in practice, Hochul has a mandate and an issue she can seize and make her own. "Him stepping aside gives us a clean slate," says Amy Turner, senior fellow at Columbia's Sabin Center for Climate Change Law. Now, Hochul can build upon decades of success observed in other cities with precedent-setting policy that could potentially transform U.S. urban transportation. "Congestion pricing has become a fairly well-accepted positive for cities," says Turner. "This is good news, and not just for New York."
But with this new hope comes yet another excruciating delay on top of the previous 20-month wait, for which the MTA blames the "previous federal administration" — that is, Donald Trump's Transportation department — until current DOT Secretary Pete Buttigieg streamlined approvals for the plan in March. There will be another, newly announced 16-month environmental assessment by the Feds, deferring final-final approval to at least December 2022 — and it may take up to a year after that to get everything up and running. And although that 2023 start date is disheartening to advocates who have been waiting two years — or, in many ways, almost 50 years — New York's congestion-pricing scheme has the potential for piloting what is essentially an entirely new emissions-reducing U.S. transportation product, which is reason enough to take the time to make it legally bulletproof, says Eric Goldstein, senior attorney and New York City environment director for NRDC. "The best thing one could say is these agencies and the state and MTA are being exceptionally careful to complete every step of the process meticulously, because it's likely to be subject to litigation because of someone who is unhappy with the final outcome," he says. "If New York City can implement this program successfully, it's likely to be adopted in other jurisdictions quickly."
If the stated goal for New York City is to improve transit service, there will inevitably be pitfalls along the way. Fortunately for New York, a few other big cities have gone first, and we can learn from their experiences. For example, the program works much better if launched alongside complementary multimodal changes on the ground. "Based on experiences from London, congestion pricing should be deployed alongside other improvements that encourage a shift from driving to non-single occupant modes — carpools, public transit, bikes, scooters," says Susan Shaheen, co-director of the Transportation Sustainability Research Center at UC Berkeley. While the MTA itself doesn't have control over all of that, it does have the ability to improve bus frequency, where Shaheen sees potential for a huge shift. "In the case of London, the city's congestion zoning was implemented while simultaneously adding additional buses. This created an environment where driving was disincentivized but public transport was also incentivized." London's congestion pricing gave city officials what Michael Manville, associate professor of urban planning at the UCLA Luskin School of Public Affairs, calls "political breathing room" to make other moves in the central business district, where there are now more bus lanes and bike lanes, wider sidewalks, and human-scaled streets — and a demonstrated shift in behavior in accordance with those changes. "It isn't just 'Can I reduce congestion?'" he says. "It's that congestion is stopping us from making it a better kind of city for the vast majority of New Yorkers who almost never drive."
The MTA will also have to establish publicly accessible metrics to help demonstrate that congestion pricing is working. Of the three historically successful road-pricing schemes that experts agree are most similar to New York's — in London, Singapore, and Stockholm — Singapore's is the most advanced, using performance-based pricing with the goal of unclogging the highways leading into the central business district. Drivers experienced the results immediately. "They set the prices based on the traffic speed," says Liisa Ecola, senior policy analyst for the RAND Corporation, so, for example, on a highway with a 55 mph speed limit, the road would be variably priced to keep cars traveling at a brisk 40 mph during rush hour. "If speeds are too slow, raising the price might discourage some people from driving there." But it's a delicate balance. If you raise the road pricing too high, too many drivers might choose to forgo the trip altogether, meaning, in New York's case, the MTA misses out on some revenue, says Manville, "which might make the MTA nervous."
Agency budget concerns might prioritize funding MTA's capital plan, but real-time data can tabulate how much money is coming in — proving that transit service is getting better and showing that fewer cars are entering Manhattan, thereby winning over more public support, says Ecola. "London started doing a very detailed annual monitoring report with very specific goals set out and ways to determine if meeting those goals can track progress over time." Air quality, which wasn't a specific goal outlined by London's program at first, soon became so improved that the scheme was rebranded as the "Ultra Low Emission Zone." New York could use apps to provide dashboards of information on how the plan is working, and provide data-driven incentives to drivers to shift trips to less-busy (or less-polluted) times on local roadways. In Stockholm, comprehensive data helped make the case for turning the congestion-pricing pilot — which had an end date — into a permanent program, says Ecola. "Stockholm initially implemented it on a trial basis and then kept it in perpetuity after strong findings that showed once people had tried it out, they got used to it."
How exactly congestion pricing will impact the minority of New Yorkers who do rely on their cars is a looming question. The law requires exemptions for emergency vehicles and those for people with disabilities, but otherwise the pricing will be variable and the toll structure — which might, for example, be structured to favor smaller or electric vehicles — has not yet been defined. Residents "living in the central business district earning less than $60,000 a year," according to the state law, are meant to receive a tax credit for any tolls incurred. But there's quite a bit of nuance that an income-restricted exemption doesn't address, as Shaheen notes, for example, certain workers who absolutely have to take vehicles into the city at peak hours every day. "Policies may need to be established for essential workers that may have to drive but do not have the ability to shift their work schedules," she said. Manville would like to see something simpler that doesn't require up-front costs and tax filings. He envisions providing a universal basic income to any eligible household in the region, even if they're outside Manhattan and even if they don't own a car. "Anyone below a certain income threshold, regardless of if they drive, gets a bank card with x dollars per month for an equity protection that's neutral in respect to mode," he says. Some cities use transponders — the devices that sit on a car's dashboard and ping the RFID readers when entering and exiting the zone — which allow drivers to insert debit cards directly into them, Ecola notes, a payment system which would eliminate the need to enter a personal bank account (and allowing that card to easily work on other MTA modes through OMNY as well). The MTA is also planning to work with third-party apps for payment — some programs can even use smartphones or onboard GPS as transponders now — which would provide more on-the-fly options to make it easier on any drivers who do need to get into the city for whatever reason.
And that's a final, possibly counterintuitive benefit that the MTA needs to hammer home: Congestion pricing is actually really great for drivers. "In a way, it's one of the most pro-driving policies," says Manville. "If you choose to be in your car, you are paying with your money or your time. Here, you will pay something, but you will actually get good service in return." And there's a real benefit multiplier to having those transponders pinging with traffic information throughout the city. "All that real-time data is a building block to a more intelligent transportation system," says Manville, who says the information can be used for all sorts of curb-management tools like more effectively planning and pricing parking. "People always want to overlook how much better this can make driving, and in other cities it's actually one thing that's always resonated with car enthusiasts."
That might also factor into the political calculation Hochul will need to make. Congestion pricing has a middling level of support in Manhattan, but the idea of it infuriates a lot of New Yorkers, especially in the outer boroughs and the suburbs, where car ownership is more common. That could be just enough voters to swing an election — and she's already said she plans to run for a full term. In a 2019 speech in Queens, Hochul praised the plan's $15 billion MTA lockbox — protecting the revenue collected by congestion pricing — as a way to improve commuters' lives; more recently, in a statement to the New York Times, she was less decisive about the entire program, saying the "pace and timing" would need to be evaluated, "given the constantly changing impact of COVID-19 on commuters." This week, 28 transportation and environmental-justice groups sent a letter urging her to voice immediate support for congestion pricing, including naming the five appointees to a six-person independent advisory board that would determine tolls and exemptions, signaling her strong commitment to the project. (New York City mayor Bill de Blasio, to his credit, has already named his sole appointee.) But in a way, she doesn't have to do much more than that. Hochul has just under 15 months in office, a period that aligns almost exactly with the 16-month environmental assessment. This guarantees that no decisions about congestion pricing would be made during the campaign. Full federal approval for implementation of the plan would come no sooner than the date of the gubernatorial election on November 8, 2022. And the official announcement that it's moving forward could land around January 2023 — right as the next governor of New York is sworn in.