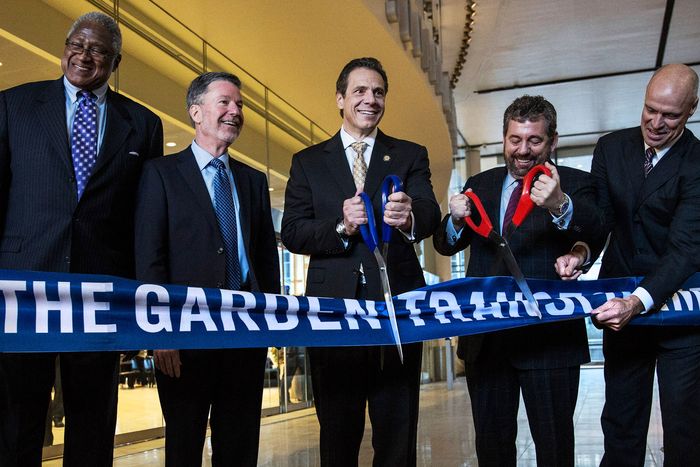 Not gonna happen again.
Photo: Andrew Burton/Getty Images
You almost have to wonder whether New York governor Andrew Cuomo knew, as federal approval was passed down for the La Guardia Airport AirTrain a few weeks ago, that he wouldn't last long enough to wield a giant pair of scissors at its ribbon cutting, or even to fling a shovel of dirt over his shoulder at its ground breaking. If the attorney general's investigation release last week had reached a different conclusion, he might have rushed the project to completion simply to distract from the next round of sexual-harassment allegations. "Cuomo consistently chooses the thing he can get done soon by using the power within his grasp," my colleague Christopher Bonanos wrote last month, when Cuomo still had power within his grasp. But in 13 days, he no longer will, and if we act quickly, the alternate infrastructural reality that many New Yorkers have envisioned for the past decade can start to materialize — not just for getting to La Guardia but also for a slew of other public-transit projects that suffered under his oligarchic rule.
The proposed "wrong way" AirTrain is emblematic of so much of Cuomo's approach to building. "Forget your transit experts," Cuomo once said as a way of dismissing an alternate, inarguably better plan that those experts backed to extend the subway through Queens to the airport. It's not that building a new connection to the airport is necessarily the wrong move or that $2 billion is a terrible deal for a people mover. It's that this project was held hostage by a man who flat-out refused to consider better alternatives, including listening to the actual transit experts, some of whom he personally appointed to fix the state's crisis before they bailed, frustrated to the point of exhaustion by his meddling. There were much better ideas than the one he embraced, and he could not be persuaded to take them seriously.
The moment Cuomo tendered his resignation, Port Authority staffers sent a letter to executive director Rick Cotton demanding he halt the AirTrain's forward progress immediately, the New York Daily News reported last night. "For too long, Gov. Cuomo and his staff have repeatedly pushed the agency to make non-transparent, politically motivated decisions, including decisions that squander the trust and money of our bondholders, customers, and the general public," the letter reads. This is true of the AirTrain project, but also for many other proposals that could have already been in place by now, tangibly improving the lives of New Yorkers: His lackadaisical approach to congestion pricing has the plan hanging by a thread, and he will likely leave office without appointing the five members of the Traffic Mobility Review Board required to move the pilot forward. (Bill de Blasio just picked his sole appointee.) Cuomo also scratched the Fast Forward proposal for the MTA, an ambitious, necessary, achievable vision proposed by New York City Transit head Andy Byford to make the subway system more efficient and accessible and then derailed by the governor's ego. On the day Byford announced he had accepted a new role back in London, Cuomo was taking a petro-masculine, muscle-car joyride around Wall Street, which had just banned subway riders from the trading floor, to commemorate the "reopening" of the city.
Just a few hours after Cuomo resigned, another decision was being made a few hundred miles south of Albany that will prove equally consequential for New York: The U.S. Senate passed the Infrastructure Investment and Jobs Act, the bipartisan bill that will pour $1 trillion into rebuilding the country's transportation systems (wrestled through both chambers by local rep and Senate Majority Leader Chuck Schumer). The big question for Kathy Hochul — who will become the state's first woman governor in two weeks — is whether she can dismantle the gubernatorial institutions that wreaked havoc on the state's transportation systems. When asked about Cuomo's legacy at a press conference for the bill yesterday, Joe Biden unequivocally praised the governor's performance, despite the allegations of abuse. "The question is, did he do a good job on infrastructure. He did," said Biden. That's far from being a sure thing. And New Yorkers continue to pay for it every day.