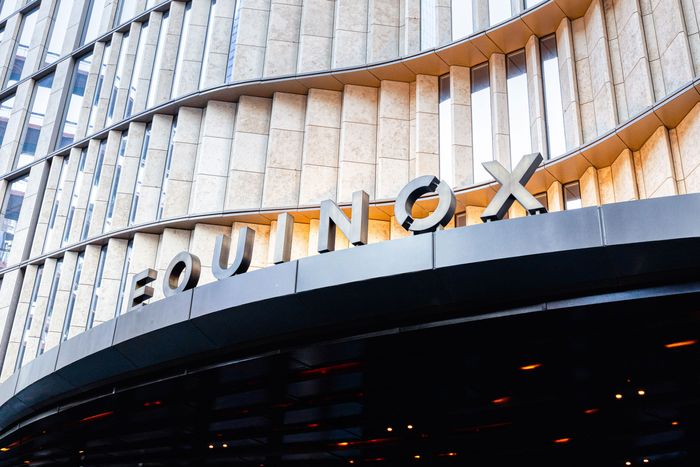 Photo: Matthew Peyton/Getty Images for Equinox
The pandemic is far from over, but in most cases the financial relief and special accommodations that came with it — well, are. Or are soon to be. By September, more than 60 percent of office workers are expected to return to their desks. Unemployment benefits are disappearing. And renters — residential and commercial both — are being forced to pay up. The eviction ban is ending, and commercial tenants are grudgingly handing over what they owe, including Condé Nast, which just paid nearly $10 million to cover four months of back rent at 1 World Trade. The exception? Equinox, a delinquent tenant who would, it seems, like to stay that way.
Over the past year, Equinox, which is backed by the Related Companies, has been sued by multiple landlords for millions in unpaid rent. In July, the owner of 568 Broadway in Soho sued it for $3.3 million in unpaid rent, taxes, and utilities. It was hardly the first lawsuit the gym has faced: Back in February, two separate lawsuits were filed by the owners of 14 Wall Street (Equinox Wall Street) and 196 Orchard Street (Equinox Orchard Street). And last October, the owner of 421 Hudson in the West Village (Equinox Printing House) sued for $1.3 million. The luxury gym is even going so far as to renege on its rent-deferral agreements, according to a recent lawsuit filed by Paramount Group. It'd agreed, last September, to pay half its base rent of $138,000 for the 28,000-square-foot space it leases at 1633 Broadway, plus a percentage equal to any capacity permitted under government COVID-19 restrictions. In return, Paramount would defer some payments until 2022 and others until capacity restrictions were removed. In June, New York lifted all capacity restrictions for gyms, stores, and restaurants. Needless to say, Equinox still hasn't paid.
In the early days of the pandemic, many retailers, especially corporate chains, skipped out on their rent, among them Gap, H&M, Victoria's Secret, and Starbucks. (These were businesses that could afford the legal battles that ensued.) In April 2020, Equinox announced that it wouldn't be paying rent because of the shutdown, a move that wouldn't have necessarily stood out at the time had Related CEO Jeff Blau not criticized other commercial tenants for not paying their rents. "Companies that have capability, have liquidity, have a strong balance sheet — I think they need to pay the rent," he told CNBC. "What's not okay is when you have large companies, whether it's retail or corporate, that suddenly send blanket letters to their landlords saying, 'We're not going to pay the rent.'"
Courts, so far, have agreed with that assessment, ruling against all but minor rent reductions for corporate retailers (Gap, for example, was granted a 10 percent rent reduction for its Times Square store last summer). In January, Victoria's Secret lost its bid to cancel millions of dollars in rent for its Herald Square location after having claimed, in a lawsuit whose language matched its melodramatic lingerie styles, that "it is indisputable that New York City's business landscape has been shattered, and is forever altered."
A number of independent New York City gyms and yoga studios did close during the pandemic, and several gyms, including Gold's Gym, 24 Hour Fitness, and New York Sports Clubs, sought bankruptcy protections last year. Equinox, however, seems to be doing just fine. It does have substantial debts tied to its SoulCycle subsidiary, but it's hardly a scrappy start-up and Related is valued at over $60 billion. Its fitness centers have been operating, at some capacity, for almost a year now, and according to the Equinox website, all locations where the company is in arrears are still open. They haven't been kicked out. Unlike the many smaller businesses that had to shut down when they couldn't make rent, it seems that Equinox can afford to — well, not to pay. (It will, most likely, reach some sort of deal with its landlords, as other delinquent corporations have, but clearly, it's in no rush.) As a recent ad campaign boasted, Equinox is "back and stronger than ever."