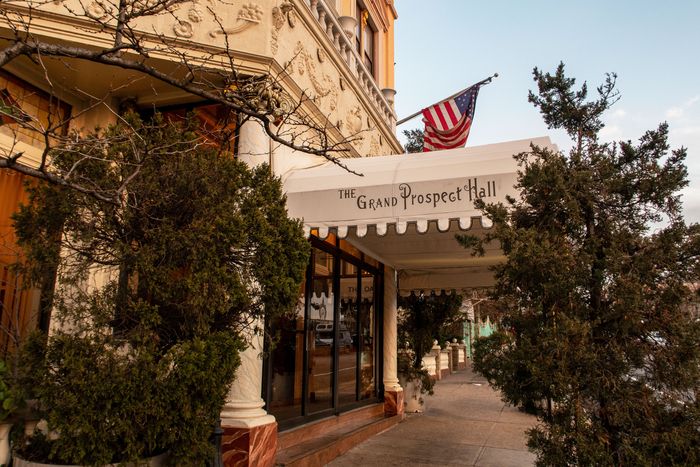 Photo: Charles F. Kaye/Shutterstock
"We make your dreams come true!" You couldn't watch local New York television for more than 30 years without running into Michael and Alice Halkias, stiffly dressed and stiff of delivery, beckoning you into the Grand Prospect Hall, their Brooklyn wedding palace. It was a great old raddled dowager of a building, at the edge of going to seed but gilded up and given some fresh paint and turned into an accidental New York if-you-know-you-know shibboleth-landmark along the lines of Tatiana or Spa Castle. And now, like far too many relics of Slightly Weird Old New York, it's coming down. Plans to demolish the building were filed on July 23 by its new owner, the Brooklyn Paper first reported.
The 129-year-old former opera house — including all three wedding-cake tiers of the ballroom — was purchased for $30 million last summer, and the new owner, Angelo Rigas, plans to redevelop the site with a yet-to-be-revealed project. It's unclear whether the building's array of gilded ornaments, fixtures, and frescoes will be salvaged or scrapped.
The Halkiases, who bought the hall in 1981, made the building's historic grandeur part of their brand, and both maintained and glitzed-up the golden cornices, stained glass, and grand chandeliers. Their ads (and heavy accents and neon-pink lighting) have been parodied on Saturday Night Live, and Mets player Pete Alonso even made a tribute with the couple for Jimmy Kimmel Live! The sale came after Michael died of COVID-19 in May 2020. The building has been listed on the National Register of Historic Places since 1999, but that does not confer protection — because it's not landmarked by the city. R.I.P.