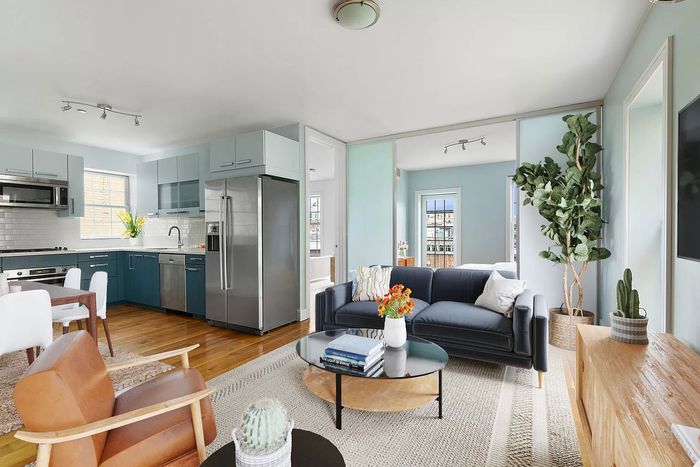 Photo: Allyson Lubow Photography
For under $1 million, one can find all sorts of housing configurations: park- and subway-adjacent studios, one-bedrooms hidden in carriage houses or former shoe factories, and even the occasional true two-bedroom. With price drops rampant across Manhattan and vacancies high citywide, we're combing the market for particularly spacious, nicely renovated, or otherwise worth-a-look apartments at various six-digit price points. This week: a Greenwich Village studio with Herman Miller built-ins, a Brooklyn Heights apartment with multiple skylights and fireplaces, and more.
A Greenwich Village Studio With Herman Miller Built-Ins for $575K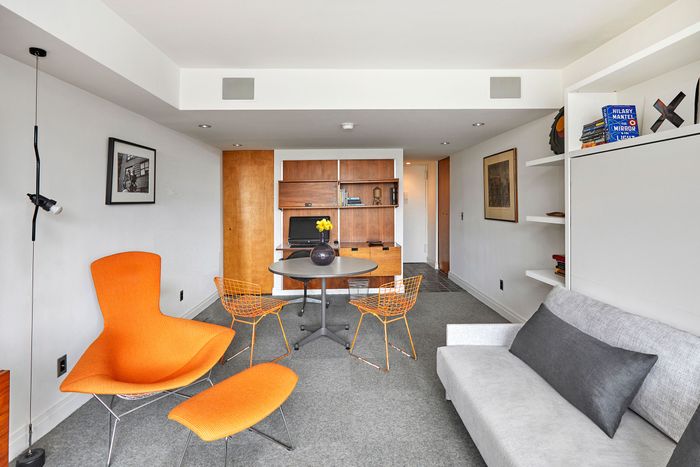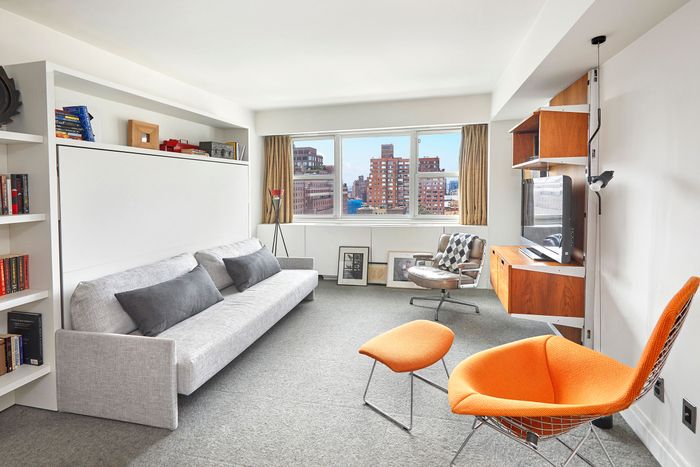 101 West 12th Street Apt. 15E — Sitting on the 15th-floor of a 1960s doorman co-op (just below the 14th Street F and L trains), this studio comes with several efficient built-ins. In addition to a white Murphy bed/sofa combo, there are also two Herman miller wall units — one with floating cabinets that serves as a media console, and another with more storage and a workspace — both of which are included in the sale. All of the furniture that currently gives the space a mid-century time-capsule feel, like Bertoia's orange wire chairs and Bird chair plus ottoman, are available for purchase separately. The renovated kitchen has stainless-steel appliances (including a dishwasher), along with more open shelving. The building, which takes up the full west side of the block between West 12th and 13th Streets on Sixth Avenue, is topped by a large landscaped roof terrace garden with seating and a gazebo.
A Renovated Two-Bedroom With a Duo-Tone Kitchen in Harlem for $699K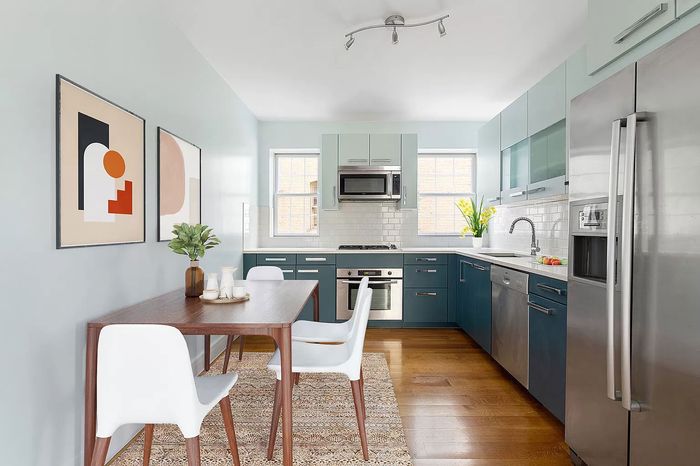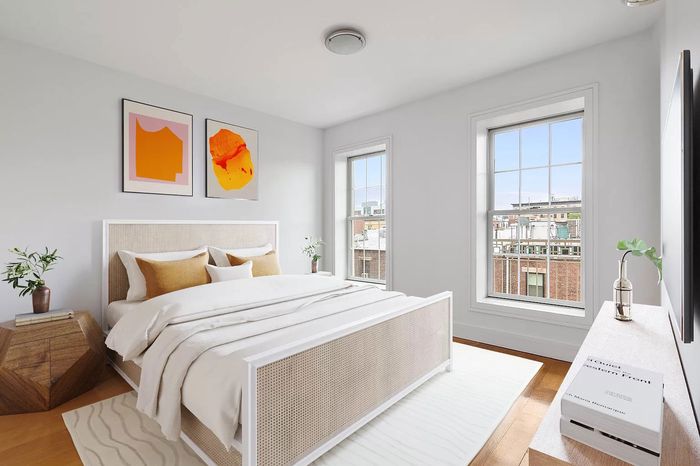 204 West 140th Street Apt. 5C — Fully renovated in 2006, this almost 900-square-foot condo just north of Striver's Row has two spacious bedrooms (one of which opens to a balcony) and eight windows across three sides, including one in the bathroom and two in the kitchen. The ten-by-12-foot kitchen comes updated with a really nice and strangely calming color scheme — rather than the usual monochrome white or gray cabinets, these are pale blue and dark teal, all from PoggenPohl. The windowed bathroom riffs on the blue-green theme with its mosaic floor tiles. There's a wall of exposed brick right across from a living area corner nook, which can fit a home office. With a tax abatement in place until 2024, monthly fees are currently especially low at $604.
An Upper West Side Prewar One-Bedroom Full of Casement Windows for $775K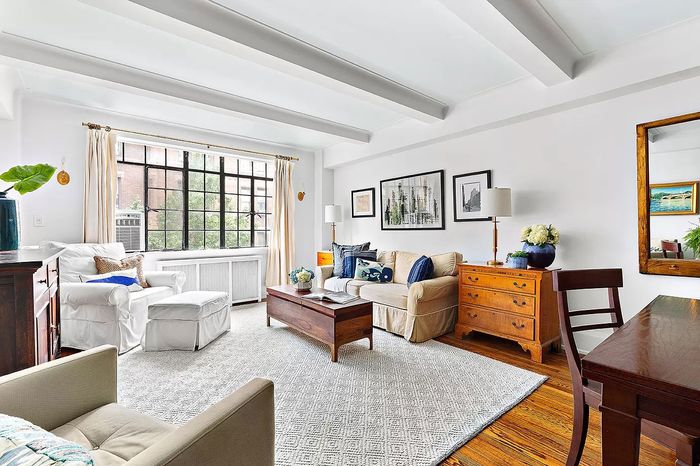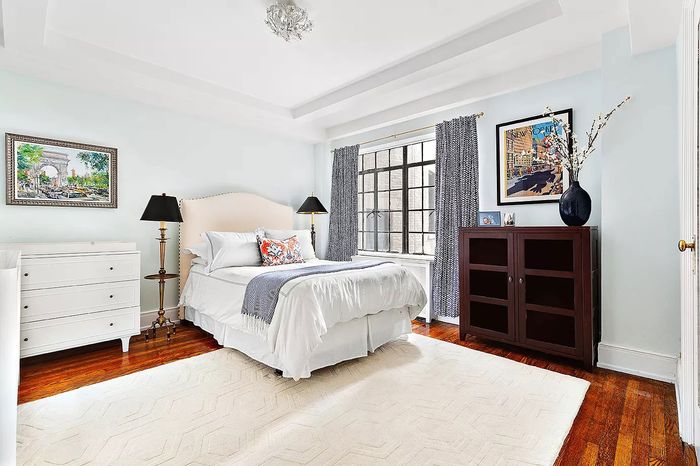 102 West 85th Street Apt. 5A — This fifth-floor one-bedroom co-op, across the street from Good Enough to Eat (and it's perennial weekend lines), has all the classic prewar details: an arched doorway, beamed ceilings in the large living room (big enough for a dining table and hutch) and king-size bedroom, and three sets of casement windows (the north-facing one in the living room spans almost wall to wall). The separate (casement-windowed) kitchen has been updated with Pietra Cardosa countertops, as well as white subway tile and cabinets. There are also four closets across the apartment, including a walk-in just off the foyer.
A Brooklyn Heights Apartment with Two Skylights and Fireplaces for $863K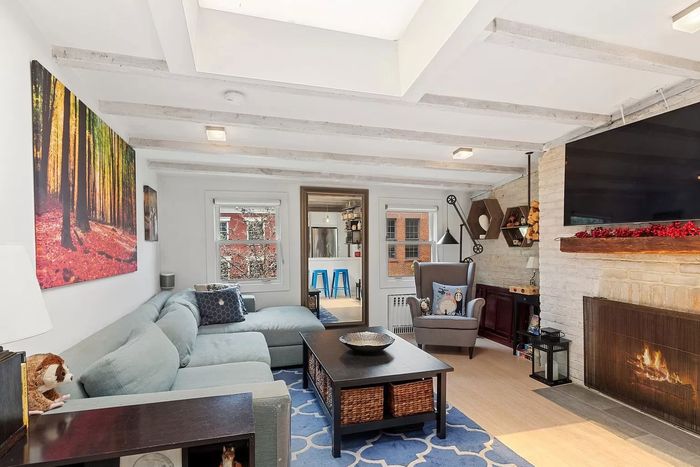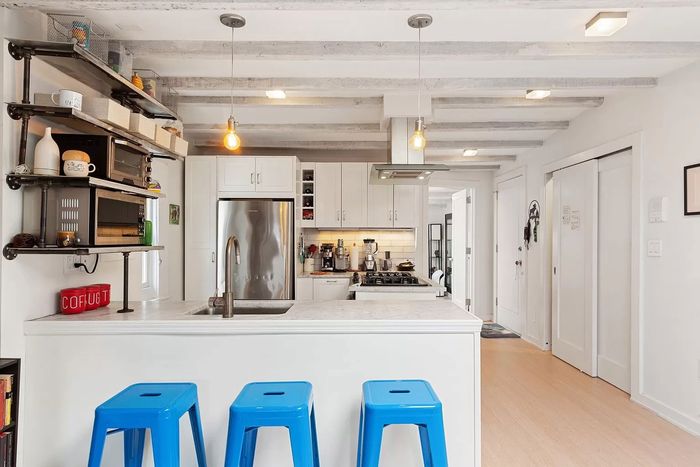 63 Cranberry Street Apt. 4 — While technically listed as a one-bedroom, this top-floor apartment in a four-unit brownstone co-op just off Henry Street has an extra room (with a window and closet) that can be used as a smaller second bedroom (it's only six feet wide but almost 15 feet long); the asking price of $863K is still much lower than the current cheapest two-bedroom listing in the area, which is going for $999K. You'll find exposed ceiling beams truly everywhere in the apartment (which was renovated in 2015), along with two large skylights and two working white-brick fireplaces (one of each in the living room and main bedroom), an open kitchen with a Bosch dishwasher, and an in-unit washer/dryer in the windowed bathroom.