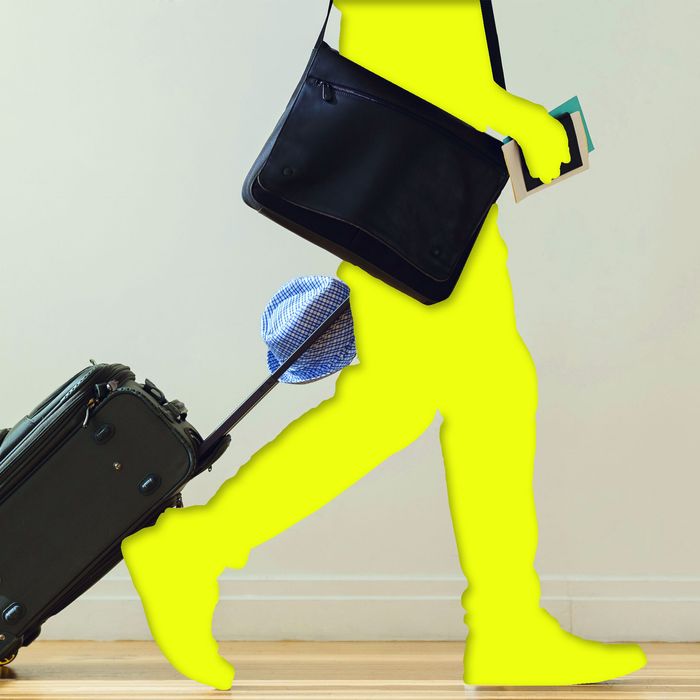 Illustration: by Curbed; Photo Getty Images
The pandemic has thrown the process of renewing or getting a passport into disarray. The Strategist's Louis Cheslaw and Daniel Varghese spoke with more than 30 New Yorkers who have gone through the hassle.
Currently, there is only one way to get a new passport in fewer than 12 weeks:
Secure an elusive appointment at an official passport office that can print new passports the same day. You can schedule one by talking to a human being at the National Passport Information Center over the phone (877-487-2778). This is the only way private expediting companies — some of which charge well over $500 — can make appointments, so save your money. The phone line is open from 8 a.m. to 10 p.m., and more than ten people we spoke to cited the average hold time as two hours. The soonest available appointments are typically two weeks away — note that to manage the backlog, you'll be given an appointment date no more than three days before your flight — and you will be asked to bring proof of a flight or of a family emergency (in the form of a statement from a hospital or a mortuary) to your appointment. If you're anxious about your appointment being so close to your flight, there is a way around this:
Tell the agent your flight is sooner than the one you really want.
Then, the morning you go into the office, buy any refundable international ticket for the date you said you were flying on. That's what fashion designer Andrew Livingston did to secure an appointment in early August for a mid-August trip.
Be prepared to travel — far — for your slot.
If you do get an appointment, it is unlikely to be near your home. The New York City office is particularly booked — Livingston ended up having to fly across the country to San Diego for his renewal appointment. Student Justin Previllion flew from New Jersey to Dallas to make his, while designer Eric Lawrence, who says the security guards "basically laughed at me" when he asked for a walk-in appointment in New York, drove from Manhattan to New Hampshire for his.
If you still haven't managed to get one, try your representative.
Three people we spoke to were able to speed things up with the help of their congressperson's office, where aides used their leverage at the State Department to advocate on their behalf. Suzanne McElwreath, a New Jersey–based attorney, estimates she spent 40 hours on the phone trying to get an appointment but was unsuccessful. Ten days before her family's flight, she contacted Representative Mikie Sherrill's office. The congresswoman was ultimately able to secure McElwreath an appointment in Boston.
But make sure to be nice.
When video-game developer Sam Lucyk's mailed-in application was sitting in limbo in early July, he called Representative Nydia Velázquez's office about a flight two weeks away. Over the next few days, an aide to his congresswoman was able to expedite his application so he could make his July 17 trip to Turkey to meet his girlfriend's family. He credits his luck to calling early in the process and being empathetic. "At first, [the aide] said, 'We can't do anything, there are too many requests.' I clarified that my flight was in a couple weeks, and she said, 'There might be something we can do … There have just been so many people trying to travel, and people have been yelling at me.' She thanked me for being kind and patient and said she would do what she could." If you get an appointment, take the day off from work. Your slot at any passport office will be scheduled for a specified time, but be prepared to hang around for a lengthy period to actually get your passport, since you're not allowed out of the center while you wait for it to be processed and printed. DJ Brendan Fallis and his wife, Hannah Bronfman, and their newborn spent six hours at the New York office. "I was looking at my baby's formula because I was so hungry," he says.
If that doesn't work, try Reddit and Facebook.
Unsurprisingly, these forums have become hotbeds of activity around this topic with good and bad actors trading appointments and offering up advice. (One Facebook group, "Passport Appointment," has about 11,000 members, and Reddit megathread "US Passport Renewal // 2021" is just as active.) One person we spoke to ended up getting a same-day passport by typing "Passport Appointment" into the Reddit search bar and contacting the most frequent posters; ultimately, he found someone with an appointment that day who was willing to give it up for free. That said, be wary about taking an appointment from a stranger. Hoffman notes that his office has often turned away people who got appointments through these sources and arrived only to discover the reservation number had already been used.
And if all else fails, consider Guam.
Per Travel + Leisure editor Paul Brady, "You can go there without a passport, through Hawaii, on United. Stay at Dusit Thani, where they can set you up with snorkeling and hiking trips. Get a morning espresso at Coffee Slut, and later have beers and brats at Carabao Brewing."