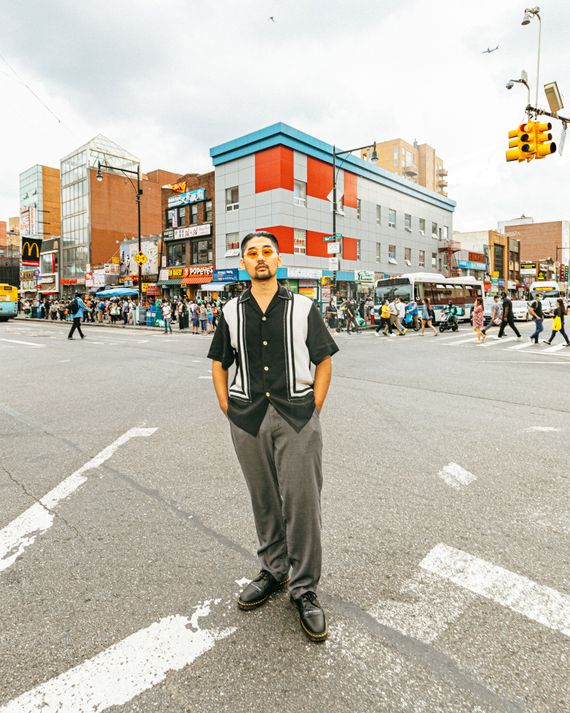 Photo: DeSean McClinton-Holland
On Northern Blvd. between Prince Street and Main Street in Flushing, Queens, behind an old awning advertising tuxedos and costumes, you'll find the minimalist streetwear boutique Alumni of New York. Co-owned by Gene Han and Jaeki Cho, its marketing-and-events guru, the shop held sneaker-release parties and other in-store events, including panels on social-media strategy for entrepreneurs. During the past year, Alumni also hosted a running club that holds weekly 5Ks around Queens, which Cho sees as a way to connect runners across the borough.
But in the summer of 2020, with many of those events on hold, Cho turned his attention to helping restaurants, which to him are the epitome of culture and community in NYC. They were (and still are) hurting tremendously. He turned his TikTok account into Righteous Eats, a bite-size Queens-food-and-travel show highlighting everything from his favorite Elmhurst tamale cart to the bakery with the best baklava and knafeh in Astoria to his more than 450,000 followers.
"So many restaurants in these immigrant enclaves survive month to month and they lack resources to secure government-funded grants … Danny Meyer's not over here making sure funds are coming," says Cho. "So I took it upon myself to show love with whatever resources I have."
Cho was born in Korea, and for a few years before his family emigrated to the U.S., they lived in China, an experience he says primed his palate for receptiveness to new foods. When he was 9, the family settled on the border of Elmhurst and Jackson Heights. Thanks to a diverse group of friends — Cho compares his school lunch table with the U.N. — and his own curiosity, Cho became well-versed in cuisines of the world.
When his family moved to Flushing during his high school years, Cho already knew the neighborhood well — along with, he said, most other Korean American families in the tri-state area. Throughout the '80s, '90s and early aughts, it was full of Korean-owned businesses, from SAT cram schools to basement manga cafés (manhwa bang) where Cho spent many hours over piles of comics. Today, much of the Korean American community has moved further east while Flushing has swelled with mainland Chinese immigrants — but Flushing streets are still full of food from Korea, China, and elsewhere around the world too. Here are some of his favorite places in Flushing and why he loves them.
3712 Main St.
"It's a small hole in the wall on Main Street, Flushing, where they serve jianbing — this Chinese crêpe commonly eaten a lot in the northern part of China. The crêpe is made of wheat, eggs, and a variety of sauces. For fillings, you can add youtiao (a deep-fried savory donut), bao cui (deep-fried cracker), or xiang chang (Chinese sausage). I usually get the classic jianbing with youtiao with their savory soy milk. They have these heated, rotund pans and they whisk it up in front of you and they fold it up into a sandwich."
41-10 162nd St.
"They only serve one dish, so you just know this shit is good. It's beef stew called somuri gukbap. Somuri means the cow's head, and gukbap means "soup with rice." So you get a hot stone pot of broth and it's always served with rice and very simple banchan. And that's all you get, and during lunchtimes you have lines outside. The people that frequent the spot are not just Koreans — it's a lot of Chinese, too. I also see a lot of Central Americans there, and it's kind of similar to birria. You don't see a lot of Americans because they're probably looking for bulgogi and bibimbap, and the owner doesn't give a fuck. As soon as you walk in, the people serving just ask you, Spicy or not spicy? I get it spicy, nine times out of ten. It's a classic, and at one point I was going here four times a week. It's a type of flavor that's very palatable for Koreans, a very homey flavor. It reminds you of your ancestors, of pain, sorrow, joy — it's a very emotional dish for me. After a hangover, you hit that up, and you feel like you're reunited with yourself."
41-6 162nd St.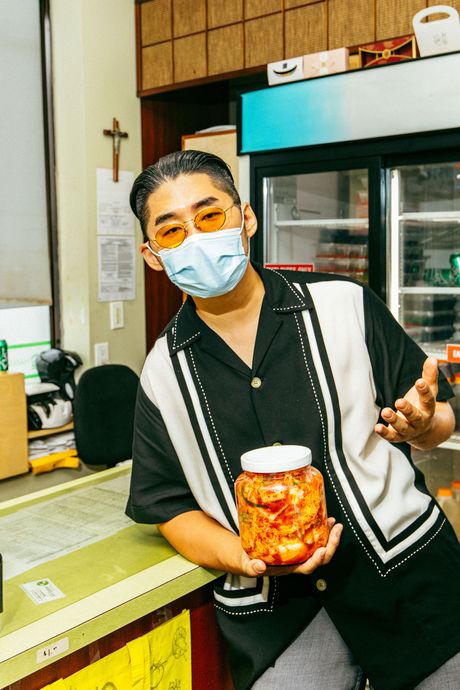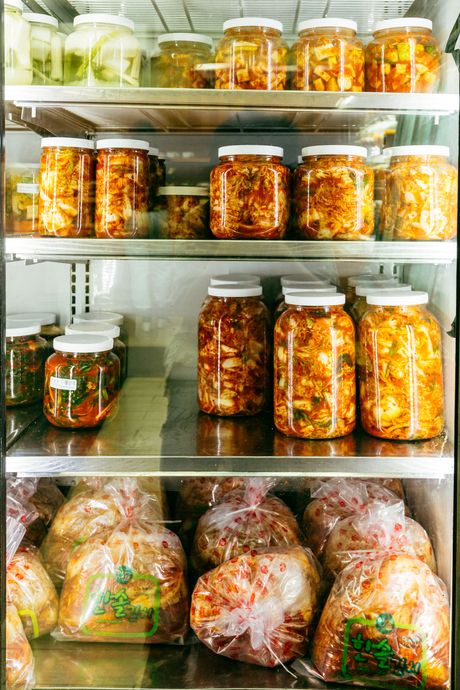 "Right next door there's Hansol Food. It's kind of like the Korean version of an Italian deli or butcher shop where you get certain cuts of meat or pre-made foods — instead of salami or broccoli rabe you get kimchi and other banchan. Their kimchi is my favorite. I know there's a lot of fresh, new-age kimchi made by younger Korean Americans where they charge $15 for a small jar — you're not gonna get that here. You're gonna get that raw, authentic Korean kimchi with all the seafood, shellfish, no gluten-free."
41-06 149th Pl.
"In the Korean BBQ scene there's different trends that happen every few years, like this new grill that's supposed to suck out the oil or cooking on a crystal. So this restaurant popped off and they were cooking pork belly on crystals. But they cook it at an angle so the oil drips down into a basin where they put a bunch of kimchi that gets cooked with the grease from the pork belly, and they serve it all with all types of banchan and you eat it with cold-broth noodles — it's a gorgeous meal, you're happy for your life. The noodles are called naengmyun and it's a popular summer dish in Korea — there are two types, mul naengmyun which is served in an icy-cold broth, or bibim naengmyun, served in hot and spicy sauce without broth. Han Joo is also well known for both of them."
40-24 162nd St.
"The literal translation of this restaurant's name could be "old-school fried chicken." They do serve the kind of Korean fried chicken people are more familiar with — the glazed, sweet and spicy, or soy-based fried chicken — but what this place is really known for is a more traditional Korean-fried-chicken style. It isn't coated with bread crumbs; instead the skin is thin and crispy, and all the seasoning is in the skin. No additional sauce painting is done, which is the way I prefer. And they literally serve you a whole chicken. It's my favorite fried chicken in NYC — a wonderful thing, a beautiful dish. They have a new sushi thing in the back, and that's cool, but it's like, why would I go to a fried chicken spot for sushi?"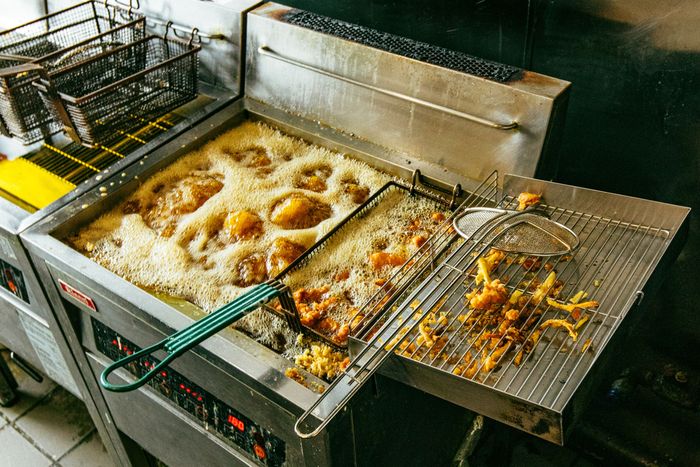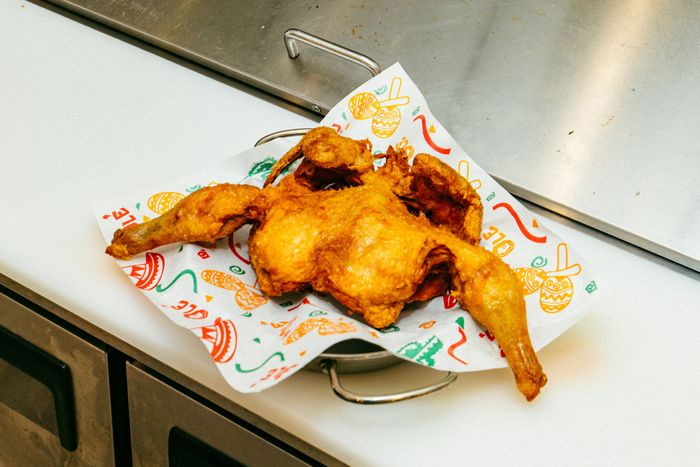 163-30 Northern Blvd.
"This is a hair salon I go to a lot. Sometimes I get a scalp treatment here: They use green-tea oil and mint oil, and they massage it and put a plastic wrap around your head and put steam on it. So I hit this place up once a month or whenever I want to pamper myself."
136-55B, Roosevelt Ave.
"There aren't that many pizza options in Flushing because it's so Asian, but Lucia is an institution. It's been in the same location for decades, and it's a no-frills, New York–style pizzeria. It's just a plain cheese slice — oftentimes the turnaround is so quick you get a fresh slice that's burning your tongue, not some cold, fossilized slice they put in the oven. You get two of those and season it with that … who knows if that's actually Parmesan? But you do it anyway."
DunHuang
Lanzhou
Beef
Noodles
136-93 37th Ave.
"If I'm pulling up by myself, I get a bowl of hearty Lanzhou beef noodles — that's stuffed with hand-pulled noodles, beef slices and flavored with radish, cilantro and house-special chili oil — and a side of lamb burgers. Lanzhou is in Gansu province, close to Mongolia, so there's a lot of lamb-focused dishes. If I'm with company, the beef noodles are a must, accompanied by their Monstrous Plate Chicken, or braised lamb shoulder. Especially during the colder months, I'm a regular."
3661 Main St.
"Flushing has an abundance of Chinese and Korean bakeries. While I love them all, my latest favorite is Rainbow Bakery on Main Street. It offers a great mixture of pastries and buns that are staples in both northern- and southern-style Chinese bakeries, with a mix of Korean influences as well. So you have your assortment of buns that are essentially mini meals, stuffed with hot dogs or ham. Then there's dim sum, tarts, corn breads, croissants, and roll cakes. And in life, there are moments you feel ambitious and you want them all with a hot milk tea."
14906 Northern Blvd.
"I like that this Korean-style bathhouse isn't packed on the weekends, compared to its counterparts like Spa Castle. This is like a neighborhood spa and I hit it up whenever I want to sweat out the toxins and receive a thorough massage that aligns my muscles and spirit. I usually take a bath then get an hour-long massage, and when I'm drifting like Jell-O, I visit the steam rooms and often fall asleep. Then I treat myself to a beverage or snack that they sell, like a green tea. Sometimes I might get a Haagen-Dazs ice cream bar."