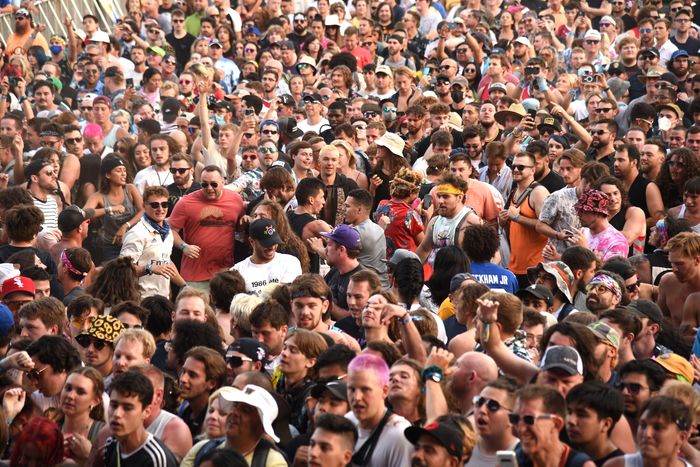 Thousands of maskless concert goers packed into Chicago's Grand Park for Lollapalooza.
Photo: Kevin Mazur/Getty Images
Over the weekend, Lollapalooza made its sweaty, crowded, and almost completely unmasked return to Chicago's Grant Park. With over 100,000 people attending each of the four days — proof of vaccination or a negative COVID test in hand — the scene looked like a pre-pandemic flashback, complete with mosh pits, crowd surfing, and other decidedly non–socially distanced activities. Even a couple of weeks ago, this might not have been alarming, but we're in the Delta variant's firm grip now. We know that it's more contagious than chicken pox or Ebola, and that vaccinated people can spread it too. Just last month, at a Dutch festival of 20,000 attendees, at least 1,000 were infected. Now, large outdoor concerts such as Lollapalooza or the upcoming We Love NYC show in Central Park, headlined by names including Elvis Costello and Carlos Santana, are starting to look like potential superspreader events. According to infectious disease experts, the safety of massive gatherings depends on what kinds of precautions are put in place — and for the upcoming Central Park concert, the COVID measures are less than ideal.
Attendees will be required to show that they have received at least one vaccine shot. But Danielle Ompad, an epidemiologist and associate professor at New York University's School of Global Public Health, says full vaccination is safest. Additionally, everyone should wear masks to reduce risks, and organizers should make sure concertgoers have plenty of space to spread out, according to Hilary Babcock, an infectious disease specialist and the past president of the Society for Healthcare Epidemiology of America and co-chair of the CDC's Healthcare Infection Control Practices Advisory Committee. There is a lot of room on the 13-acre Great Lawn, but there is no requirement for social distancing. Attendees will not be required to wear masks either.
Even with the lax vaccine requirement, the question of whether or not to attend depends on density for Ompad: If it's expected to be packed, she would avoid it. "Even if it was the entire Wu-Tang and they brought Ol' Dirty Bastard back from the dead, I would not go to a full capacity concert in August if Delta is still circulating at the level that it's circulating at right now," she said. Mosh pits are also a nonstarter. "There's all sorts of fluids flying everywhere. People are sweaty. They're yelling. If one of my friends told me they were in the midst of a mosh pit, I would say, 'I'll talk to you in two weeks after you've been tested,'" she said. With both LL Cool J and Andrea Bocelli on the bill, it's hard to say exactly what the crowd will be like — though it seems safe to say that mosh pits probably won't be a factor.
While Mayor de Blasio is now encouraging New Yorkers to wear masks inside again, the city has not released new requirements for the concert or other major outdoor events. "I would tell people to think about how crowded it is going to be, how much they're going to be able to space out from people who are not in their social network or in their household, and whether or not they think they can wear a mask for the whole time," says Ompad. But really, she admits, "I would just think twice about going to a concert like that right now."