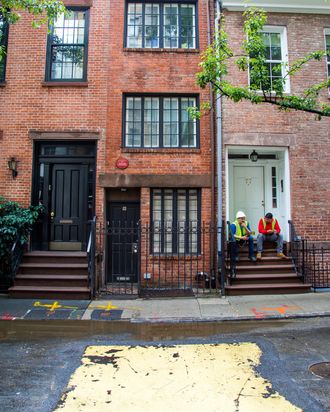 Photo: dbimages/Alamy Stock Photo
Every neighborhood has a property that keeps changing hands again and again, and some of those are puzzling: Is the reason an unexpectedly noisy corner, a terrible neighbor, a resident ghost? But 75-½ Bedford Street is back on the market again, and here, the reason is not particularly mysterious. The townhouse is nine and a half feet wide, and that's on the outside. The interiors measure only eight feet one inch across.
For years, residents have given interviews claiming to have happily adapted to the unique challenges of living in a house with rooms barely broad enough for a bed, but real-estate records suggest that they all tire of it sooner rather than later. Since 2000, the skinniest townhouse in the Village, and most likely in the city, has changed hands three times. The most recent flip came in 2013, when George Gund IV, "the descendant of prominent Clevelanders," bought it for $3.25 million. (The deed was transferred a fourth time in 2015, but for $0 to an LLC that seems to be affiliated with the Gund family.) Even its most famous resident, the poet Edna St. Vincent Millay, only lasted a little over a year.
The house contains a perfectly respectable 999 square feet of living space, but it's distributed over three floors (there's also a basement, but the layout is so tight, that, at least in the past, it was accessed via a trapdoor in the kitchen). "Upon entering the house, a visitor walks into what appears to be a generously apportioned entry way, with a couch along one wall. But the entry turns out to be a very narrow living room," the Wall Street Journal reported after the last sale. Gund claimed that several friends had staged an intervention before he closed on the house, to make sure he knew what he was doing. But he told them he was buying the house out of passion, not to turn a profit. "I see it as a form of stewardship," he said.
If the home sells for the $4.99 million asking price this time around, Gund will see a nice profit. Although that's a big if: The price works out to nearly $5,000 per square foot, which for a Village townhouse is exceptionally steep (not unlike the stairs, one assumes). As a point of comparison, a 21-foot-wide townhouse on East 11th Street that sold for $28 million earlier this year worked out to $3,778 per square foot.
Of course, 75-½ Bedford is exceptionally charming, which seems to be why it keeps selling despite its obvious drawbacks. Besides its fairy-tale aura and Millay's brief residency, other notable former residents include cartoonist William Steig, anthropologist Margaret Mead (who was Steig's sister-in-law and lived there with him and her sister), and John Barrymore and Cary Grant, who (separately) stayed there briefly while it was a rooming house for actors working at the nearby Cherry Lane Theater.
Stewardship, caretaking, and turning a tidy profit are common themes among buyers. "I fell in love with the house when I saw it, but I want to be its caretaker," architect Christopher Dubbs, who bought the house for $270,000 in 1993, renovated it, and listed it as a $6,000-a-month rental three years later, told the New York Times. In other words, Dubbs and his partner didn't actually want to live there. They sold the house, furnished, in 2000, for an undisclosed sum, to a businessman who used it when he was in town for work, then he let his daughter and her boyfriend move in. The 23-year-old told AMNY that she planned to stay until her parents kicked them out, although she didn't think it was a place you could raise children, describing one of the bathrooms thusly: "If you slide the door closed, your knees bump against it. The shower head is up against the wall, so if you want to wash one armpit, you turn one way, and then the other way to wash the other."
The businessman sold the property to an LLC for $2.175 million in 2010, which resold it three years later to Gund. It now has two bathrooms, although one is absolutely tiny (three feet seven inches wide). There are three decently deep but narrow bedrooms, as well as a shared rear garden and a steady stream of tour groups and passersby who stop and stare.