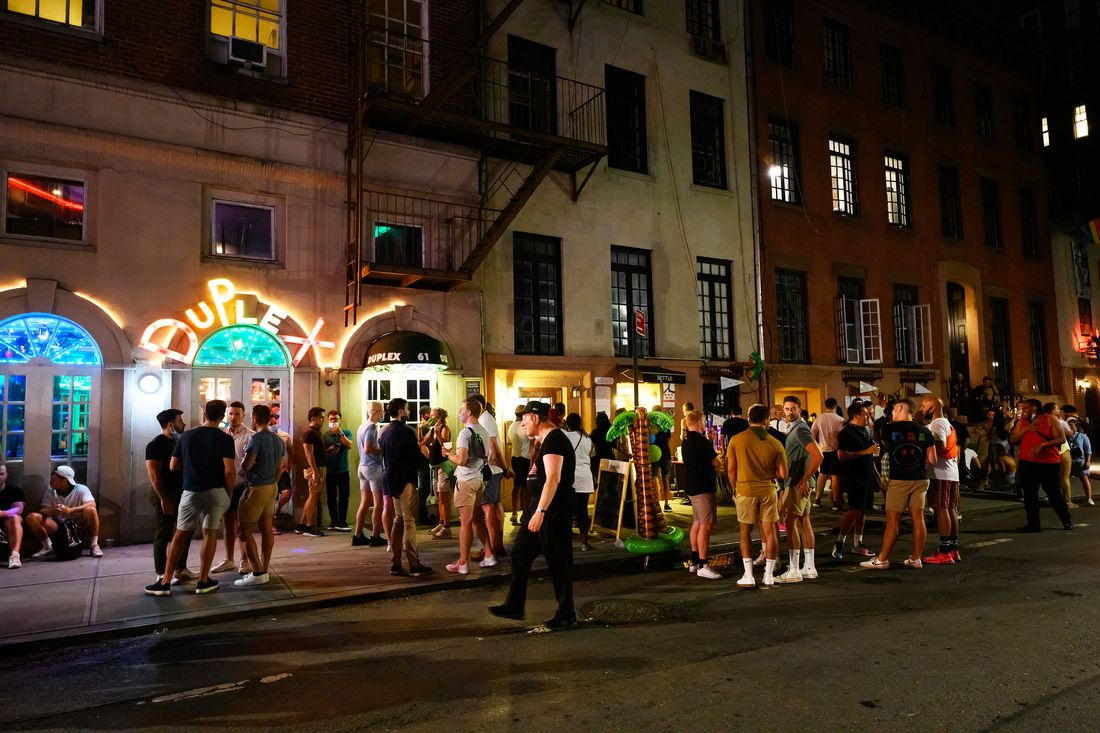 Photo: Noam Galai/Getty Images
The city's restaurant hosts, gym receptionists, baristas, and bartenders got a second job last week: They're all vaccine bouncers now too. With an inoculation mandate in effect for most places that serve food or drink or have entertainment, these employees now have the added responsibility of verifying proof of vaccination. The change comes as new COVID-19 cases have climbed to an average of more than 1,800 a day — up from about 250 in early July. The city will begin enforcing the new rule on September 13, and businesses that don't comply will be subject to a fine of $1,000 for a first violation, $2,000 for a second, and $5,000 for all subsequent rule-breaking. Predictably, some small businesses are furious about the rule and have filed a lawsuit against the requirement in Staten Island's Supreme Court with the backing of Representative Nicole Malliotakis and City Council member Joe Borelli. For now, the city's workers are left to deal with the compliant, the disgruntled, and everyone in between. Here's how businesses across the city are handling the new mandate so far.
Bryan Pralta, 36, owner of Barbell Fitness in Sunnyside, Queens
Most people — we usually get over 200 visits a day — are fully vaccinated. But on Tuesday a guy came in with a vaccine card that was clearly fraudulent. The paper stock is off. It's clearly not right. I'm from New York; I can spot a scam. I just looked at it and told the guy, "This isn't cool. I could get in trouble for this. I know this isn't real." That's the one thing that scares me: If an inspector came next month because somebody snuck in with a fraudulent card, would I get penalized? I told him, "You can work out now, because it's not officially in effect," but come September, I want him to show me his app confirming it. I explained to him I'm not going to force him to get the vaccine — but if he doesn't get it, he can't come here. He said he's scared, and I told him, "Look, I got it when it first came out, and I'm still alive."
Some of my members have sent me a picture of their Excelsior app, and I use those passes as a reference because I even saw a fraudulent app picture yesterday. I was just cracking up. It just didn't look right. I understand the gravity of the situation with the infection numbers going up. But I'm not a medical professional and I'm being asked to basically educate people. Let's say hypothetically, come September, I have to go through that conversation I had with the guy with the fake vaccine card with each of my members. That takes five to ten minutes. What if everybody is bottlenecked at my front desk? I lost a lot of employees — around ten. On top of that, now this is another obstacle I have to deal with.
Marcus Menza, 43, host and manager at La Strada in New Dorp, Staten Island
A lot of people are calling with questions about the mandate and are worried about it because I'm sure they're not vaccinated. People are angry. They say, "This is ridiculous! Why are you doing this?" And I tell them it has nothing to do with us! They curse the mayor and the rules de Blasio is making. I'm not going to repeat it — that he's an ass, you know? We're trying to prepare customers for September 14, when the city will enforce it, and that's when we're going to have to ask for proof. But it's already creating a big problem. We've had four parties — for 50, 40, 30, and 25 people — canceled already in September because people have asked their guests and they've said they won't come because they're not vaccinated. It's just not good for the business. In my opinion, it's wrong. It's just discrimination that we have to do this and others don't. Hopefully they don't go through with it, otherwise we just have no choice.
Jeffrey Flores, 34, head manager at NightLife Security Services and bouncer in the East Village, Manhattan
Before we used to worry about underage kids trying to sneak in with fake IDs. Now the biggest problem is unvaccinated people trying to sneak in with fake vaccination cards and such. It is an added responsibility because if we don't do our job right, people could get sick. People will try to use their friend's vaccination card, or they'll try to use a picture of their mom's card. I tell our guards, if it takes an extra 20 or 30 seconds to make sure that vaccination card belongs to that person, take it, even if the customer or the owner of the bar gets a little bit annoyed.
It does make the job more difficult. Usually we end up getting a longer line because we have to ask for additional proof of vaccination. That can cause issues for other businesses because now we have a line going down the block, we're blocking entrances, we're blocking the street. And we do get a lot of people who give us a hard time saying, "I don't have to disclose that information because it's private." We let them know that it is for their safety and these are the new rules and we have to follow procedure. Throughout the night — usually the shifts are from 8 p.m. to 4 a.m. — I'd say about 30 to 40 percent of the customers that we get have that reaction. The other 60 to 70 percent are pretty okay with it.
Keith McDermott, 38, bartender and manager at An Beal Bocht Cafe in Riverdale, the Bronx
Some folks that come in regularly were unaware that it was in effect — that it even existed. And there are some people who have the mindset that even though it is in effect, that it doesn't really count until they start enforcing it. We just tell them, "The rules are the rules and if you don't show proof of vaccination, you just gotta go outside." I do have to say, the majority of people that are vaccinated, they're all for it. They're actually proud to show you that they got their vaccine and have their vaccination card. But since we're a small neighborhood bar, it's just one more thing for the staff to do when we're busy.
There hasn't been any sort of guidance from the city on how to spot a fake. People have shown me a xerox copy of a vaccine card, pictures on their phone, the Excelsior pass, but you have no real way of telling if something's counterfeit. We haven't come across that yet, I don't think. Some people give you an attitude and bemoan it, but they deal with it. You know, difficult or oblivious people will always be difficult or oblivious.
Lenny Rosas, 25, waiter at the Symphony Diner in Melrose, the Bronx
Customers we usually see every day have suddenly stopped coming. I guess they're not vaccinated. There has been a dramatic drop off as of this week, so it must be because of the mandate. If I had to estimate I'd say we'd have 100 diners in a day, and recently it has been more like 25. And you know, if they don't want to get it, it is their choice. But it definitely had an immediate negative effect on us.
We're not even asking about vaccine status right now, because we don't want to make the customers feel uncomfortable. We don't want to alienate people until we have to ask in September. I'm hoping for the best, but I can already tell it's not going to be fun to have those conversations. It's the elephant in the room. It's going to be enforced in a month, so we're just holding off as long as we can.