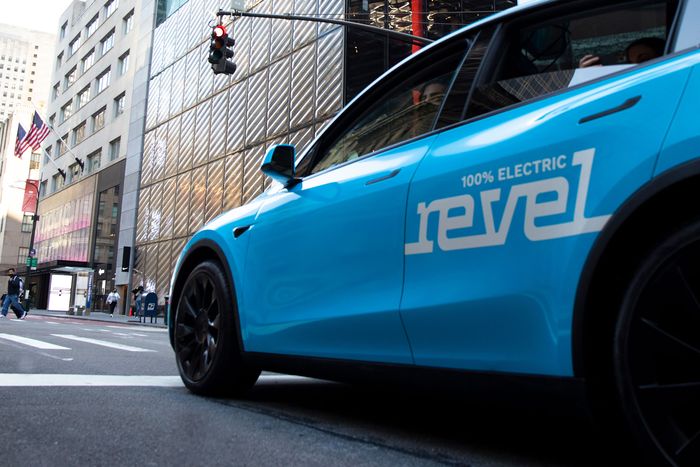 After months in regulatory limbo, the first of Revel's new Tesla rideshare cars hit Manhattan's streets on August 2. The scooter company first announced its plans to get into the rideshare game back in March with a fleet of 50 Tesla Model Y's, each painted the same light blue as a Revel scooter. But getting approved by the city's Taxi & Limousine Commission was a slog, and Revel debuted in a more limited way than it had hoped: 34 Revel Teslas are now out on the road (with 16 more soon to follow), and they will only operate below 42nd Street for now. Here, everything to know about the latest rideshare service to launch in the city.
Wait — isn't Revel a moped company?
The Brooklyn-based company is best known for its blue electric mopeds that can be rented across New York City (it also makes headlines for how often scooter drivers crash). But Revel also rents e-bikes through the Revel app and built a vehicle charging station with 25 fast chargers in Bed-Stuy. The company is looking to build even more charging stations across the city.
Launching this new service took at least four months
When Revel started trying to get its fleet approved in March, the process seemed like it would be easy: While the city's Taxi & Limousine Commission capped the number of taxis and rideshare vehicles at 120,000, electric vehicles were exempt. But before the commission approved Revel's Teslas, it voted to close the loophole that allowed electric vehicles to be counted separately — and with the cap already met, there was no room for 50 more cars, even if they were Teslas.
But in July, Revel and TLC reached a deal: Since the company filed paperwork in March, months before the loophole was closed, it was essentially grandfathered in.
Why is it only operating below 42nd Street? 
Though Revel got approval from the city to operate citywide, the company decided to start small and build up demand to be able to expand to other neighborhoods. This is the same way it launched its moped service, with 68 mopeds in three Brooklyn neighborhoods.
Unlike Uber and Lyft, Revel doesn't rely on gig workers 
The company's fleet is small, but the way it operates is significantly different from the Uber and Lyft model. First, Revel owns all of the cars, and drivers are employees, not independent contractors. Its staff of 150 drivers are paid hourly instead of on a per-ride basis and have benefits like PTO and health care. It's a significant departure from the gig-economy model that leaves many Uber and Lyft drivers on the verge of poverty.
How will this affect yellow cabs?
The city's yellow-cab drivers have been in crisis for years: With three times as many for-hire cars on the streets now compared to ten years ago, many of them Ubers and Lyfts, riders have become harder to get, and the price of taxi medallions has dropped. That has left the drivers who invested in medallions when their value was inflated with crippling amounts of debt. Even the hint of more competition from Revel cars could make the situation worse: The price of a medallion has continued to drop; the lowest medallion sale in March 2020 was $120,000, and a year later, in 2021, the lowest sale that same month was $45,000.
Where will the cars charge their batteries?
Revel drivers will start their shift with a fully charged vehicle, but if they do need more juice before a shift ends, they can either head to the Revel-owned charging station in Bed-Stuy or the more-than-2,000 Tesla-compatible charging stations citywide. That includes three Tesla Supercharger stations below 42nd Street, which can fill a battery to 80 percent in 40 minutes. A Tesla Model Y can drive up to 326 miles on a single charge — which amounts to a lot of trips between Times Square and Wall Street.
How do you hail a Revel cab? 
Like other rideshare cars, Revel Teslas cannot be hailed on the street — that's the exclusive privilege of yellow and green taxis. So you can only get a ride in a Revel car using the company's app. But there's a big caveat for the new small fleet: Demand has been so high that there's a wait list on the app to actually be able to request a ride.
Are there any other perks of riding the Revel cab? 
Each cab doesn't have a passenger seat, which means a passenger with long legs can really stretch out. Riders can also use a touchscreen to control the temperature and the music.