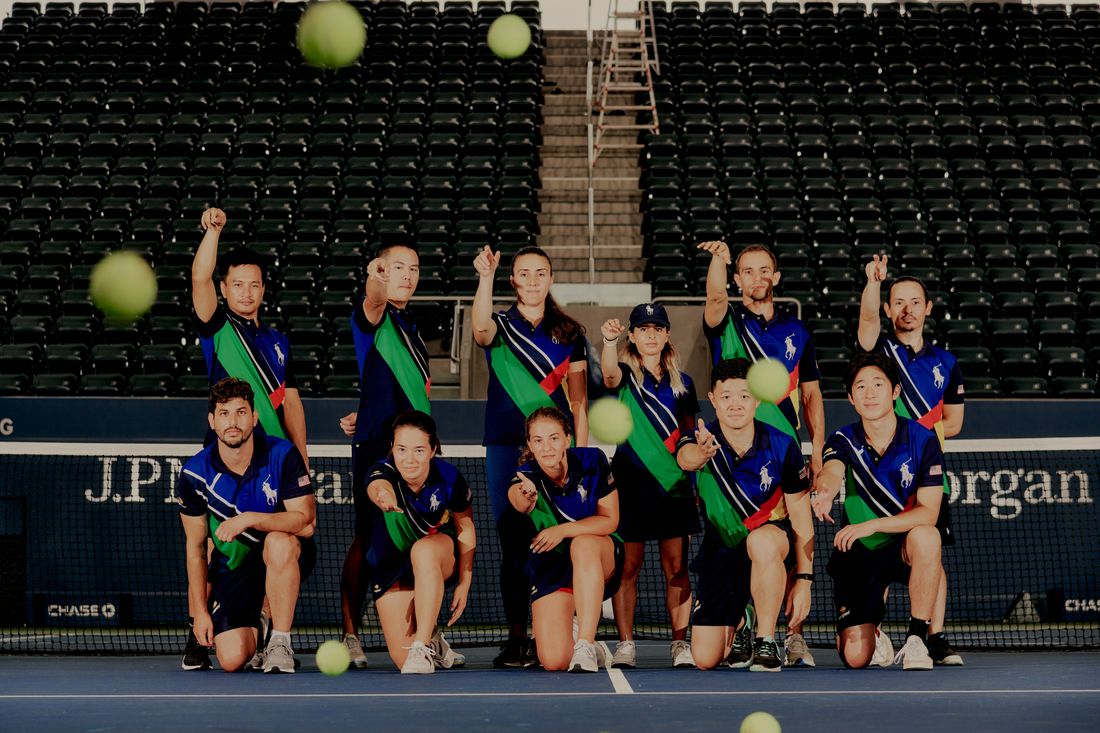 Top row (from left):
Harry Villareal, Sal Chan, Jasmina Djukanovic, Danielle Minch, Jeremy Klapper, and Santiago Murillo.
Bottom row:
Andrew Glass, Kyra Whitelaw, Rebecca Klapper, Arthur Chen, and Alexander Chiu.
Photo: Victor Llorente
In 1989, when Harry Villareal was 14, he got a letter in the mail: He had been selected as a ball person for the U.S. Open. "I was like, Oh, this isn't too hard," he remembers thinking. "It's just sort of, Run, get the ball." This week, as Villareal returns to Flushing to work his 33rd consecutive Open, he knows that there's far more to the job. Take, for instance, the infinite number of ways there are to hand Venus Williams or Roger Federer a towel. "Some players are like, 'All right, just spread it out,' " Villareal says. "They take it with their palm, and it collapses around their hand. Sometimes you have the tournament towels, which are slightly different. It's floppier on one side. They want that side facing them, so they'll put their hand in the back."
The U.S. Open is the only Grand Slam event without an upper age limit on its crew of ball persons. As many as 500 people try out for the gig each year; of the 195 who made the cut this summer — evaluators are looking for speed, agility, focus, and the ability to camouflage — nearly two-thirds are veterans like Villareal. On a recent Friday at Billie Jean King National Tennis Center, we photographed 11 of the longest-tenured, who say the U.S. Open feels to them like summer camp or a family reunion. They seem jovial, bouncing neon-green Wilsons, stretching bulging calves, tying their (already tight) ponytails a little tighter. One guy sniffs a ball.
Some returning ball people are designated as crew chiefs — the managers of their court during a match, responsible for answering rookies' questions and doling out advice. "I actually pretend I'm a robot, which sounds very strange, but you have to be extremely still and straight," says Danielle Minch, who is 29 and working her 13th Open. More tips: "You can't rely on the chair umpire to call the score because you need to be moving faster than he's talking," says Jeremy Klapper, 27. Sal Chan, a legal professional by day who's worked the Open for 23 of his 39 years, offers two rules: Never, ever, jog, and avoid the food court's shrimp po' boy. (He got sick mid-match.)
Veterans also get assigned the biggest matches, allowing them to become familiar with the tics of stars like Rafael Nadal. "Rafa, before every point, he takes two balls from one person and then — depending on if he already has one — he'll hit the third one back to another person or turn to another person for a ball," says Chan. Then there's the psychological voyeurism. "Andy Murray is one player who has the funniest internal dialogue going pretty much constantly," says Kyra Whitelaw, a senior at Stanford and eighth-year ball person. "One match he was hitting really flat and was having trouble putting spin on the ball and after every point he was just going: 'You're flat as a pancake! You're flat as a pancake!'"