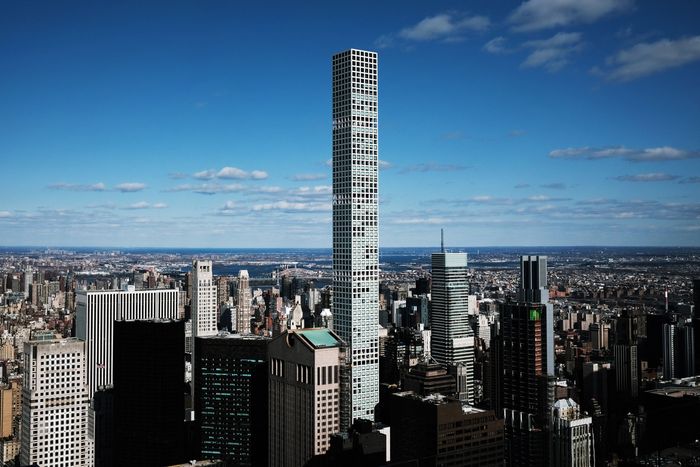 432 Park, alleged tower of terror
Photo: Spencer Platt/Getty Images
For years, 432 Park was the darling of Billionaires' Row. Unlike One57, with its garish exterior and its reputation for being little more than a safe deposit box in the sky, 432 Park was known as the building where real New Yorkers wanted to live. "The apartments are quite beautiful. The views are amazing. The amenities are fabulous. It was a star in my report for several years," said Donna Olshan, a Manhattan broker who tracks the luxury market. Not anymore. In February, the New York Times reported that the building had been plagued by problems, including elevators that shut down during high winds, in one case trapping a resident inside for more than an hour on Halloween of 2019. And now the condo board has filed a lawsuit against the developers, alleging more than 1,500 defects, many of which aren't merely run-of-the-mill leaks and creaks but "life safety" issues, according to the lawsuit.
Only one sale has been recorded with the city since the Times story ran last winter, and that apartment, a three bedroom, sold for just $133,000 more than the $18.96 million the owner bought it for in 2016. Nearby 220 Central Park South, meanwhile, started resales this spring, with one apartment selling for 23 percent more than it had just a year before. And even One57, where sellers are taking big losses, has seen brisk traffic since the trophy market surged back to life this spring. Everyone likes a deal. But no one wants to get stuck with a lemon. Or, God forbid, in an elevator during a windstorm. "Mold and leaks are one thing," said Olshan, "but the feedback I've gotten today is 'Oh my God, I don't want to be caught in an elevator for hours as the building sways.' That's the detail that sends shivers up your spine."
Though the revelations last winter cast a pall over the building, there was a certain amount of willful disbelief that a potential buyer could maintain. It could all be chalked up to a few disgruntled buyers disappointed in how they'd spent their tens of millions and frustrated that they couldn't offload their apartments during COVID. Besides, brokers told me, all new buildings have issues and quirks that need to get worked out. The Halloween elevator entrapment was dramatic, to be sure, but it wasn't clear that the real issues were anything beyond the kinds of leaks and creaks a lot of new buildings have.
The condo board suing the developer, for no less than $125 million, however? And getting Herrick Feinstein, a law firm that usually represents developers, to take their case against the developers Macklowe and CIM? It's hard to see how any potential buyers could miss that. And even if they did, one broker pointed out, their lawyers would flag the lawsuit. Moreover, what billionaire wants to move into a building where the trash chute "sounds like a bomb," according to the lawsuit, and where noise and vibration issues reportedly make sleep impossible at times? (The lawsuit even claims that Richard Ressler, the chairman of CIM, acknowledged that the vibration issues were "intolerable.") Many new buildings have issues, and 432's sponsor issued a statement to the Post claiming "each and every commitment and term contained in the 432 Park Offering Plan and Declaration has been honored by Sponsor" and insisting that 432 Park was still "Manhattan's premier residence." Be that as it may, Manhattan's premiere residence clearly has some issues, as the entire building needed to be vacated for two days right before Labor Day, Bloomberg reported, for extensive repairs to the building's electrical systems.
There's also the lingering question of whether the building's many issues are even fixable. (This is not, after all, just a matter of a leaky roof.) A spokesperson for the condo board claimed that they were, but the fixes hadn't happened. Hence the lawsuit: "It is a matter of the cost and the sponsor's ultimate obligation to do so at their expense." In any event, it seems unlikely that anyone will be buying or selling apartments at 432 Park — if they can help it — until the lawsuit, and the many issues it raises, are resolved. And while Twitter greeted news of the lawsuit with delight, not everyone is pleased by the very public airing of 432 Park Avenue's problems. "It seems stupid that people who own there are trying to discount their own assets," said one broker who has done deals in the building. "It's getting really ridiculous. It's a beautiful building and it has amenities that no other building has. I've been in and out of there for years, and I've never encountered any of these issues."