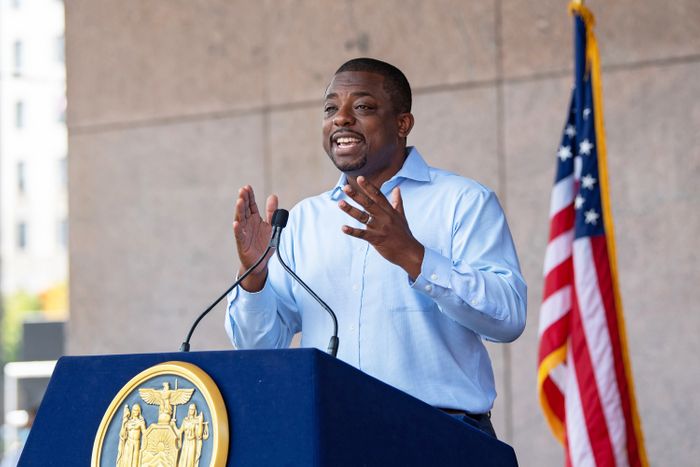 Photo: Ron Adar/SOPA Images/Shutterstock
In 2017, Brian Benjamin was elected to the state legislature in a district with New York City's largest share of public-housing complexes — and all the dismal conditions that come along with them. As the state senator for Harlem and its surrounding neighborhoods, he fielded complaints from residents about the bedbug and roach infestations in the Grant Houses, the Legionnaires'-disease outbreak in the St. Nicholas Houses, and tenants' pervasive concerns about lead-paint exposure in the roughly 30 NYCHA buildings in his district. So when Governor Kathy Hochul named Benjamin to be her lieutenant in August, it was fitting that she tasked her downstate partner with tackling the long-standing problems at NYCHA. Benjamin described the public-housing task force to WNYC-Gothamist last week as a "central nervous system" for revamping the agency, but what that will mean in practice is not yet clear — there are few details beyond the fact that Benjamin is in charge. Radical reforms are unlikely, however: Between his three years in the State Senate and a career in real estate, Benjamin has catered to both tenants and developers alike. But with his skills and background, he could do something, which when it comes to NYCHA, where simple repairs can linger for years, could still prove significant.
Among advocates, there is cautious optimism. Jolie Milstein, the president and CEO of the New York State Association for Affordable Housing, offered that Benjamin has "a profound understanding of what the solutions look like." Victor Bach, a senior housing policy analyst with the Community Service Society of New York, called his real-estate know-how "invaluable" and "definitely an asset." And even the fact that Hochul cares about this subject enough to direct her second-in-command toward it is a significant departure. It's also a pragmatic move, potentially broadening Hochul's downstate appeal, particularly with Black voters, ahead of next year's election, when she and Benjamin could win full terms.
Not only is Benjamin well acquainted with the city's crumbling network of public housing, but he also has experience in real-estate finance and has managed large apartment buildings. If he can perhaps take that experience and make even moderate progress on the conditions of NYCHA buildings, it would be a fast way for the new administration to show effectiveness in the face of its predecessors' failures. After all, the task force's mandate is to improve NYCHA, not solve all of its problems — and while that's going to be difficult enough in and of itself with all of the Authority's complexities, the bar isn't being set incredibly high.
Benjamin does have a fitting résumé for the new role. Prior to becoming an elected official, he spent seven years at Genesis Companies, a Black-owned affordable-housing developer that is now one of the largest property owners in Harlem. His job consisted of scouting new development opportunities (often partnering with nonprofits and churches) and steering those projects through the approvals process. During his State Senate race, Benjamin did take heat for the conditions at some of the 357 apartments the firm purchased from Abyssinian Development Corporation in 2015. But at the time, both the city and Genesis said most of the issues predated the purchase and that conditions had improved since the firm took over. He also joined Harlem's Community Board 10 in 2012, first as chair of the land-use committee, then as head of the board in 2016. While there, he pushed back against projects he felt didn't include their fair share of affordable housing, including the plan to upzone the Lenox Terrace complex.
As a state senator, Benjamin worked both sides of the reform-Realtor divide. He helped draft legislation that strengthened protections for New York's rent-controlled tenants, but he also pulled his early support for State Senator Julia Salazar's "Good Cause" eviction bill, which property owners see as a financial threat. More recently, he has faced criticism for owning stock in the high-interest lending company NexPoint, which acquired a firm that makes small personal loans with interest rates up to 500 percent. A slew of lawmakers have called on Benjamin to divest from the firm, whose borrowers often rely on the loans for ​​mortgages and rental assistance.
By using the largely ceremonial role of lieutenant governor to address an issue routinely ignored by the governor's office, Hochul has put her administration on the spot. With an election looming, Hochul and Benjamin will now have to deliver something on NYCHA. If not, the city's voters are bound to remember that 14 months from now.