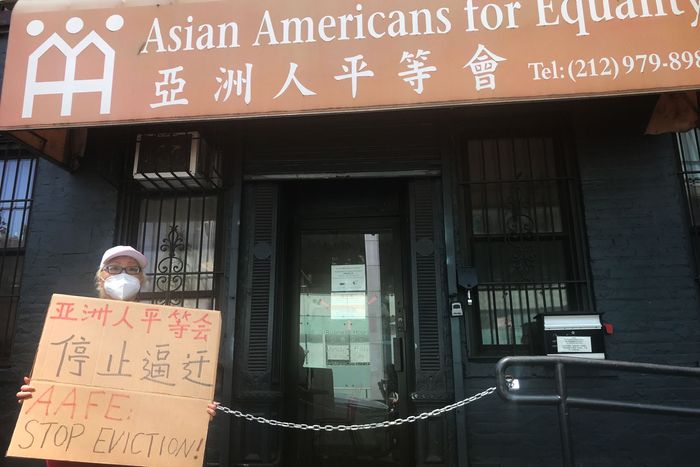 AAFE tenant Lichang Wang holding a sign outside of the nonprofit's offices on Division Street.
Photo: Valeria Ricciulli
Lichang Wang, a 62-year-old woman from China, has lived in the same one-bedroom apartment at 141 Norfolk Street since 2004. But two weeks after her ex-husband moved out in late June, workers from Asian Americans for Equality, the nonprofit organization that owns the building, showed up to change the locks. Wang was told that she wasn't on the lease and had no right to the apartment — they even said her ex-husband had signed a document saying no one else was living there. She called the police, who spoke to the landlord and told Wang that she wouldn't be locked out. A few hours later, AAFE asked her to come to the management office on the first floor. They reassured her that everything was okay, but while she was downstairs, AAFE changed the locks, and Wang lost her home. "I was so angry, all my belongings, all my stuff is still inside the apartment," she said in Cantonese during a rally outside AAFE's Division Street offices on August 24.
The situation might sound deeply ironic: a nonprofit housing developer dedicated to Asian civil rights putting an Asian woman out on the street. But for some familiar with the organization, it's par for the course: Over the past decade, AAFE has developed a reputation for acting like a typical corporate landlord rather than the radical activist organization it started out as, or even the community organization it still claims to be. "They say they are fighting against displacement, they're there for providing affordable homes — but then what they're doing in practice is so different," said Roxanne Chang, a former community organizer for AAFE.
Founded in 1974 as Asian Americans for Equal Employment, the organization had ties to the Communist Workers' Party and was originally devoted to labor rights: first pushing the developer of Confucius Plaza in Chinatown, who refused to hire Asian workers, to hire from the community, and later organizing workers at local restaurants. In the 1980s, already a less radical institution, AAFE became more focused on housing: It sued Mayor Ed Koch over his plan to bring luxury condo developments to a section of Chinatown, and also began getting grants from the city and the state to build its own housing. Today, AAFE owns and manages around 600 units in Manhattan and Queens.
Last November, Chang realized that there had been no heat or hot water for three weeks at one of the organization's buildings on Division Street. She talked to tenants about their rights in such a situation, including the possibility of withholding rent until the utilities were fixed. The next day, Chang says, she was disciplined by an HR manager for what she told the tenants. (AAFE disputes her account, and said that tenants were offered rent concessions and provided temporary heating and ovens to use until the utilities were restored in mid-December.) "I was feeling very disheartened from the situation, like, what am I even doing if you're not letting me do my job?" Chang says.
Chang left AAFE in February, but not only because of the Division Street situation. She also felt discouraged by what happened to Jiang Qi Yao, an 82-year-old AAFE tenant who was transferred to a smaller, more expensive apartment after his wife passed away in 2018. As Documented first reported, Yao was briefly stuck paying $750/month — $114 more than he was paying before his wife's death — but only earns $990/month from Social Security. His rent is now $636.5 accounting a senior citizen city subsidy.
The list of complaints goes on: In 2009, tenants from 28 Henry Street, a five-story tenement building, sued AAFE for allegedly overcharging them for rent-controlled units for around two years. (Following the lawsuit, AAFE lowered the rent for only one of the tenants.) In 2016, AAFE sold a 23-unit building in Flushing to a developer for a $3 million profit after reportedly kicking all the tenants out of their 23 rent-stabilized apartments. (A spokesperson for AAFE says there were no evictions, but that residents were offered buyouts to leave, given the option to stay during renovations, or relocate to a nearby building.)
In Wang's case, AAFE claims that her ex-husband's letter stating that no one else was living in the unit clears the nonprofit of wrongdoing, and that because Wang was divorced from him, she did not qualify to be the next leaseholder under the state's succession rules. But her ex-husband told organizers that he only signed the document in order to get his deposit back, and Wang showed Curbed utility bills and bank statements addressed to her at the Norfolk Street address dating as far back as 2006 up to June of this year. Even if she wasn't on the lease, the fact that she was living in the apartment and could prove tenancy means that AAFE should have taken her case to housing court with an eviction order rather than abruptly locking her out.
Wang is currently living at a shelter in the Bronx and waiting for a rent voucher. Losing her job as a nail-salon worker at the start of the pandemic, she already knew that when her ex-husband moved out, the $1,000 rent would be too much for her to pay on her own. Her ex paid up to July 12 to help give Wang a buffer; she was locked out by AAFE that same day, and hasn't paid for the rest of the month, or for August and September.
After the recent protest, AAFE says it's now helping her find another apartment — but it hasn't allowed Wang to retrieve her belongings. After asking repeatedly to get at least some of her stuff back so she could sell it, an AAFE worker left her black leather couch on the curb on July 13.
Ultimately, Wang wants to return to where she has lived for close to 20 years. Every day for the past two weeks, she has trekked back to her old neighborhood from the Bronx. There, between 3 and 5 p.m., she stands outside of AAFE's Division Street office, protesting by herself.