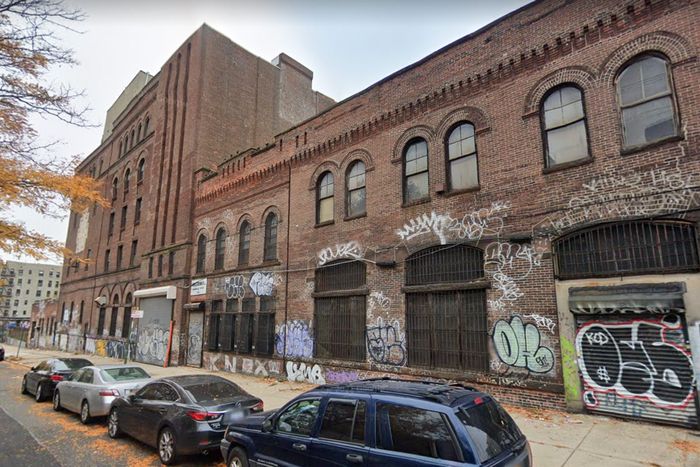 The former spice factory at 960 Franklin Avenue, whose fate is still being decided.
Photo: Google Maps
The developer behind two 34-story towers at 960 Franklin Avenue in Crown Heights, slated to be rejected by the City Planning Commission, is suing. The lawsuit, filed in New York State Supreme Court yesterday, alleges that the commission's refusal to consider the developer's "reasonable alternative" — a pair of 17-story towers — violated its obligations under the State Environmental Quality Review Act, and seeks a temporary injunction to stop the vote from taking place on September 22. "They excluded our alternative scenario, which is arbitrary, capricious, and illegal," said Ian Bruce Eichner, the chairman and CEO of the Continuum Company, which is developing the property with a New Jersey firm, Lincoln Equities. "The goal is to have the court direct the City Planning Commission to take the hard look that's required."
On August 16, City Planning Commission chair Marisa Lago said the commission would reject not only the 34-story proposal but also this smaller alternative. The downvote was rare — generally, developers work with the commission to shape a proposal in the months leading up to a vote, and some also submit alternatives to ensure that some version is approved. Continuum did so before the vote, but Lago said the commission hadn't had enough time to evaluate it. "The applicant is now seeking to have the commission modify this complicated proposal, which shouldn't have been pursued in the first place," she said. The lawsuit, in turn, claims that Continuum did what it was legally required to do, and that its alternative proposal is entitled to the commission's consideration. (A few days ago Lago was tapped by President Biden for a Commerce Department role.)
It's another turn in a yearslong battle between the developer, the community, and the Brooklyn Botanic Garden, whose greenhouses would be cast into shadow for hours a day in some seasons by tall towers. This alternative proposal tries to mitigate that by halving the height, although the percentage of affordable housing units would also be halved, from 50 to 25 percent. "We stand behind the ongoing public review of the project. The lawsuit is a baseless, last minute attempt by the developer to stop the vote on the ULURP application," a lawyer for the Department of City Planning said in an email.