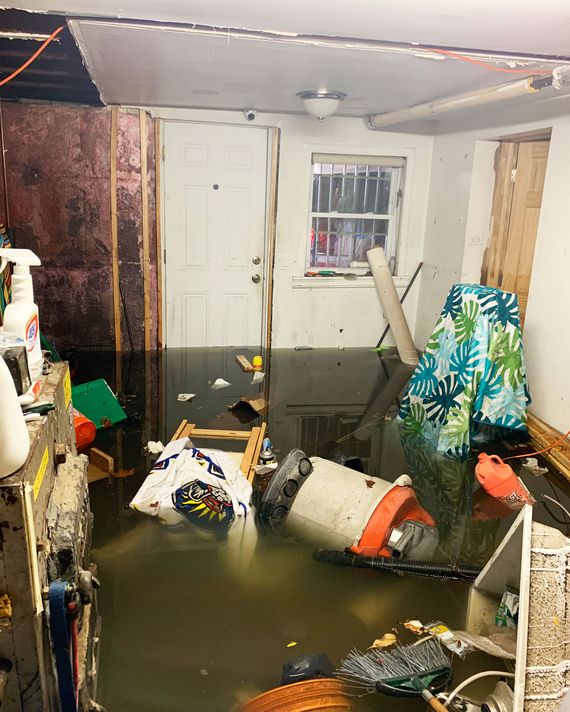 Photo: Courtesy of Patricia Ceballos
In the days after Tropical Storm Ida hit New York City, the sidewalks along 89th Street in East Elmhurst were crowded with mud-soiled belongings: couches, mattresses, wooden desks, toys. This block of one-story, redbrick houses — home to working-class residents and immigrant families from countries like the Dominican Republic, Chile, Ecuador, and Colombia — suffered some of the worst flooding in the city. Unlike areas that were inundated by Ida but rarely flood, it's a persistent problem in East Elmhurst since the neighborhood was built over marshland and the soil there tends to hold a lot of water. Combined with a sewer system that is regularly overwhelmed by storms, this makes even a little bit of rain a problem. Take the flooded alley that President Biden visited after Ida, just one block south of 89th Street: It filled with water yet again after a light rain just a few days after the storm.
When their basements and garages flooded, some 89th Street residents had to move temporarily to hotels, and many of them face thousands of dollars in losses. Because the neighborhood is not in a flood zone, no one on this block has flood insurance, and their only recourse now is FEMA's disaster-assistance fund. But even if they can get some money to cover the damage, not everything can be replaced.
Curbed spoke to five people living on that block about the things they lost that are now gone forever.
Losing mementos of her father
Yurly Olivares, 33, is a health-insurance agent who lives with her mom.
I've been in East Elmhurst since 2001. Our house had already flooded back in 2005, and even with a light rain we sometimes get water coming into the garage because the sewer system in the area is horrible. So we've grown used to setting up sandbags for our house. We had a storm three weeks ago and were expecting something big, but nothing happened — so with this storm, nobody was really expecting it to be as bad as it was. But in my basement, the water came up about four feet. Everything was toppled over — furniture, refrigerators — it was just a mess.
My father passed away in 2015, and the house was left to my mother and my sister and me, and we can't just let it fall apart. He was a construction worker, and the garage was filled with his tools that I've had for a while. We tried to dry them as much as we could, and there were some tools we were able to save but a lot of them are all rusty now.
When my father passed away, we got rid of the majority of his things, but there's certain things we held on to, like two sweaters he would wear all the time that were huge for us: a v-necked red Lacoste one that my mom gifted him when they were dating, and a gray sweater that was kind of checkered in light purple, white, and gray. The kind of water that got down there just wasn't sanitary, so the entire box they were in was gross — it was full of dirt and smelled horrible. That box with all his clothing is completely gone. That's what hurt the most: the things you can't replace, those priceless things we've held on to for so many years.
A toy collection that can no longer be passed down
Rob Mejia, 47, is an operations manager at FedEx who lives with his family in their one-story house. 
Downstairs is where we keep everything: The kids have all their beds, their school supplies, their uniforms and computers, their game systems, their toys, their bicycles. My mother has a sewing machine down there. The boiler got ruined. The hot-water heater got ruined. We lost everything: the kids' pictures, our wedding pictures, all our clothes. The only thing I was able to save was my father's ashes. That's what meant the most to me.
The kids were crying the night of the storm, so I said, "Listen, everything is replaceable. What matters most is for us to be safe, and we're going to get through this." And then you go down and you look and you see total destruction. You start going through stuff and you're like, Oh my goodness, I forgot I had this. Everything was just sitting in disgusting water.
As a kid, my son loved Thomas the Train, so we had thousands of trains that we never threw away. He's 18 years old now. I just wanted to keep those for him so he could share them eventually with his own kids, but everything was just inundated with water, dirt, and disgusting mud. My son was getting upset with me because I was throwing stuff away, but some stuff you just can't save. He was going through one of the bags. We found a little toy conductor. He pulled it out, and he's like, "Oh, I want this." So I was able to save it and wash it for him. I guess I didn't really know how much it meant to him.
After an expensive renovation, starting again from scratch
Marcelo Pérez, 48, is an Uber driver. He lives in his basement and rents the top floor of his home. 
In just 30 minutes, around five-to-six feet of water got inside the house. I have a metal door in the basement, and the water bent it — it was coming in like it was the Titanic! At around 9:30 p.m., the basement door got stuck with the water, and I couldn't even open it so I called one of my neighbors for help. I had legalized my basement, so I had another exit but at the moment, I was panicking, I didn't know what to do. Thank God, I'm tall. I'm six-four, but I think someone who's maybe five-four would have been covered in water. I never thought this would happen. During Sandy, for instance, nothing happened to us on this block.
I lost everything I had downstairs. I was able to save my passport, my car keys, and my wallet. That's it, nothing else. Fifteen years ago, I spent $70,000 legalizing my basement with fireproof materials, windows, etc., and now I have to start from scratch. I'm investing all my savings now in repairs for the basement; I'm probably going to spend around $35,000 on the renovations alone, not counting my personal belongings, like my clothes, my bed, my couch.
When you do the insurance contract, they don't give you flood insurance because this area isn't a flood zone — but the insurance covers mold damage. Those contracts have like 50 pages; only lawyers understand them. So when I called, the guy said I wasn't covered for flood damage and they wouldn't pay me anything. I've worked 12 hours a day in the taxi to be able to get ahead in life, and in 30 minutes, all my dreams, all my things, the water took them away. The only good thing is that I'm alive. Because some people weren't that lucky.
Losing almost all the childhood photos of her two sons
Emperatriz Hurtado, 63, is a nanny and cleaner. She lives with her family in a one-story house with a basement.
We practically lost everything. The couch, the fridge, the washing machine, the clothes, the linens — everything was floating in water. I have three closets in the basement where I put the sheets, the towels, shoes that were in their boxes. Everything was floating. We lost all of that. I had recently bought groceries for the month and lost all of that, too. You should have seen the rolls of toilet paper and paper towels floating! A huge bag of rice, superheavy, was also floating. Even now, it still smells terrible, like rotten eggs.
Losing my kids' childhood pictures is what's hurt me the most. They were all stuck together because of the water. I couldn't save many of them. The photos were from the time since they were newborns up to now. I had one box for Christian's and another box with Daniel's — they're 30 and 25 years old now. I saved a few, some that were framed, about six or eight in all. They were from birthdays, first days of school. At least I have the ones from upstairs.
I hope we get help. This area was hard-hit by the pandemic, and now this. Now when I see it's going to rain, I get so nervous. I trust and pray to God that everything works fine and that this doesn't happen again.
Nothing was salvageable in her basement, but the most painful thing was losing her friend
Patricia Ceballos, 47, is a dental assistant who lives with her husband and daughter in their one-story home.
I live with my husband and daughter. That day, I had come back from work, I was upstairs eating with my mom and dad who were visiting, and we saw that it was raining really hard. Then I went downstairs and saw that water was coming in through all the sinks, the toilet, everywhere. The only thing I thought of doing was grabbing my dad's luggage — he was staying in the basement — so I took it upstairs. The water was going up so fast it was covering the plugs. I was scared of getting shocked.
We couldn't save anything: We lost the boiler, the heater, everything in the basement that I had renovated two years ago. Everything got spoiled — my furniture, my bed, my nightstands, my Christmas decorations, my husband's clothes. There was a TV, a fridge, a new bathroom. Downstairs we had a big studio apartment, and there was another room where my husband kept all his tools because he works in construction, and he lost a lot of them. I also lost a lot of important paperwork. My two cars flooded; the water got up to the top of the driver's seat. And photos, you can't replace the memories. Because of the water pressure from outside the house, the wall next to the door got detached. Now I gotta call an inspector because I'm scared that the structure of the house might have been damaged.
It was a very traumatic experience. The worst was losing a friend. My friend Darlene Hsu passed away. She was in a building basement and tried to leave. Because the basement windows were broken and wouldn't open, she opened the door and the water came in, so she drowned with her dog. Her funeral is on Saturday. Horrible. That's the worst. The material losses are hard 'cause we worked really hard for everything — but the worst is losing someone.