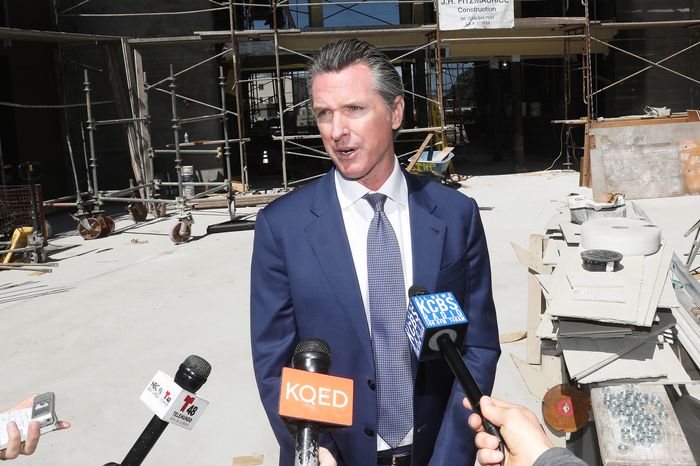 Gavin Newsom will stick around, but single-family zoning will not.
Photo: Liz Hafalia/The San Francisco Chronicle via Getty Images
What does the governor of the world's fifth-largest economy do the day after handily swatting down a recall campaign? He signs two bills — Senate Bill 9 and Senate Bill 10 — effectively ending the century of catastrophic land-use practices that single-family zoning has wrought upon California.
As incoming ballots firmly rejecting the Republican-backed recall continue to hold Gavin Newsom's broad lead, signing these two bills signifies that the state's exclusionary underpinnings — which also fueled the efforts to remove him from office — are beginning to unravel. "The loud minority who have been blocking everything in California for 50 years have started to lose their grip," says Matthew Lewis, communication director for California YIMBY, which supported the bills. "The California of the '60s, '70s, and '80s, led by a completely different political coalition, decided it wanted to cap the population, and they did that by limiting the number of homes you can build in their cities. With SB 9 and SB 10, we've taken the first steps in undoing those mistakes."
Since a previous statewide upzoning bill stalled in 2020, dozens of California cities — including Berkeley, where the segregationist policy may have been invented — have moved toward eliminating single-family zoning on their own, and the two bills signed yesterday offer localities more tools to increase housing production. SB 9, the California Housing Opportunity and More Efficiency (HOME) Act, allows duplexes to be built on some properties where they're now prohibited (although homes with high wildfire risk or historic protection, for example, are not eligible), and it also allows parcels to be divided in two. SB 10, governing pieces of land that can accommodate more growth, would streamline approvals for buildings up to ten units in denser neighborhoods, aiming to locate more homes near transit and de-incentivize sprawl. (A related bill also signed yesterday, SB 8, strengthens tenant protections and prevents downzoning in a prior housing-production law.) As evidenced by similar laws in Oregon and Minneapolis, the pair of bills won't dramatically transform neighborhoods overnight. Yet when previous legislation legalized accessory-dwelling units statewide, a huge spike in permits followed. Adding ADUs, like replacing single-family homes with duplexes, does not necessarily guarantee lower housing prices. But with California set to implement sweeping regional housing requirements under the state's housing plan, cities, and particularly wealthier cities, will need to start finding new ways to hit their targets fast, or — as Newsom himself promised — they'll get sued.
Eliminating single-family zoning will not solve the housing crisis in a state where the highest rate of poverty in the country has created a severely rent-burdened society. Nor will it suddenly put homeownership within reach in a state where the median home-sale price has skyrocketed to $818,260. Proposition 13, which in 1978 built a mechanism for homeowners to hoard wealth by freezing property taxes in the golden age of Golden State exclusion, looms over all housing policy, and last year's Proposition 15, the first effort to chip away at it by fairly taxing commercial properties, failed by a slim margin. To cement his housing legacy, Newsom will now need to devote much more of his time and attention to renters, who are, after all, another California majority. He could start by extending the state's eviction moratorium, which expires less than two weeks from today.