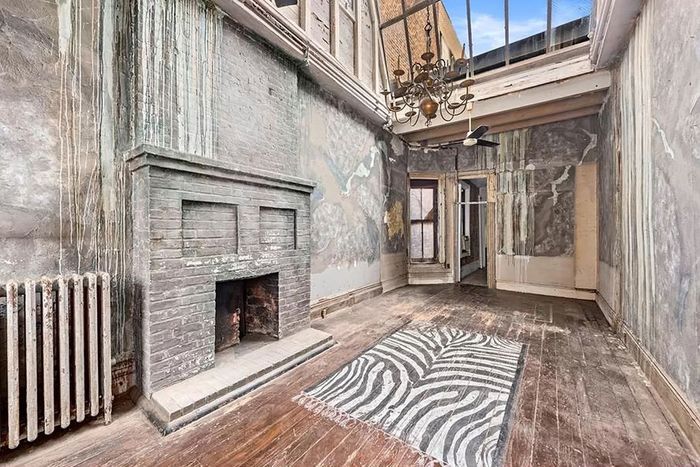 The most popular listing in Greenwich Village this week may be a totally decrepit one-bedroom, for an asking price of $685,000, on West 11th Street. It's a gut-reno kind of place (and a fifth-floor walk-up) but also a rare blank slate (with a covetable floor-through layout and several rooms to work with) that is hard to imagine even exists in a neighborhood full of neatly renovated apartments. And then there's the living room — where a massive skylight fills one side of an A-frame roof soaring 18 feet high, rounded out with a huge brick fireplace, beamed walls, and wide-plank floors.
According to listing agent James Lee Wall with The Steven Cohen Team at Douglas Elliman, the place was occupied by an elderly artist couple who had been living there since the '60s. It's unclear exactly what happened to them — Wall says they left the apartment at some point in the last few years, and have both since passed away. When Lee set foot inside the place for the first time earlier this year, it was still filled waist-high with possessions — food, clothes, trash, and stuffed animals, including two giant six-foot stuffed lions.
The apartment has since been cleared out, revealing tons of hand-painted details, like a depiction of a zebra-print rug on the floor by the fireplace. There's also an intricate ceiling-height armoire with trees and flowers on the doors and florals painted on the bathroom door and the kitchen ceiling.
In the four days since the listing went live, Wall has had over 40 showings — and dozens more requests. "People are intrigued," he says.