When Jenné Claiborne moved into her new home, it wasn't that there was anything wrong with the kitchen. "When I bought the house, the kitchen was newly renovated," she says. "It wasn't like it was an outdated, ugly kitchen by any means. It's just that it didn't fit me." And for someone who spends as much time as she does in the kitchen — writing cookbooks, creating content for her blog, Sweet Potato Soul, connecting with her fans on social media, cooking for her friends and family — the vibes needed to be just right.
Claiborne's home is surrounded by trees that give her the feeling of being right in the thick of a beautiful forest. Nature helps energize and inspire her, and she wanted her appliances, design details, and layout to give the sense that the home is a continuation of that exterior environment. The desire to bring the outdoors in — biophilia, the innate desire to connect with nature — is why Claiborne turned to the experts at KitchenAid. KitchenAid's design philosophy sits at the intersection of art and science. It's rooted in the belief that our spaces should not only look beautiful, but also make us feel inspired and connected — and the brand brings this philosophy to life through amazingly crafted collections that support both our aesthetic and emotional needs.
Vox Media and KitchenAid worked with Sabrina Soto, interior designer, and Itai Palti, architect and scientific researcher, to bring nature into Claiborne's kitchen. Read on for four tips on bringing natural touches into your own home.
1. Immerse yourself in nature.
Obviously, the first step to bringing nature into your kitchen is to bring in plants: There's good reason to do so, a reason steeped in the science of plants' effects on mental health. Pre-Industrial Revolution, most Americans lived in agrarian environments; as urban populations grew, so did the need for stress-reducing urban green spaces and for designs reflecting nature. Plants and nature can invoke "soft fascination," or involuntary attention to your surroundings. "When you're looking at a natural landscape, your eyes drift — that allows for your wandering minds and for restored cognitive function," Palti says. He suggests seeking out a variety of plant species for visual complexity.
2. Consider your light sources.
Another factor of biophilic design is light, as it helps us sync with cycles of nature. When designing a kitchen, it's important to understand how the light will impact the room. With only one small window in Claiborne's place, Soto and Palti decided to swap out the overpowering black countertops for light marble ones.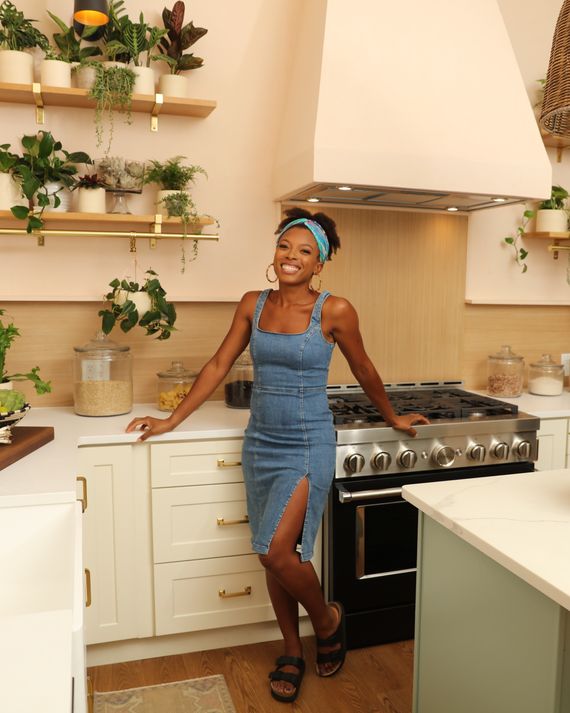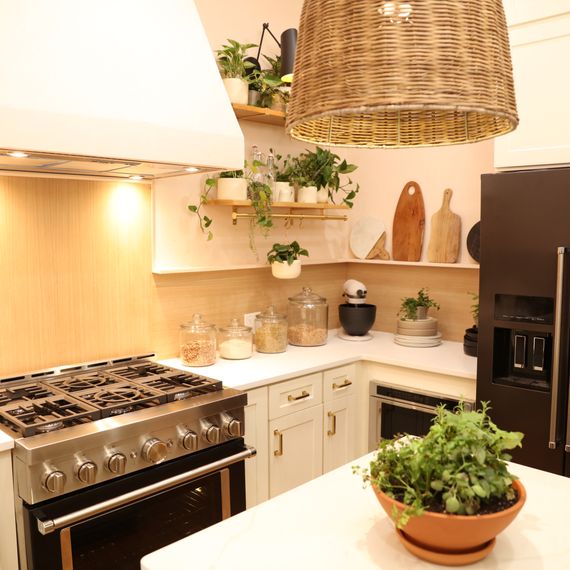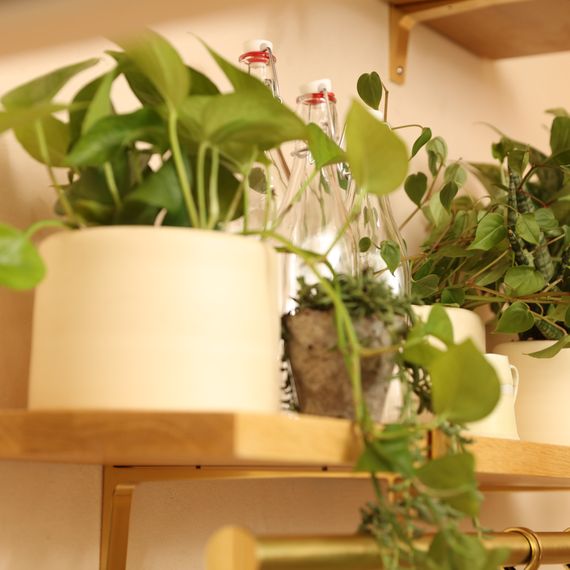 3. Bring in natural materials.
Wood used in interior design has been shown to have positive physiological and psychological effects. Wood surfaces and furnishings can contribute to lowering of heart rate, blood pressure, and stress, while supporting positive social interactions. Using a natural wood backsplash and touches of rattan, marble, and other textures, Claiborne's kitchen redesign evokes more visions of nature.
4. Pick complementary and contrasting colors.
In Claiborne's space, softer pinks and whites complement the greens from plant life. Lighter colors let the black stainless steel range from KitchenAid stand out, plus add a modern touch to her kitchen design.
Learn more about KitchenAid's design philosophy and how you can transform a space with both art and science at kitchenaid.com
This advertising content was produced in collaboration between Vox Creative and our sponsor, without involvement from Vox Media editorial staff.