When Kate Arends, founder of the lifestyle brand Wit and Delight, began her home renovation, she ran into one big problem: the kitchen. She originally removed an island from the L-shaped kitchen to create more room for a dining area, separated from her "working" kitchen area, but was unsure what to do next. "The biggest concern is how the flow of these spaces connect," she says. "We divided it by use [cases] … but how does it tie together? And that's where I'm stuck."
The kitchen is the heart of her home, she says, and she dreams of a space for everyday cooking and elevated entertaining. Arends wanted the ability to cook for family and friends who pop in on a whim, and emphasized the need to have the kitchen feel like one big gathering area. It's also a place she turns to for creativity and collaboration, often spending time there running her business and hosting get-togethers. So she turned to KitchenAid for help. KitchenAid's design philosophy sits at the intersection of art and science. It's rooted in the belief that our spaces should not only look beautiful, but also make us feel inspired and connected — and the brand brings that philosophy to life through amazingly crafted collections that support both our aesthetic and emotional needs.
That's why Vox Media and KitchenAid worked with Sabrina Soto, interior designer, and Itai Palti, architect and scientific researcher, to bring Arends's kitchen to life — finding that perfect blend of art and science to create one cohesive, inviting space designed for gathering. Soto and Palti combined their unique experiences and passions as they tackled the challenges of Arends's kitchen. Read on for key tips on how to tap into art and science in your own home.
1. Curate an enriched environment.
"Kate's space is interesting because we're talking about the social dimension — what is it about a space that brings people together?" says Palti. Enriched environments prioritize stimulation that allows for different types of interactions, he says. It's a theory that's now gaining traction in architecture and residential home planning because of its effects on the brain; recent research has revealed that "EEs" can help reduce stress and affect emotions. Everything from lighting to colors to layouts can evoke different emotions, and over time, an EE can improve brain plasticity.
2. Embrace color to anchor the room.
Arends's first big decision for the kitchen was choosing colors for her appliances. Surprising? KitchenAid's ink blue range collection was the jumping off point for her design and aesthetic. That pop of color from the KitchenAid® 36" Smart Commercial-Style Gas Range will be the centerpiece of the entire space that draws people in, Palti says. An unexpected color for appliances can also boost the space's creativity and inspiration.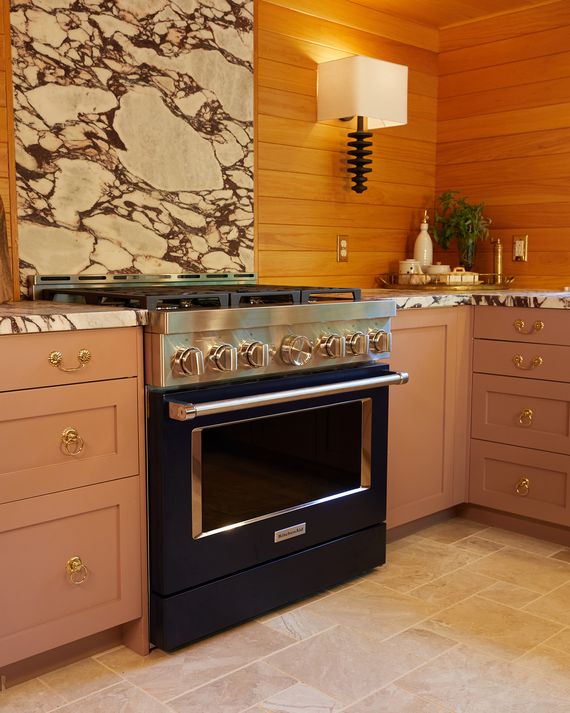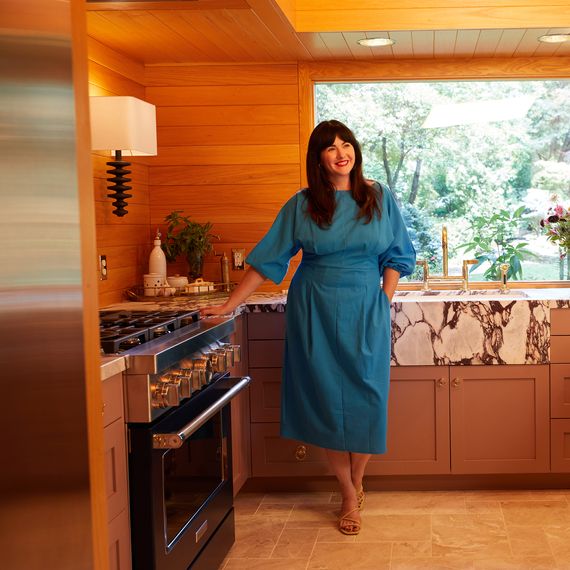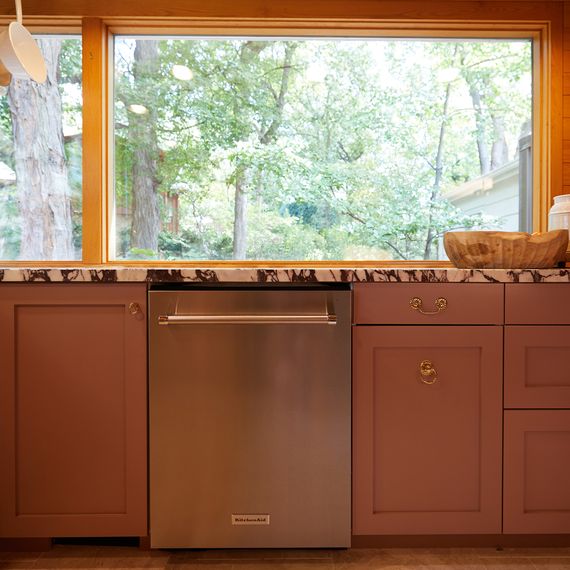 3. Use materials to tie spaces together.
Soto and Palti found an unusual textile to bring into the kitchen space because Arends had noted that she wanted to bring in textiles and patterns from the dining area. The large-format, hand-drawn textile with a William Morris-like print brings cohesion to the entire space. You can also bring natural textures throughout the space with panel-ready appliances. The KitchenAid French Door Refrigerator seamlessly fits in with Arends's cabinets, letting the light wood shine through.
4. Create a space for collaboration.
Soto and Palti's main priority was to make an easy gathering place for family and friends, far from the bustling action of the working kitchen. A counter-high island allows for flexible seating and collaboration for whatever the day brings. "It's an opportunity for all these different experiences in one space — a place where they can come together, but also a space for their day-to-day [lives]," Palti says.
Learn more about KitchenAid's design philosophy and how you can transform a space with both art and science at kitchenaid.com.
This advertising content was produced in collaboration between Vox Creative and our sponsor, without involvement from Vox Media editorial staff.